Motor Carrier Freight Details & Invoice
EDI Document 210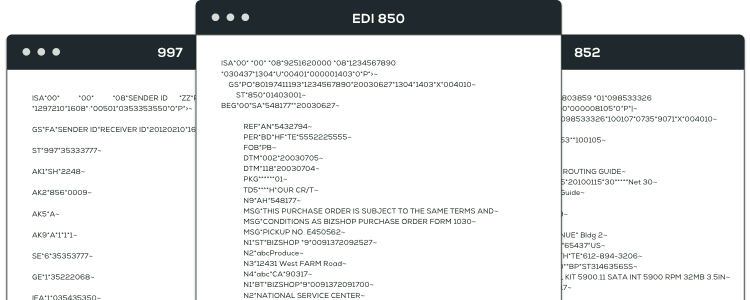 What is a motor carrier freight details and invoice?
The EDI transaction 210 Invoice replaces paper invoices and is used by freight carriers. This transaction is sent from the carrier to the shipper to request payment of freight charges. In some cases the 210 Invoices are sent to a third party payment center. An individual 210 Invoice is typically sent for each shipment moved by the carrier.
The data elements included in an EDI 210:
Details of charges
Invoice number and date
Bill of lading number
Amount of items in a shipment
Weight of a shipment
Delivery information
Tracking numbers
Additional data that may also be included in the EDI 210:
Each shipper will have specific fields they require and the invoice must conform exactly to their requirements.
Document flow when using EDI 210:
Once the 210 invoice is received a 997 Functional Acknowledgement is sent back from the shipper letting the carrier know that the 210 Motor Carrier Freight Details and Invoice was received.
Eliminate the expense of manual processes.
Remove the time and effort of taking it on yourself. Start here.
(You'll hear back in 1 business day)