Ship Orders with Ease with EDI for ShipStation
The SPS Commerce EDI for ShipStation offering and labeling solutions, you can rest easy knowing our experts are watching over your EDI and making sure everything runs smoothly.
Get clear, simple answers to all your EDI questions.
No sales pressure. No commitment.

Save thousands on staffing costs
Reduce PO errors by more than 99%
Process orders in hours (not weeks)
Invest in growth, not data entry
When your eCommerce and dropship orders increase faster than your staff, it's time to automate with SPS Commerce.
Retailers often demand EDI or another form of automated order fulfillment, but who has time to understand the nuances and complexities of complying?
Good news, SPS already knows what your retailers require and our teams manage everything related to EDI for thousands of businesses just like you.
"The combination of SPS Commerce and ShipStation provides customers with a best-in-class solution to manage all aspects of their eCommerce businesses."
– Robert Gilbreath, Vice President of Marketing and Partnerships, ShipStation
Wondering how SPS Commerce compares to other ShipStation EDI integration providers?
Managing ongoing EDI tasks can be complex and time-consuming. Full-service EDI providers like SPS Commerce deliver EDI technology and associated staffing resources responsible for customizing, optimizing and operating your ShipStation EDI solution. Here are some common EDI responsibilities and how different types of providers handle them:
Full-Service EDI Providers
Provide an expert team to handle ongoing management of your EDI solution.
Initiate needed map changes when your trading partner updates their requirements. The SPS team actively manages 9,000 changes from retailers each year.
Perform end-to-end EDI testing and ensure your initial data flow with trading partners is successful.
Communicate directly with your trading partners to handle connectivity, setup, requirements, updates and support efforts.
Optimize and proactively monitor your solution to prevent errors and minimize data entry.
Offer 24x7 support from a team of trading partner, sales channel, system and EDI experts.
Managed EDI Service Providers
Require your in-house team to be responsible for the operational and technical details of managing your EDI solution.
Require your team to be responsible for changing EDI maps when a trading partner changes their requirements. These changes are extremely common in retailing.
Require your team to coordinate EDI testing with your trading partners and validate data flow.
Require your team to communicate with trading partners about EDI connectivity, setup, requirements, updates and support.
Require your team to be responsible for monitoring and optimizing your EDI solution.
Require your team to be responsible for contacting support regarding any issues. Real-time, expert support is often limited.
Choose the industry's most trusted EDI for ShipStation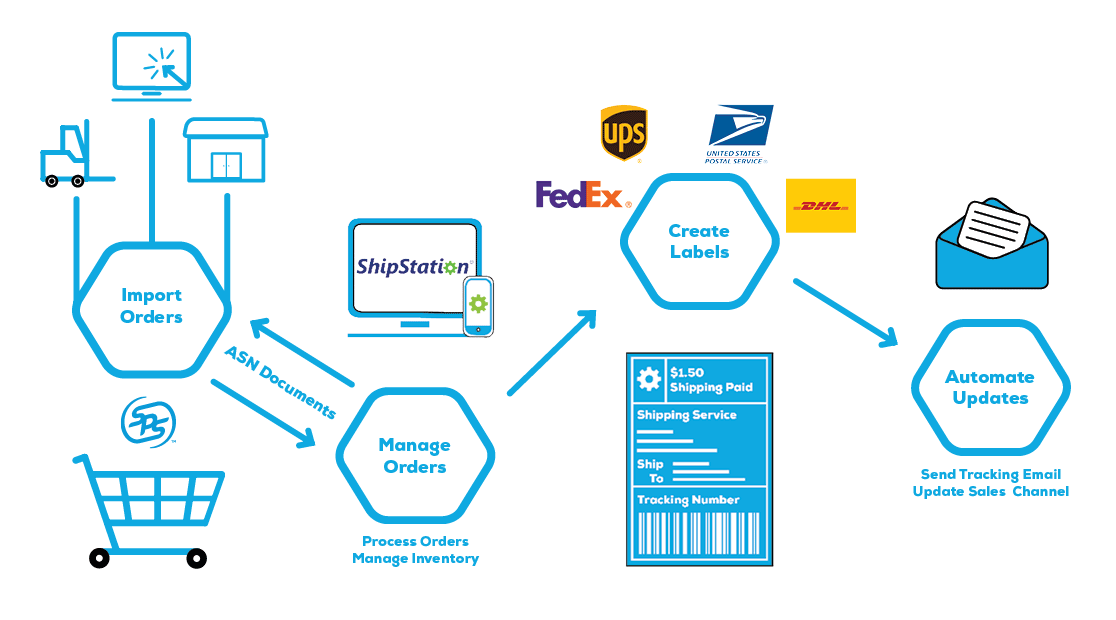 Position yourself for limitless growth
Be ready to take orders from 115,000 retailers, including Wal-Mart, Amazon, Cabelas, Grainger, Target, and more.
Cut bloated staffing costs
Stop wasting money on endless admin, data entry, and troubleshooting. Free your staff to focus on growing the business.
Give your partners full visibility
Let retailers track the status of their orders directly in ShipStation and eliminate the need for phone calls and email updates.
Stop stressing about EDI changes
Never worry about maps, spec changes, or updates again. Once you connect to our system, it's always taken care of.
Minimize errors & chargebacks
Keep impeccably accurate orders no matter how busy things get. Build trust with all your major trading partners.
24/7/365 expert support
Contact your SPS Commerce team anytime, day or night, via phone, email, or chat. Get expert, 1-on-1 help the instant you need it.
… And experience stellar service from the very first phone call.
Talk to a knowledgeable, ShipStation-savvy Solutions Advisor
Find out how SPS Commerce's business-friendly pricing helps you maximize profits as you grow
Take the first step toward finally cutting tedious manual data entry out of your fulfillment cycle