Oracle E-Business Suite EDI integration from SPS Commerce can automate and scale your business.
SPS Commerce has a well-established relationship with Oracle and leverages Oracle's application integration architecture for a seamless implementation. Our Oracle E-Business Suite EDI integration solution uses the Oracle E-Commerce Gateway services for outgoing and incoming transactions for a streamlined process experience.
Get clear, simple answers to all your EDI questions.
No sales pressure. No commitment.

Connect to all trading partners
Increase inventory accuracy & sales
Choose the industry's most complete Oracle E-Business Suite EDI integration solution.
Manual data entry from one system to another doesn't just slow down your processes – it slows down your potential for growth. The SPS Commerce Fulfillment EDI for Oracle E-Business Suite and Oracle connects to other business systems and technologies with an advanced approach to automation, enabling your company to work faster, smarter and more productively, while simultaneously saving thousands in staffing resource costs. Exchange:
Sales orders and invoices
"SPS Commerce is more than an EDI provider to Valencia, their expertise and recommendations show they understand our business and the needs of our retailers. They've enabled our advances into e-commerce, opened up new sales channels, and scaled our traditional business growth with ease."
– Ian Howard, Interconnected Retail Sales Manager, Valencia Pipe Company
Pre-configured for all order management models or choose a custom solution based on your unique fulfillment requirements.
Managing ongoing EDI tasks can be complex and time-consuming. Full-service EDI providers like SPS Commerce deliver EDI technology and associated staffing resources responsible for customizing, optimizing and operating your Oracle E-Business Suite EDI solution. Here are some common EDI responsibilities and how different types of providers handle them:
Full-Service EDI Providers
A full-service provider, like SPS Commerce, has an expert team that handles ongoing management of your EDI solution.
Take ownership of understanding your trading partner requirements and making map changes. The SPS team actively manages 9,000 changes from retailers each year.
Manage end-to-end EDI testing and ensures your initial data flow with trading partners is successful.
Communicate directly with your trading partners to manage connectivity, setup, requirements, updates and support efforts.
Proactively monitor and optimize your solution to prevent errors and minimize data entry.
A team of trading partner, system and EDI experts is available 24×7 in the channel of your choosing.
Managed EDI Service Providers
Your in-house team is responsible for the operational and technical details of managing your EDI solution.
When a trading partner requirement changes, your team is responsible for changing the EDI maps. Requirement changes are extremely common in retailing.
Require your team to coordinate EDI testing with your trading partners and validate data flow.
Your in-house team communicates with trading partners about EDI connectivity, setup, requirements, updates and support.
Your in-house team is responsible for monitoring and optimizing your EDI solution.
You will be responsible for contacting support regarding any issues. Real-time, expert support is often limited.
A full-service, universal connection that delivers greater capabilities with less cost and risk than traditional EDI solutions.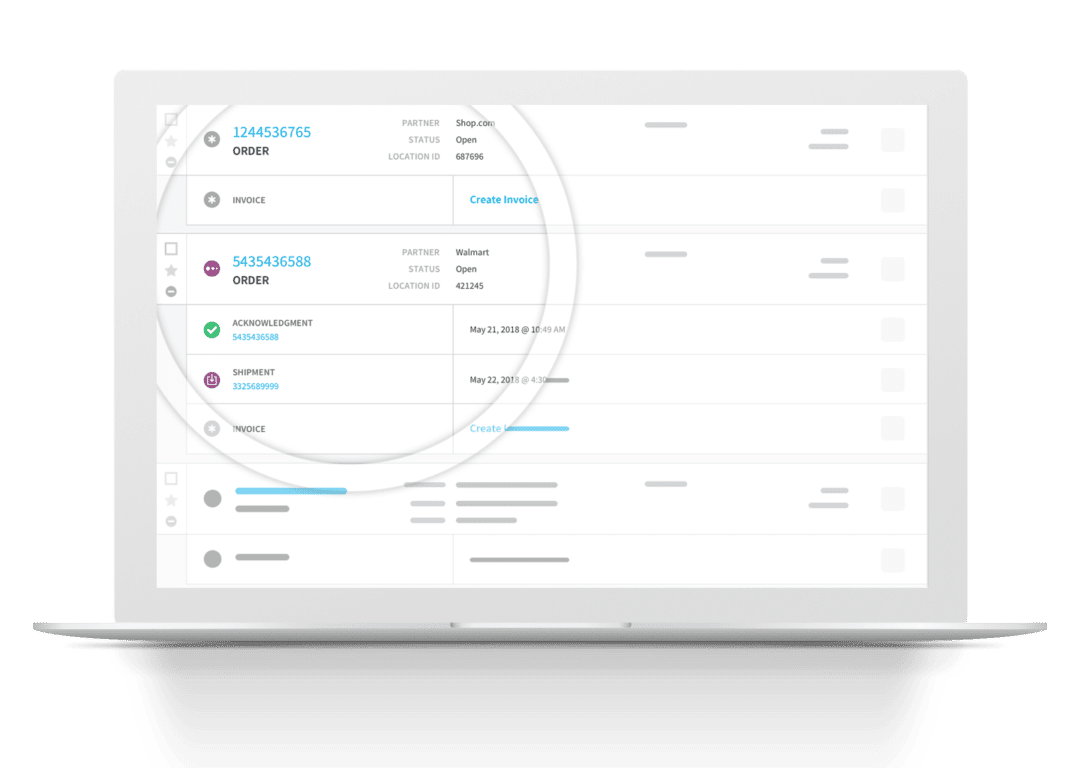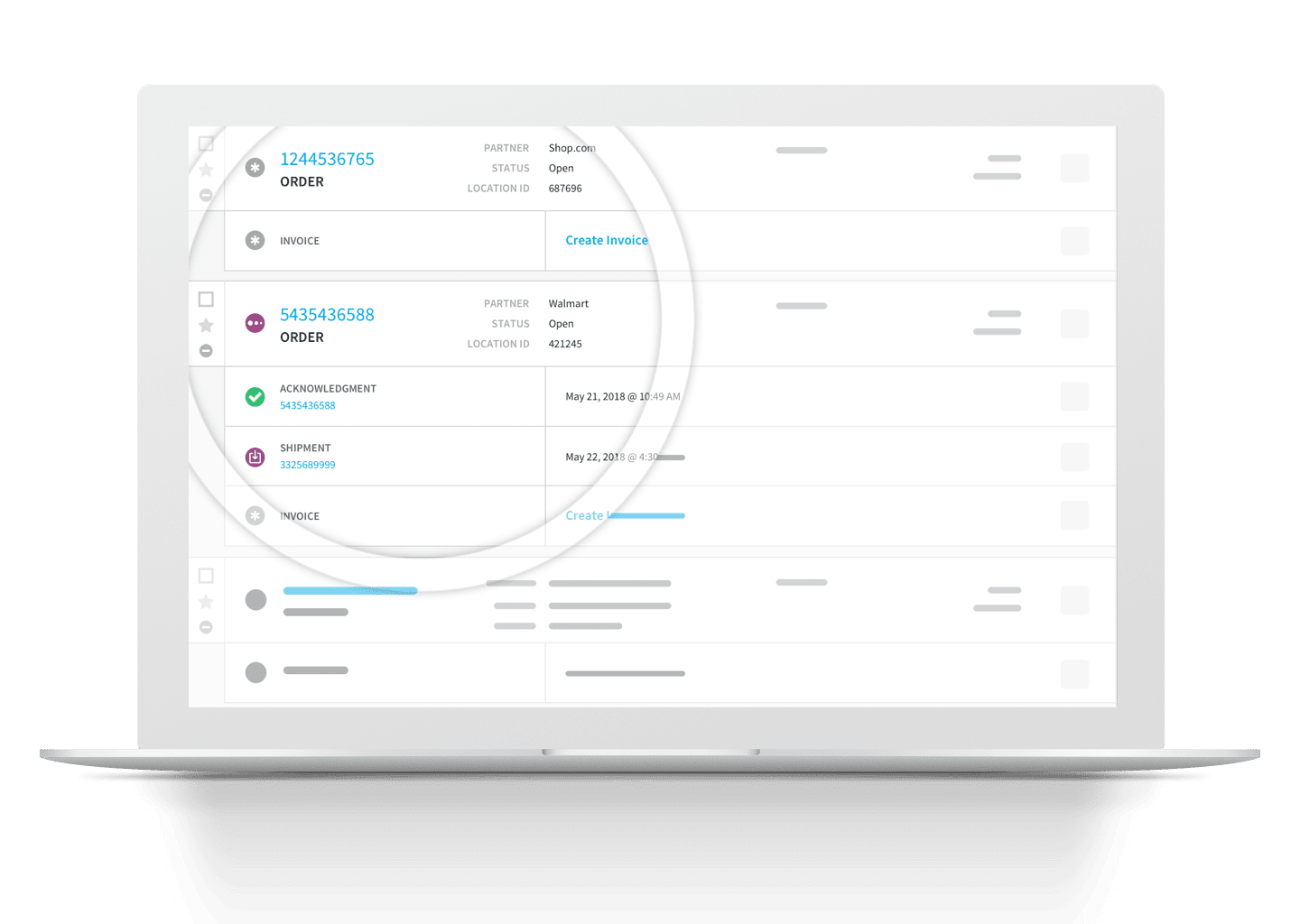 Consistency that happens automatically
Eliminate the need to build EDI maps for each transaction or customer. The SPS Commerce full-service Oracle E-Business Suite EDI integration includes this as a part of our service. Our EDI experts manage all of the mapping and updates required for you and all you trading partners.
Process orchestration for your unique requirements
With the SPS Oracle E-Business Suite EDI solution, many of your current processes can be automated using the business rules specific to your organization. Instead of spending time obtaining, translating and loading data, the process can be completed automatically.
Achieve better performance at a lower cost
Reduce operational costs with our Oracle E-Business Suite EDI solution. Put an end to ongoing troubleshooting and minimize chargebacks by exchanging clean and accurate data every time, with every trading partner.
Experience greater functionality at scale
One connection with SPS Commerce Fulfillment enables you to automate processes, opening up the possibility to do more business with more trading partners. Deploy new customers faster than ever with a system that is already prewired to thousands of businesses in the retail industry, from retailers and brands to vendors and 3PLs.
Redirect your human workflow for operational excellence
With automated processes, all accurate transactions flow through the system, leaving your staff to only manage the errors and exceptions. Dashboards, automated communications and alerts let you know something is wrong so you can direct your efforts efficiently. After the problem is solved, transaction re-processing is quick and easy.
Gain a deeper visibility into your business
Endow staff at a role-based level with access to all of the information they need to do their best work. The SPS Commerce Fulfillment EDI solution allows IT personnel to see every EDI transaction and document, and view how information is flowing through the system. Give customer service the information they need to answer questions about orders.
The only full-service EDI solution for Oracle's E-Business Suite you'll ever need…
Market-leading, battle-tested, proven technology
A trustworthy team of technology experts to make it work
Ongoing support to keep it running smoothly
Get started with an automated Oracle E-Business Suite EDI solution with SPS Commerce
(You'll hear back in 1 business day)
Join the thousands of companies who have successfully ditched data entry with SPS Commerce
"SPS has been there, done that"
"We're moving from a legacy based order system and moving into Oracle. We're going to be working now with SPS into how you can help us get the data out of what we're implementing successfully. It sounds like SPS has kind of 'been there, done that' and to be able to work with a partner that can help us be successful and do it in the most efficient and shortest period of time, I'm really looking forward to."
— Laura Hunter, Director of Sales Operations at USG
"Chargebacks are now an anomaly"
"By using SPS Commerce's order fulfillment solution, Callaway has been able to significantly reduce chargebacks. Chargebacks are now an anomaly in our business."
—Zohreh Alaghemand, Senior Director Global ERP Solutions, Callaway
"SPS's team made all the difference"
"On our own, HDW was able to connect five vendors in a year. With SPS, we connected with more than 100 vendors in six months. SPS' best practices and team made all the difference."
— Wade Wilkerson, Chief Financial Officer, HDW Inc.
"We reached our goal"
"SPS Commerce created a unique win-win solution for NBF and our retail trading partners. They provided a highly professional team that took the time to understand the nuances of our business and the sensitivities of our trading partners. Overall, our vendors had a positive experience and we reached our goal."
— Brady Seiberlich, Director of Application Development, National Business Furniture