Visibility Analytics.
Get insight into order status and responses.
Gain visibility into item sourcing and fulfillment.
Obtain complete access to your orders and discover possible disruptions before they impact your business with our Visibility Analytics. This cloud-based solution enables you to access any order status so you can monitor up-to-the-minute information about purchase order changes, advance shipment notices and invoices – all without interruption.
View order details, instantly
Visibility Analytics gives you access to the status of your orders at any time, filtered by supplier, department, buyer, purchase order type or ship-to location. Discover the critical retail data analysis information you need from any web browser.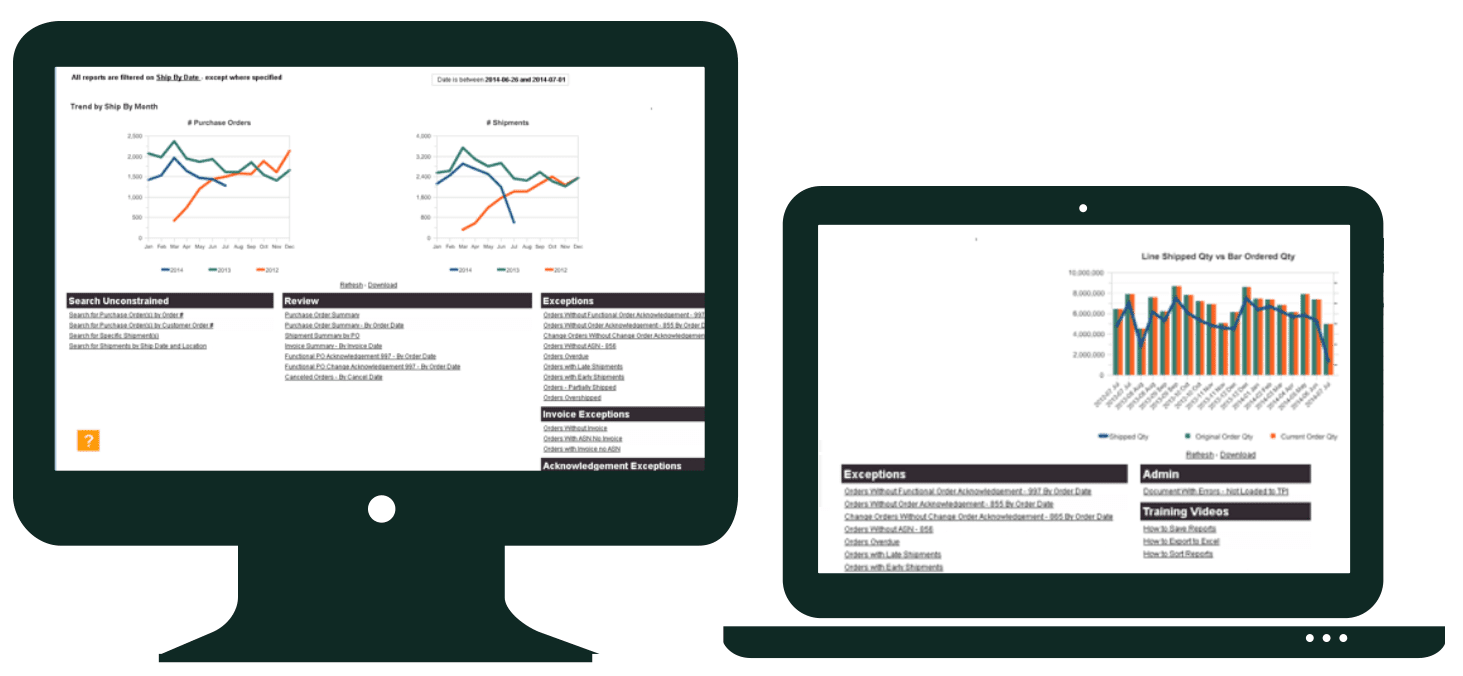 Easily access valuable insights.

Our pre-built dashboards show you a comprehensive picture of your orders, without the need for assistance from your IT department. Each customizable view enables you to save report settings and filters, making any analysis easy and consistent. Subscribe to alerts for immediate access to ongoing status reports or exception-driven analysis. All reports can be downloaded to Microsoft Excel for user-friendly and in-depth analysis.
 Avoid potential disruptions.

With an overview of your orders, it is easy to confirm which shipments are complete and arriving on time. Our retail analytics solutions help you view unshipped orders, identify potential fulfillment issues and detect overdue orders. You can also track the most recent shipment information via links to carriers' tracking sites – all from a single, user-friendly dashboard.
 Rely on expert support.

Our staff has more than two decades of experience in EDI data processing and retail analytics and is ready to start identifying any potential issues or problems that arise before they impact your business, saving time and money.
Dashboards
Quickly assess fulfillment compliance problems by supplier, document type, error type or time period from any computer – whenever and wherever you want.
Compliance metrics
See the entire picture regarding compliance issues and trends.
User-friendly reports
Easily create, save and share vendor EDI compliance analyses across your organization without the need for IT help.
Automated alerts
Subscribe to scheduled analyses and receive results when you want, via email.
Want more insight into your business?