Looking for GS1 labels? SPS Commerce can help.
SPS Commerce's label solutions allow you to quickly and easily create fully compliant UCC-128 or GS1 labels for your retail partners. Regardless of your technological capabilities, we have a solution that can work for you.
Full-Service Labels
Need to meet a retailer's UCC-128 label requirements but aren't sure where to start? SPS Fulfillment automatically generates retailer-compliant shipping labels through an easy-to-use interface.
System Integrations
Need UCC-128 labels added to an ERP, TMS or other software system? Explore our 200+ pre-built solutions that can automate your shipping labels.
Label APIs
SPS provides API services for developers looking to create retailer specific UCC-128 labels and packing slips. Simply create an account on our Dev Center platform to get started.
With the SPS Shipping Labels, you can: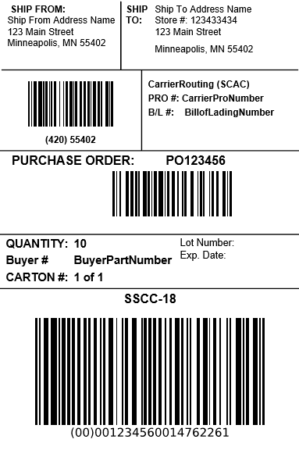 Immediately comply with your trading partners' UCC-128/GS1 label requirements
Automate custom shipping label creation with your system of record (ERP, WMS, TMS, etc.)
Add and easily onboard new retail trading partners using direct API connectivity
Efficiently create retailer compliant shipping labels at scale
Rely on robust security with built-in authentication and authorization using OAuth 2.0 model
Advantages of SPS Shipping Labels
Unlike other shipping label services, SPS manages all retail requirements on your behalf. Creating compliant shipping labels is always easy and cost-effective!
Connect once to our network and create fully compliant shipping labels for any trading partner
Fully automate shipping label creation within your business system
Never worry about updating retail maps or specs
Affordable flat-rate pricing
Require custom work every time you add a new trading partner
Manually create labels for each order
Requires manual work to update every time you have a new label requirement
Confusing pricing with significant up-front investments for designing custom labels
Are you a 3PL?
If you pick, pack, and ship to major retailers check out SPS for 3PLs. This fully-comprehensive solution helps 3PLs accelerate onboarding, standardize and automate customer communications, and keep up with retail shipping label requirements.
Create fully compliant UCC-128/GS1 shipping labels for Walmart, Target or another one of our 115,000 trading partners.
Automation that saves time and money
"Our overall experience with SPS as a business has been wonderful. Their service has saved me countless hours of work. Time is money :-)"


Patti M.'s review on Capterra.com
Wonderful software and customer service
"It's so easy to use and navigate. The customer service is stellar and the software overall is SO good."


Stephanie C.'s review on Capterra.com
Easy to work with
"When there are any updates from my customers, the changes are automatic and I don't have to worry about making any changes from here. This is a great help!"


Nancy M.'s review on Capterra.com
Talk to a specialist to see which label solution is right for you.