Drop shipping for suppliers and brands
How drop ship works, how to get started and what benefits your business can expect.
How drop shipping works:
Drop ship is a fulfillment model that ships products directly to the consumer on behalf of the retailer.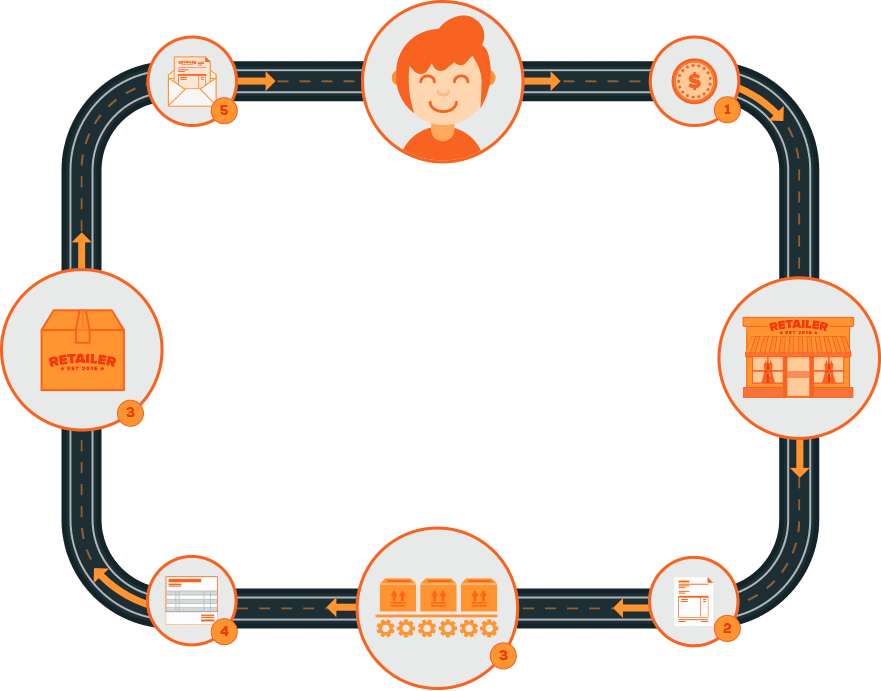 In its simplest form, drop ship works like this:
Vendor assists with retailer item setup on website
Vendor provides on-going available inventory levels
Consumer places order with retailer
Retailer places order with vendor
Vendor ships to consumer
Vendor provides retailer with ongoing order/shipment information
Retailer provides consumer with ongoing order/shipment information
How to implement drop ship.
Your business has a few options when dealing with drop ship.

Do it yourself
Pro: Keeps upfront costs down.
Con: Can cost more in the long run due to IT resources and software.
Con: Monthly subscription fees.

Outsource to a 3PL
Pro: The ability to scale quickly and capitalize on the 3PL's resources and better shipping rates, which can cut shipping costs by 40 percent or more.
Con: The supplier is still responsible for getting order to the 3PL, which involves many of the same documentation, alerts and responsibilities as handling things yourself.

Join a retail network.
Pro: Scaling is immediate and virtually infinite, and the supplier can manage multiple retailer accounts through a single mobile app or web portal.
Con: Monthly subscription fees.
What EDI documents do I need to exchange to make drop ship possible?
EDI is the fuel and foundation for a healthy drop ship operation. Listed below are the seven most common transaction documents for drop ship.
832 (Item/Catalog)
Used in general retail to obtain supplier item information and load to their Item master file for new good, item updates or discontinued product notification.
850 (Purchase Order)
Used in retail for order products to be shipped to a DC/store or end consumer. Can contain a single ship to or a single order with multiple ship to and provided marked for/cross dock packing details.
860 (Purchase Order Change)
Used in retail to communicate order changes to the supplier.
Branded Packing Slip
This is not a data exchange but assists with supporting/driving additional sales with your trading partners; the retailers can include return policies and product returns procedures.
810 (Invoice)
Used by the supplier to invoice for consumer shipments to the retailer. This may include shipping and handling.
846 (Inventory Availability)
Most commonly used by suppliers to provide available and future inventory quantities, corporately or by ship from location.
855 (Purchase Order Acknowledgment)
Used by retail as an acknowledgement of the purchase order.
865 (Purchase Order Change Acknowledgment)
Used in retail to confirm acknowledgment of PO change or order cancelation.
856 (ASN Shipment Confirmation)
Used as advance ship notice or shipment confirmation. From supplier to retailer. Retailer will use this as visibility into inbound shipments, receiving automation or confirmation of shipment for vendor direct to consumer orders.
180 (Return Authorization Requests and Approval - RTV)
Used to communicate between buyer and seller, a request for consumer returns to the supplier when applicable based on trading partner agreement between the two parties.
Advantages of being drop-ship capable.
Unlock more retailer relationships
Make money on single-parcel units

Start drop shipping for your retail partners.
Expand your service offerings to retailers and capture more sales with drop ship.