What is Direct to Consumer Fulfillment?
Direct-to-consumer fulfillment, also known as a drop-ship, is an order fulfillment method in which you fulfill an order directly to a consumer on behalf of a retailer. Drop-Shipping continues to grow in popularity as consumer preferences shift towards eCommerce.
Advantages of direct-to-consumer shipping include:
Increase revenue
Retailers often use drop-ship direct fulfillment as a way to offer specialty items to consumers that don't make sense to order in bulk and carry in their inventory. With drop shipping, retailers can carry your full range of products, including all styles/models, colors and sizes.
Appeal to more retailers
Many retailers are specifically looking for drop-ship capable suppliers. Being capable of handling all types of order fulfillment, including drop shipping, makes you a more desirable trading partner.
Cost-effectively test new products
Retailers frequently use drop shipping to test new products prior to committing to bringing them into stores. Drop shipping helps you and your retail customers quickly gauge demand for a new product.
In its simplest form, drop-ship direct fulfillment works like this: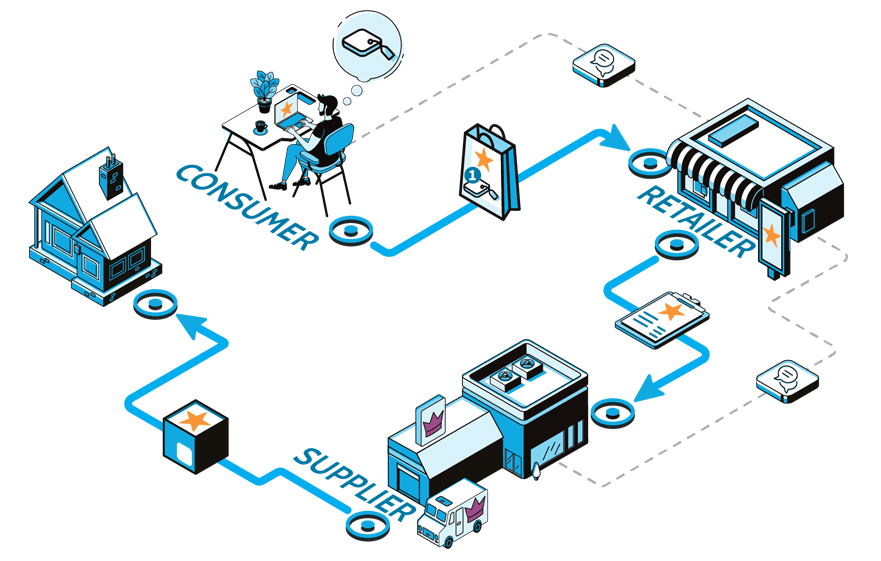 Suppliers provide detailed item information to the retailer, so the retailer can set up items within their item system and on their website
Supplier provides regular and timely inventory updates to retailer
Consumers place orders with the retailer
Retailer places an order with the supplier
Supplier acknowledges they've received the order, alerts the retailer of any order discrepancies and their ability to fulfill the request
Supplier provides the retailer with ongoing order/shipment statuses where applicable
Supplier generates shipping documentation with retailer's brand, including branded packing slips and labels
Supplier ships to the consumer
Supplier alerts the retailer with shipment information and invoice
Retailer provides the consumer with continuous order/shipment information
Supplier invoices the retailer for the shipment
Consumer receives product
Supplier and retailer handle returns as needed based on agreed-upon process
Congratulations on securing your first drop ship contract!
There are a lot of moving parts between suppliers and retailers when fulfilling orders directly to consumers. To make sure your business is set up for success, following these steps to make sure you're providing the best customer experience.
#1
Ability to print packing slips & shipping labels for your orders. Rather than logging into yet another system to find and print your retailers specific branded labels, use the same system that your purchase order and invoices are in with SPS Fulfillment.
#2
Ability to ship all over US efficiently. For many companies, this is the hard part of committing to drop ship contract so they will outsource this part to a trusted 3PL. Start by checking out which logistic partners are already using the worlds retail network at SPS Commerce.
#3
Ability to implement the advanced ship notice (ASN) into your order fulfillment process. Your retailer will require the ASN for all drop ship orders so that they can provide shipping information for the customer. The SPS Fulfillment solution even has order automation in order to keep you moving forward.
#4
Ability to manage consistent product data across all channels. Many retailers require a lot more product data when you're drop ship capable. Rather than manage item data for each sales channel through individual spreadsheets, try our SPS Assortment solution instead.
#5
Ability to plan geographic inventory demands. POS data can inform how to optimize product sales and inventory, but data collection and analysis can be time-consuming for many companies. Use our best-in-class dashboards and reports to analyze your retail sales across partners and locations with SPS Analytics.
What EDI documents do I need to exchange for direct-to-consumer fulfillment?
EDI is the fuel and foundation for a healthy drop ship operation. Listed below are the most common transaction documents for drop ship.
832 (Item/Catalog)
Used as a digital catalog to deliver the full list of their products and pricing electronically to the retail partner.
850 (Purchase Order)
Retailer organizations use EDI 850 to order products to be shipped to a distribution center, a store or the end consumer.
860 (Purchase Order Change)
Used by retailers to confirm their acceptance of changes to purchase orders made by the supplier. Changes may include adding items, changing items, changing dates, changing quantity, changing prices or rescheduling an order.
856 (ASN Shipment Confirmation)
Used as advance ship notice or shipment confirmation. This document is sent from the supplier to the retailer. Retailers will use this to get visibility into inbound shipments, receiving automation or proof of shipment for direct-to-consumer orders.
810 (Invoice)
Used by the supplier to request payment for products delivered to consumer or other locations (warehouse, distributor, etc.). This may include shipping and handling.
846 (Inventory Availability)
Commonly used by retailers to inquire about a supplier's inventory levels, units on hand and if future inventory will be available. The frequency of this document can increase to multiple times a day when doing drop shipping.
855 (Purchase Order Acknowledgment)
Used by suppliers to acknowledge the receipt of the retailer's purchase order and communicate any errors or changes to the order.
865 (Purchase Order Change Acknowledgment)
Used by suppliers to acknowledge the acceptance or rejection of purchase order changes previously submitted by the buyer. They could also use the EDI 855, just depends on the process specified by the retailer.
Branded Packing Slip
Ensures the vendor shipments represent the retailer's brand and have continuity between vendor deliveries and those fulfilled by the retailer for customer loyalty. Return policies and product returns procedures can also be included.
180 (Return Authorization Approval)
Used as notification from the retailer to supplier that the customer will be returning the item. It will also provide a Return Merchandise Number (RMN) to aid with the physical return of the product.
Conquer the complexities of direct-to-consumer fulfillment.
If you ask any drop-ship supplier, they can recall their first direct-to-consumer order and the anxiety they felt. SPS Commerce asked more than one hundred of its experienced drop-ship customers about their first orders, as well as how they've evolved and automated their drop-ship fulfillment since that time.