Become a fully EDI-compliant business in just 3 to 5 days* with SPS Commerce
Ready to put messy emails and manual data entry behind you? Looking for an Australia EDI system that works? Get fast processing orders, real-time tracking, bulk invoicing and more with SPS Commerce Fulfillment.
* Exact timeline depends on retailer's responsiveness.
Be ready to start taking orders in 1 week or less
Eliminate human error and reduce labor costs
No EDI expertise required. We manage it all for you!
So your trading partner wants you to use SPS Commerce as your EDI service… but what's in it for you, the supplier?
Let's be honest: At first glance, EDI looks like a pain. All those documents to manage: EDI 850, EDI 997, EDI 810… Why bother? Is it really worth the trouble?
With the right solution, EDI doesn't have to be painful. Here are just a few reasons why so many suppliers start using SPS Commerce as their EDI system:
1. It keeps things organized & in one place.
All your documents — orders, invoices, and shipping notices — are kept in one easy-to-search hub, along with the tools you'll need to close your accounting.
3. You get clear, real-time confirmations.
With an EDI Australian service like SPS Commerce you can finally see what stage every order is in. No more confusion about what's been completed and confirmed by your customers.
5. You can officially accept orders from anyone.
Our huge community of trading partners makes connecting to new retailers a snap. Plus: we keep connections updated for you, so they always work.
2. Fewer keystrokes mean fewer mistakes.
SPS Commerce's always-up-to-date connections ensure that data gets automatically mapped to the right fields, so your data's always clean & correct.
4. It dramatically reduces your labor costs.
SPS Commerce's pre-wired EDI connections slash data entry by up to 85+ %, so there's no need for staff to spend all their time keying in orders.
6. It's so much easier than you think!
Time and again, suppliers are delighted to discover how simple and clear our edi system is. It's incredibly easy to learn, and genuinely enjoyable to use.
Processing orders & invoices with SPS Commerce is easy, fast and practically foolproof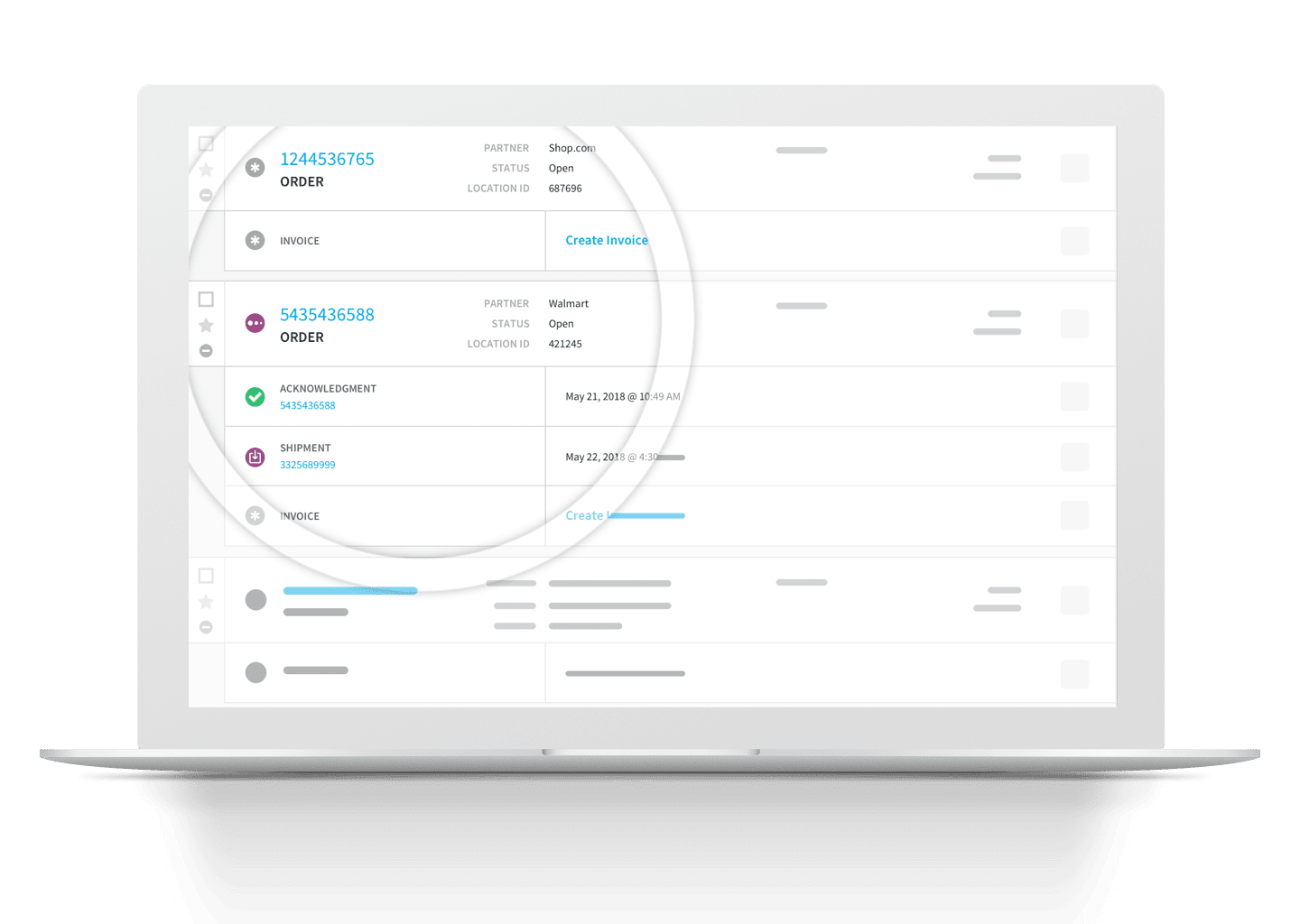 Get notified as soon as an order comes in
Every time your retailer sends an order, you get an email letting you know to login and check it.
No confusing 3-digit EDI codes to learn
Everything in your SPS account is labelled intuitively so anyone on your team can use it.
Clear instructions for every order & retailer
Our live workflow displays the retailer's EDI requirements, preventing errors & chargebacks.
Each step gets "checked off" once it's done
Every completed task gets a green checkmark, so there's no confusion about what to do next.
Save time and keystrokes with auto-fill
Our advanced search and auto-fill features reduce painfully long forms, like ASNs, down to 2-3 fields.
Get instant support via in-app chat
If you ever get stuck or confused, expert 1-on-1 help is just a click a way with our in-app chatbox.
And best of all… SPS Commerce works with any retailer, grocer and distributor
If a company uses EDI, we can add them to your account. It's just that simple. In fact, with 115,000 trading partners mapped to our platform already, most connections can be set up and ready to go in a matter of hours.
Choose the most popular EDI provider
With more than 500,000 users in 80 countries, SPS Commerce was ranked the #1 EDI software solution by Capterra.com. With a track record like ours, why go with anyone else?

"It's user friendly and easy to learn. I use it everyday and have never had any major issues. I like how easy it is to keep everything organized to make it easier to search for POs"


Michelle W.'s review on Capterra.com
"[Love] the efficiency to submit documents, how easy it is to create invoices and advance ship notices. Save a lot of manual entry… allows our company to be more efficient"


Marilyn C.'s review on Capterra.com
"My experience with SPS in one word 'Efficient!' What I like most about SPS is that it's so user-friendly. I receive a notification when there's a new PO to retrieve and invoicing is easy."


Joseph L.'s review on Capterra.com
Book your free demo of SPS Fulfillment product!
Frequently asked questions.
"Can SPS be integrated with other business systems?"
Yes! SPS Commerce can be seamlessly integrated with dozens of different ERP, TMS, WMS, and accounting systems. View our full list of pre-built automations for tools like NetSuite, SAP, and Microsoft Dynamics. And if we don't have a pre-built integration for your system, we'll happily build it for you.
"How much does SPS Commerce cost?"
We can ensure that we'll offer you competitive pricing that helps you save on headcount and headaches. Check out this report on the cost savings one of our customers experienced.
"This all sounds great… so how do I start?"
Easy — the first step is requesting a free demo & quote from one of our Solutions Advisors. After a quick call to go over the details, our Implementation Experts will reach out to your retailer and get everything set up for you. Once it's all ready, we'll send you your login… and you can start taking orders!