The smarter way to do EDI.
The SPS platform of solutions goes beyond EDI to provide more visibility, analytics, collaboration and communication so you can do more than just survive in today's digital retail world — you can thrive.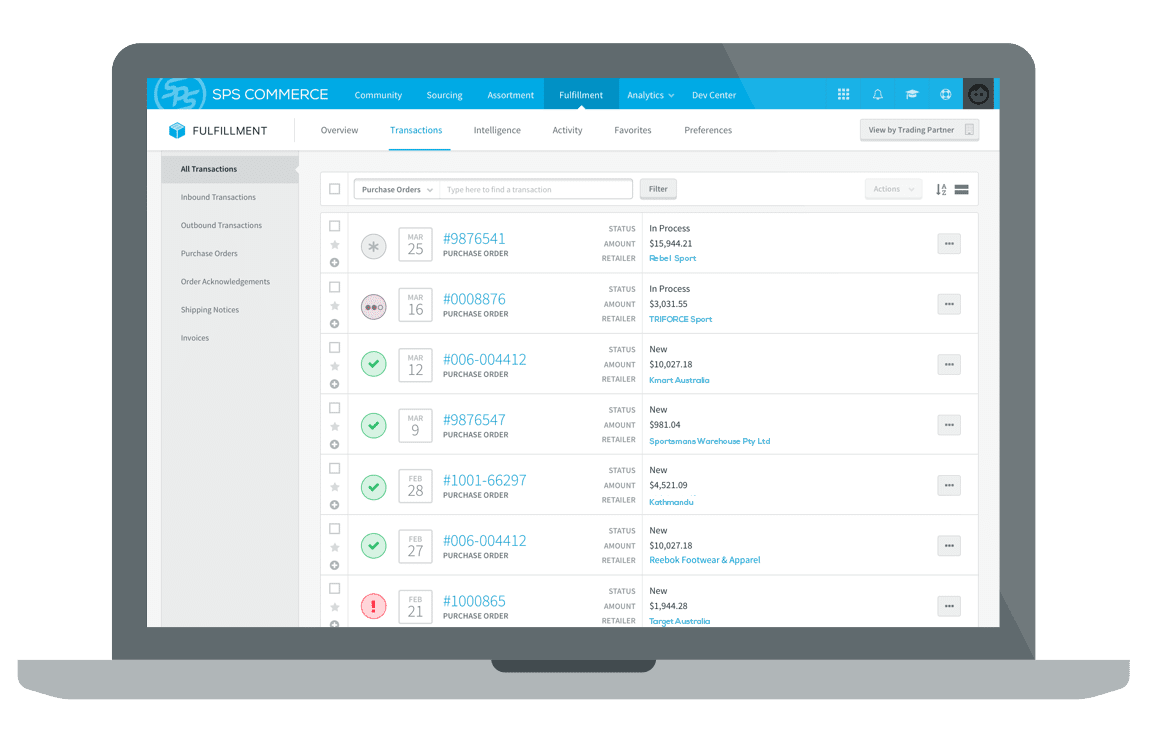 Easier and more cost-effective than traditional EDI software.
All you need is one connection to the SPS network and your business can enjoy these features:
EDI compliance
Our testing process is fast, simple and will ensure you are ready to exchange data with your retail partners.
Fulfilment visibility
Complete visibility into order and shipment status and real-time audits.
No software needed
Manage orders, shipments, payments and returns from one easy-to-use web dashboard. All you need is a browser.
Future-proofed EDI
Automatically adapts to all your retailers' current and future needs including spec changes and updates.
Built-in messaging
Notify a co-worker on a specific transaction to quickly communicate a delay or change in order fulfilment.
Fast implementation
Our expert implementation team will have you up-and-running with your EDI system in days.
Retail's largest network
Become EDI capable with all your retail customers, including Woolworths, Coles, David Jones, Amazon (including Australia), THE ICONIC, Big W, Bunnings, Pet Barn, and more.
Integrated with ERP
Our Integrated solutions allow you to access your EDI data from within your ERP, WMS or TMS.
Manage large order volume
Our world-class data centre can handle all your seasonal or holiday order spikes.
SPS Commerce was chosen by
StarTrack
, a trusted logistics partner for e-commerce, to help their customers. As the head of third-party logistics (3PL) at StarTrack, David Keevil, is able to use the local Australia SPS Commerce team as a resource to advance its capabilities for its retail customers.
David Keevil
75,000+ retail partners at your fingertips.
Connect once to the industry's largest network and achieve seamless collaboration with all the trading partners you do business with, now and in the future.
Ready to reimagine your EDI?
Discover the technology trusted with processing millions of transactions for tens of thousands of customers worldwide.