JCurve EDI integration made easy for distributors and wholesalers.
As a small business, you don't have time to do EDI, but you do need it to support your growing business and trading partner requirements. SPS removes the complexity from JCurve EDI integration, allowing wholesalers and distributors to quickly add EDI capabilities and rely on the experts at SPS to take care of the details.
Get clear, simple answers to all your EDI questions.
No sales pressure. No commitment.

Add integrated EDI capabilities
Improve order processing time
Reduce errors by up to 99%
Gain the ability to easily do business with Australian and global retailers using a trusted EDI solution built for JCurve ERP.
SPS Fulfillment for JCurve ERP manages your EDI orders with any retailer with ease. Never worry about understanding the complexity of their requirements or missing an order. That's our job. SPS manages JCurve EDI integration on your behalf, keeping things running smoothly with experienced staff and ongoing monitoring to make you successful.
Use the solution designed for small and mid-sized wholesalers and distributors
Rest easy with EDI and JCurve ERP experts ready to help
When your business grows, your EDI solution will too
"Our decision to partner with SPS Commerce has resulted in the elimination of our EDI backlog, reduced IT costs, and increased efficiencies in serving our retail customers."
– Chris Rousseau, SVP of Information Technology at Callaway
Wondering how the full-service EDI solution from SPS Commerce compares to other JCurve EDI integration providers?
Our full-service EDI solution includes the technology you need, supported by a dedicated team of experts who are here to ensure your JCurve EDI integrator is operational and scales to fit your small business needs. In no time, you'll be sending and receiving EDI orders, shipping notices, and invoices from within JCurve ERP with little to no manual entry needed.
Full-Service EDI Providers
A full-service provider, like SPS Commerce, has an expert team that handles ongoing management of your EDI solution.
Take ownership of understanding your trading partner requirements and making map changes. The SPS team actively manages 9,000 changes from retailers each year.
Manage end-to-end EDI testing and ensures your initial data flow with trading partners is successful.
Communicate directly with your trading partners to manage connectivity, setup, requirements, updates and support efforts.
Proactively monitor and optimize your solution to prevent errors and minimize data entry.
A team of trading partner, system and EDI experts is available 24×7 in the channel of your choosing.
Managed EDI Service Providers
Your in-house team is responsible for the operational and technical details of managing your EDI solution.
When a trading partner requirement changes, your team is responsible for changing the EDI maps. Requirement changes are extremely common in retailing.
Require your team to coordinate EDI testing with your trading partners and validate data flow.
Your in-house team communicates with trading partners about EDI connectivity, setup, requirements, updates and support.
Your in-house team is responsible for monitoring and optimizing your EDI solution.
You will be responsible for contacting support regarding any issues. Real-time, expert support is often limited.
Choose the EDI solution trusted by JCurve users.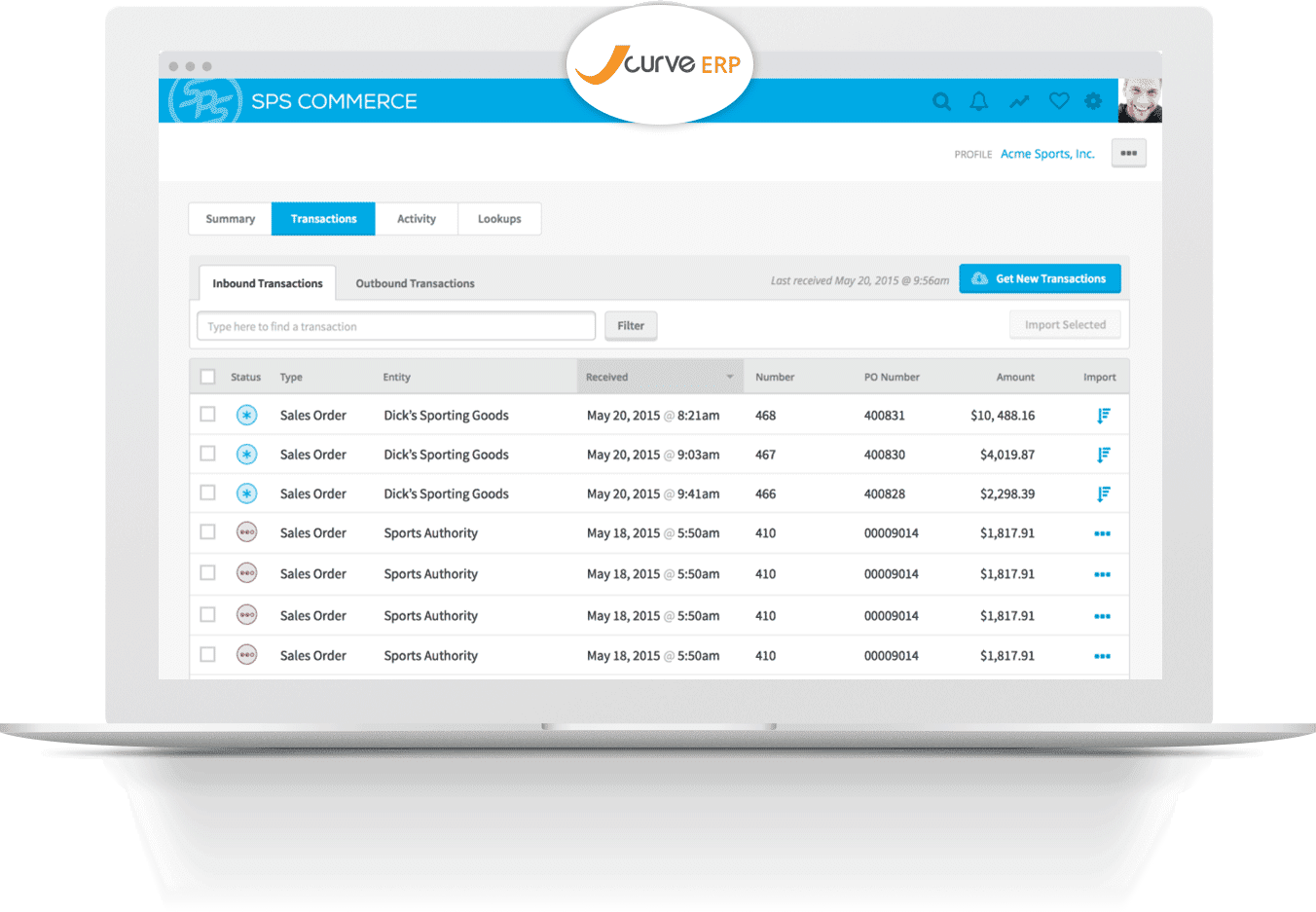 Stop stressing about EDI changes
Never worry about maps, spec changes or updates again. Once you connect to our system, it's always taken care of for you.
Cut bloated staffing costs
Stop wasting money on endless admin, data entry and troubleshooting. Free your staff to focus on growing the business.
Give your partners full visibility
Let retailers track the status of their orders directly in JCurve ERP and eliminate the need for phone calls and email updates.
Positioned for scalable growth
Eliminate bottlenecks caused by manual keystrokes and take the lid off of data silos. Improve data accuracy for better business decisions and forecasts.
Minimize errors & chargebacks
Keep impeccably accurate orders no matter how busy things get. Build trust with all of your major trading partners.
24/7/365 expert support
Contact your SPS Commerce team anytime, day or night, via phone, email or chat. Get expert, one-on-one help at the time you need it.
…And experience stellar service from the very first phone call.
Proven EDI technology for JCurve
Full-service team dedicated to your success
Ongoing support to keep everything running smoothly
Get simple answers to all of your JCurve EDI integration questions.
Contact a EDI specialist to learn more about our JCurve EDI solution today!
(You'll hear back in 1 business day)
See what customers like you are saying about SPS
Nothing makes us happier than hearing how we make our customers' lives easier. That's why we are so honored to be awarded the #1 Most Popular EDI Software on Capterra Achievement. Take a peek at what our customers are saying about us on Capterra.
"It saves a ton of time and money over manual entry as well as meets the requirements for our largest customers."


Joel W.'s review on Capterra.com
"It allows us to process orders and invoices in a more efficient and effective manner. We use multiple platforms and yours is by far the easiest and the simplest to use."


Donna D.'s review on Capterra.com