Achieve a seamless order management process
When you don't know the status of orders with suppliers, you're forced to reactively respond to problems. SPS partners with you and your suppliers to get the data needed for a consistent order management process. Our proven approach helps you satisfy consumers and manage inventory efficiently.
Common order management challenges
Many retailers and distributors lack critical data from their suppliers, making it difficult to understand the status of their orders. As a result, they can't respond to any issues with an order until it's too late.
A lack of critical order status data can cost time and money, resulting in:
Unused open-to-buy dollars
Inability to optimize stock levels
Unnecessary staffing expenses for contacting suppliers and managing order updates
Empty shelves and dissatisfied consumers
See how having the right data from your suppliers can help manage orders efficiently and satisfy consumers.
We know when an order will be delivered and if it shipped in full. We know if and when we would run out of stock. We can set consumer expectations. And we know when the stock situation would recover.
– Procurement Manager, Thrive Market
Get visibility into every step of the order management process
The SPS Community solution includes the technology, expert team and proven process to help you automate data exchange with your suppliers. Using our Order Performance and Order Visibility reporting capabilities, you'll have the insights you need to optimize omnichannel order fulfillment across your supplier community.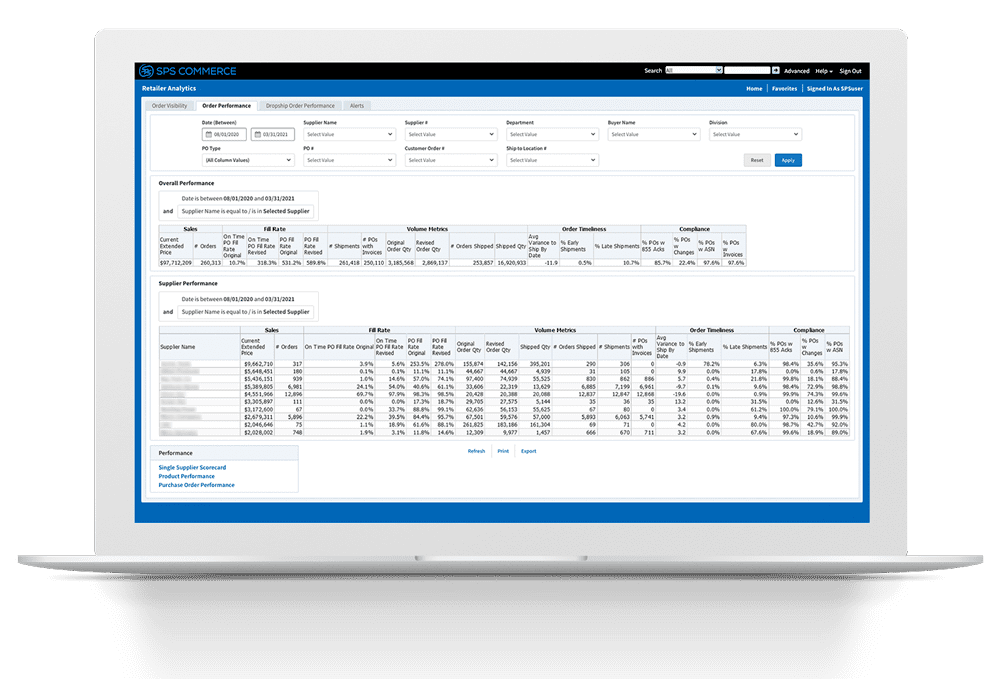 Make confident day-to-day decisions about products purchased, order status and inventory levels.
Prioritize orders that need attention or updates
Adapt for partial fill, split or late orders
Shift unused open-to-buy dollars
Prepare the distribution center for receiving orders
Quickly reconcile and pay invoices
Validate data flow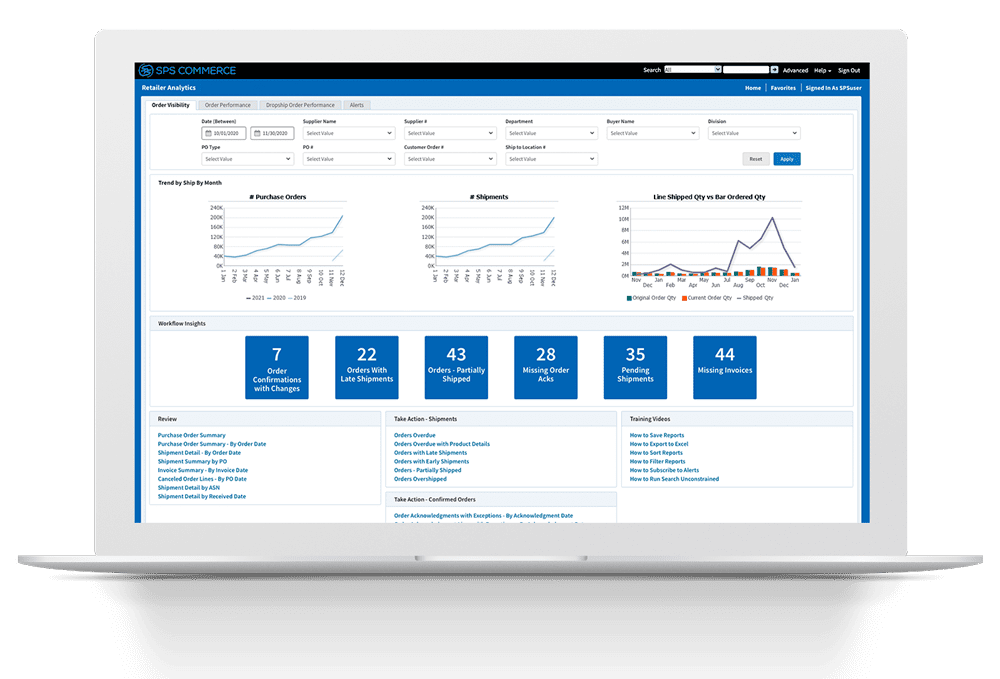 Understand how your trading partners are performing against key supply chain metrics and drive accountability.
Track key metrics, such as fill rates, shipment timeliness and EDI compliance
Drill down into individual supplier performance
Measure the impact of supply chain initiatives over time
Source and replace suppliers who can't deliver
Inventory reduction potential
Reduction of time spent managing orders
Talk with an SPS Commerce specialist to learn how our team can help you streamline your order management process. In the meantime, download our free playbook to learn about the benefits of automating information exchange with your suppliers.