Looking for easy ChannelAdvisor EDI integration? SPS Commerce can help.
Executing your multichannel ecommerce strategies is complex. Your EDI doesn't have to be. With SPS Commerce Fulfillment (EDI) for ChannelAdvisor, you can receive and take action on all your orders using one platform. We help streamline wholesale, e-commerce and drop-ship orders!
Get clear, simple answers to all your EDI for ChannelAdvisor questions.
No sales pressure. No commitment.

Manage orders from all sales channels in one place
Comply with all trading partner EDI requirements
Process drop-ship orders with ease
Affordable, predictable pricing
Streamline your operations with all-in-one order processing
Are you managing separate systems for wholesale, e-commerce and drop-ship orders? Are phone or email orders slowing you down?
Our easy-to-use technology, proven compliance and EDI experts will help you succeed. With our ChannelAdvisor EDI integration, you'll have one platform to manage orders, item data, inventory data, shipping and invoicing.
Direct integration with your ChannelAdvisor system and existing workflows
Exchange electronic supply chain data with all trading partners
Simplify the the order management and invoicing process
Shop for the most affordable shipping rates and book shipments
Choose the gold-standard ChannelAdvisor EDI solution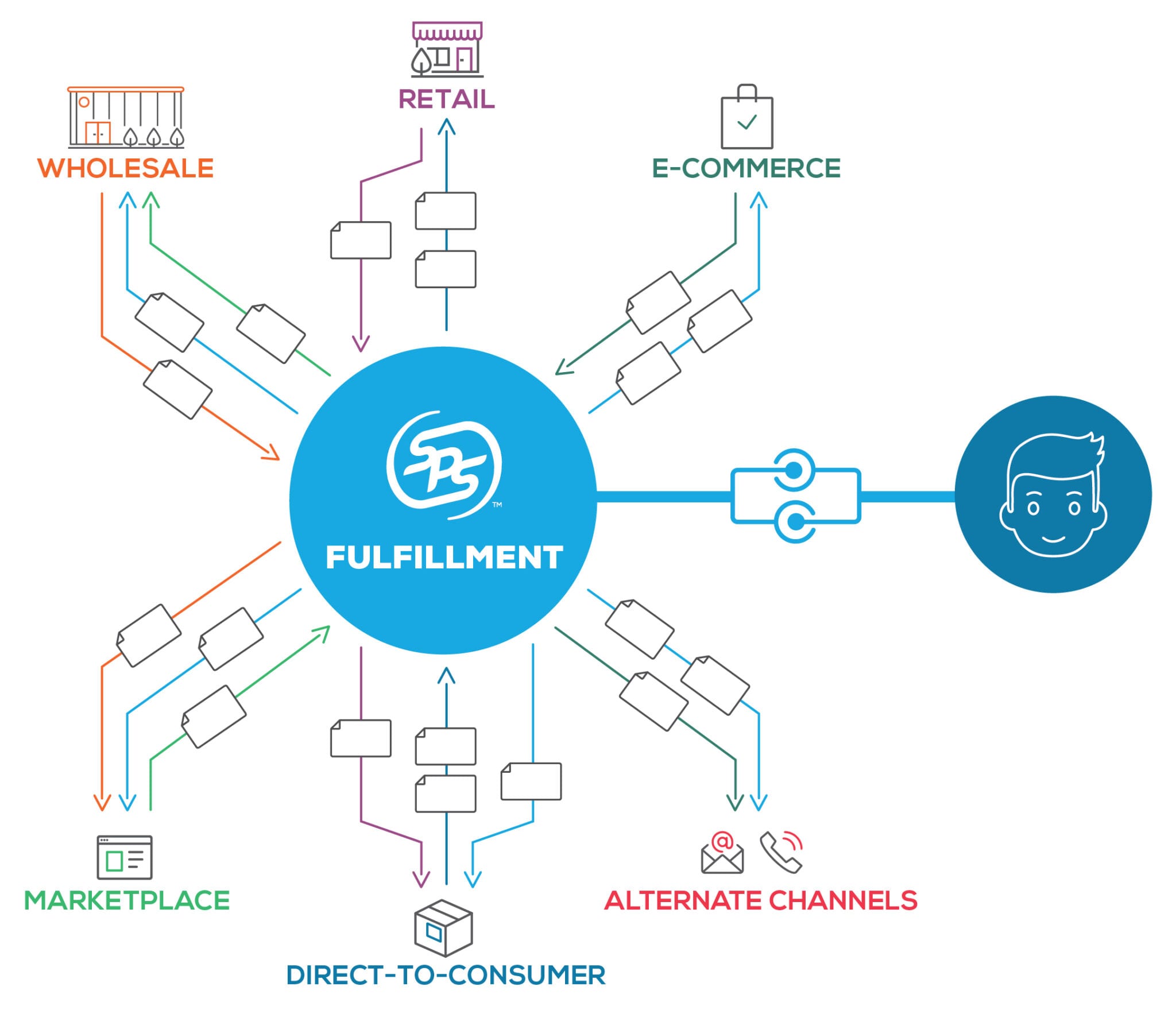 Connect with any retail trading partner
Prepare to accept orders from 115,000 retailers, grocers, distributors and marketplaces. We have pre-built connections to Wal-Mart, Amazon, Cabelas, Grainger, Target and more.
Save time and resources with full-service EDI
Our full-service team handles day-to-day EDI tasks for you, including map updates. With SPS, you'll always be in compliance with trading partner requirements.
Reduce tedious data entry
Our Channel Advisor EDI solution helps you eliminate data entry and errors. Process orders faster with EDI integrations between your Channel Advisor system and other business systems.
Automate communication with 3PL partners
Send order data to your warehouse and logistics partners automatically via Fulfillment. You can also gain insight into inventory levels without the need for manual tracking.
Affordable Channel Advisor EDI solution
Running an EDI program in-house is costly and time-consuming. Save money and time with the SPS full-service solution.
Streamline your shipping process
Our Carrier Service solution simplifies the process of fulfilling orders. Use a single system for rate shopping, booking shipments, managing tracking numbers and printing shipping labels.
"Any retailer we have wanted to work with they have been able to support. Testing is really easy as well, they have a team of experts to work with during the mapping/testing process."
– Patrick K.'s review on g2.com
Wondering how SPS Commerce compares to other ChannelAdvisor EDI providers?
Managing ongoing order fulfillment tasks is complex and time-consuming. Full-service providers like SPS Commerce deliver technology and expert staffing to take these responsibilities off your plate. Here's how we're different.
SPS manages all trading partner connections on your behalf
SPS Fulfillment is not a toolkit that you have to implement yourself! With SPS, you'll never worry about EDI, APIs, XML, JSON or other technologies needed to connect with your wholesale, e-commerce or drop-ship trading partners. Just connect once to our network and we'll take care of the rest!
SPS handles all EDI changes and updates for you
Retail order fulfillment requirements constantly change. We take ownership of understanding your trading partner requirements and making map changes. The SPS team actively manages 9,000 changes from retailers each year, so you don't have to.
SPS communicates with your trading partners
SPS will contact your trading partners for you, even if that means picking up the phone! We work directly with your trading partners to manage connectivity, setup, requirements, updates and support efforts.
SPS proactively monitors your EDI operations and troubleshoots any issues
Other providers will only address issues if you submit a support ticket. But the SPS full-service team proactively monitors your system to prevent issues before they occur. Plus, we'll optimize your solution to prevent errors and minimize data entry.
Talk to a knowledgeable ChannelAdvisor EDI representative.