Looking for an Oracle EDI solution?
For years SPS Commerce has been helping customers with their Oracle EDI integration needs. By utilizing Oracle EDI automation from SPS, you can eliminate the time and cost of human errors due to manual entry. We pride ourselves on providing a full-service EDI integration for your business. Why buy, build, deploy and support additional applications and technology to connect to your trading partner community, especially when going through an ERP upgrade or new deployment? If you're migrating to Oracle Cloud, our full-service team will ensure ongoing EDI compliance and seamless operations.
Get clear, simple answers to all your questions about Oracle EDI integration.
No sales pressure. No commitment.

Connect to all trading partners
Full EDI trading partner compliance
Boost inventory accuracy & sales
Yes, it's possible to ditch the data-entry for good.
Let SPS Commerce help insulate you from challenges of EDI connectivity, maps, and translations. EDI for Oracle utilizes automated digital technologies with an innovative approach that enables your company to work smarter and faster with fewer resources so you can focus on growing your business.
EDI automation with Oracle's Enterprise Resource Planning (ERP):
Oracle's PeopleSoft
Oracle's Fusion Applications
EDI automation with Oracle Retail:
Oracle Retail Merchandising
Oracle Retail Analytics
Oracle Retail Web Commerce
EDI automation with Oracle's Supply Chain Management Applications (SCM):
Oracle Warehouse Management (OWS)
Value Chain Planning (VCP)
Value Chain Execution (VCE)
Oracle Transportation Management (OTM/G-Log)
Oracle Business Intelligence Enterprise Edition (OBIEE)
Enterprise Data Warehouse (EDW)
SPS has allowed us to bring more products to market quicker and to push those products out to other marketplaces. Having electronic data pass seamlessly through our systems using SPS EDI is a huge win for us.
– IT Director of Brookstone
Unlike other EDI providers, we take a full-service,
end-to-end approach.
Managing ongoing EDI tasks can be complex and time-consuming. Full-service EDI providers like SPS Commerce deliver EDI technology and associated staffing resources responsible for customizing, optimizing and operating your Oracle EDI solution. Here are some common EDI responsibilities and how different types of providers handle them:
Full-Service EDI Providers
Provide an expert team to handle ongoing management of your EDI solution.
Initiate needed map changes when your trading partner updates their requirements. The SPS team actively manages 9,000 changes from retailers each year.
Perform end-to-end EDI testing and ensure your initial data flow with trading partners is successful.
Communicate directly with your trading partners to handle connectivity, setup, requirements, updates and support efforts.
Optimize and proactively monitor your solution to prevent errors and minimize data entry.
Offer 24x7 support from a team of trading partner, sales channel, system and EDI experts.
Managed EDI Service Providers
Require your in-house team to be responsible for the operational and technical details of managing your EDI solution.
Require your team to be responsible for changing EDI maps when a trading partner changes their requirements. These changes are extremely common in retailing.
Require your team to coordinate EDI testing with your trading partners and validate data flow.
Require your team to communicate with trading partners about EDI connectivity, setup, requirements, updates and support.
Require your team to be responsible for monitoring and optimizing your EDI solution.
Require your team to be responsible for contacting support regarding any issues. Real-time, expert support is often limited.
Experience a full-service, universal, reusable connection that delivers greater functionality with less cost and risk than traditional EDI software.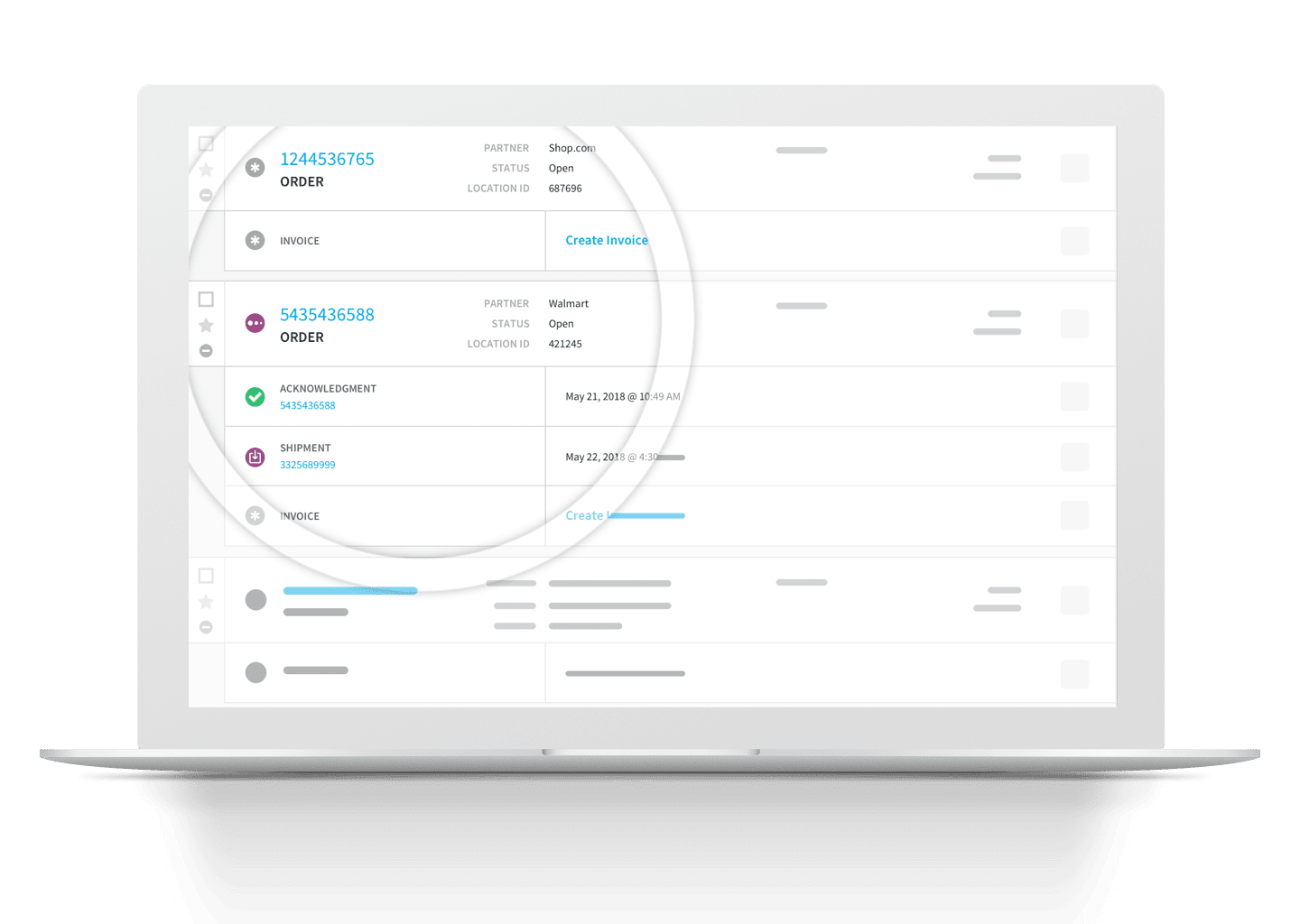 Rapid implementation.
Our seasoned implementation team has more EDI onboarding experience than anyone else in the business.
Leverage greater functionality.
Deploy new customers faster with an infrastructure that is already prewired to over 1,500 retailers and growing.
Quick EDI compliance.
SPS's team of experts acts as your EDI team, helping you achieve 100% compliance with your customers' requirements.
Integrate with your business systems.
Automated and integrated EDI solutions enable you to easily manage orders and EDI data from within your ERP, WMS or TMS.
Reliability that happens automatically.
Do away with the need to generate unique EDI maps for every new transaction, or customer, combination.
The only full-service, fully automated Oracle EDI solution you'll ever need…
Market-leading, battle-tested, proven technology
A reliable team of technology experts to make it work
Ongoing support to keep it running smoothly
Get started with an automated Oracle EDI solution with SPS Commerce
(You'll hear back in 1 business day)