Achieve effortless EDI compliance & scale using WMS integration from SPS Commerce.
With the Fulfillment (EDI) solution from SPS Commerce, you can eliminate the error-prone, manual processes that slow you down and cost you money. Our full-service team of WMS EDI experts does all the legwork to ensure compliance with any EDI requirement, so you can focus on what you do best.
Get clear, simple answers to all your EDI questions.
No sales pressure. No commitment.
Process orders & shipments faster
When you're sending and receiving hundreds of EDI documents every month, it's time to automate.
Is your order volume expanding? Are you growing your drop-ship business? If manual processes are getting in the way of growth, it's time to automate. Stop spending precious time on entering data and fixing errors by using WMS integration from SPS Commerce.
Eliminate manual data entry
Seamless WMS EDI integration
"More than 90 percent of the buying organizations Christopher Morgan serves today leverage the SPS Retail Network and technology in some way. SPS is the solution behind what makes our customer experience so exceptional."
– Brian Wargula, President, Christopher Morgan
Wondering how SPS Commerce compares to other WMS EDI integration providers?
Managing ongoing EDI tasks can be complex and time-consuming. Full-service EDI providers like SPS Commerce deliver EDI technology and associated staffing resources responsible for customizing, optimizing and operating your WMS EDI solution. Here are some common EDI responsibilities and how different types of providers handle them:
Full-Service EDI Providers
Provide an expert team to handle ongoing management of your EDI solution.
Initiate needed map changes when your trading partner updates their requirements. The SPS team actively manages 9,000 changes from retailers each year.
Perform end-to-end EDI testing and ensure your initial data flow with trading partners is successful.
Communicate directly with your trading partners to handle connectivity, setup, requirements, updates and support efforts.
Optimize and proactively monitor your solution to prevent errors and minimize data entry.
Offer 24x7 support from a team of trading partner, sales channel, system and EDI experts.
Managed EDI Service Providers
Require your in-house team to be responsible for the operational and technical details of managing your EDI solution.
Require your team to be responsible for changing EDI maps when a trading partner changes their requirements. These changes are extremely common in retailing.
Require your team to coordinate EDI testing with your trading partners and validate data flow.
Require your team to communicate with trading partners about EDI connectivity, setup, requirements, updates and support.
Require your team to be responsible for monitoring and optimizing your EDI solution.
Require your team to be responsible for contacting support regarding any issues. Real-time, expert support is often limited.
Choose the industry's most complete WMS EDI solution.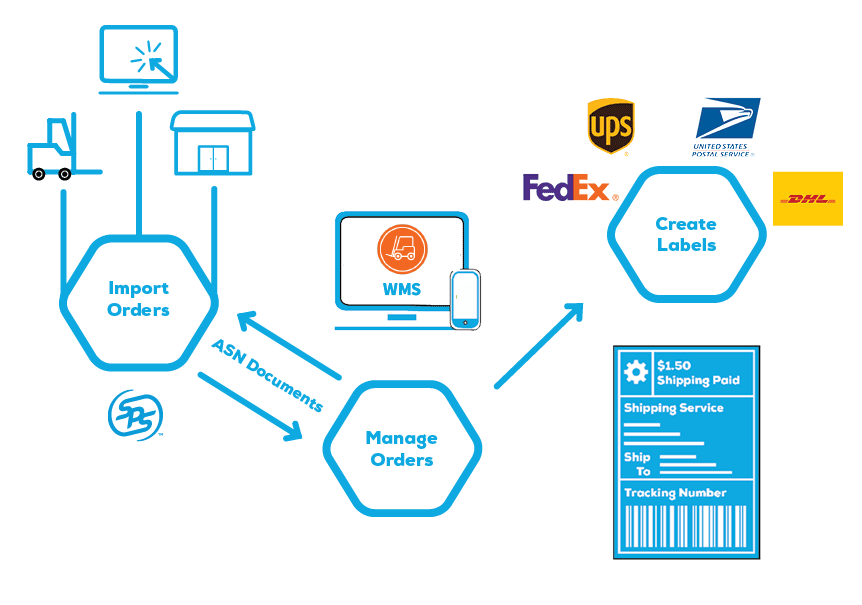 Worry-free EDI compliance
Never worry about staying compliant with your customers' EDI requirements again. Our expert team handles all the technical details on your behalf.
Automate key EDI documents
Our WMS EDI solution takes the work out of exchanging fully compliant orders, shipping notices, inventory information and more.
Streamline shipping label and pack slip creation
Simplify the creation of retailer-compliant packing slips and UCC-128/GS1-128 or MH10 shipping labels using our Packing Slip & Shipping Label API Services.
Minimize errors & chargebacks
Execute error-free EDI transactions no matter how busy things get. Build trust with all of your trading partners.
Stop worrying about EDI map changes
Eliminate the time-consuming task of EDI map changes. Once you connect to the SPS retail network, our team handles all changes and updates on your behalf.
24/7/365 expert support
Contact your SPS Commerce team any time, day or night, via phone, email or chat. Get expert, one-on-one help at the time you need it.
WMS integration from SPS Commerce is easier than you think:
Market-leading, battle-tested technology
A reliable team of technology experts to make it work
Ongoing support to keep it running smoothly
Get simple answers to all of your WMS EDI questions.
(You'll hear back in 1 business day)
More than 115,000 companies use and trust the SPS platform. Here are some of the results our customers see after implementing an integrated EDI solution:
"Continue to grow our sales without making any drastic changes"
"Our drop-ship orders are processed more quickly and without the errors of a manual system. We've been able to continue to grow our sales without making any drastic changes to our core platform for several years."
"We've dramatically improved our order processing"
"We've dramatically improved our order processing efficiencies. Faster turnaround time, less manual work for us and fewer errors for us, which means fewer chargebacks coming to our company."
"We are now able to ship in a timely manner"
"Chargebacks are now an anomaly in our business. We are now able to ship in a timely manner."
"Reduced IT costs"
"Elimination of our EDI backlog, reduced IT costs, and increased efficiencies in serving our retail customers. Our retail customers have commented on how doing business with us is even better."