Drop shipping for retailers
When done right, drop shipping has the power to vastly increase product offerings, test product in new markets, cut shipping costs and wow consumers – all with little capital expense.
How drop shipping works:
Drop shipping, or direct-to-consumer fulfillment, is an expansion of the e-commerce order fulfillment model that allows a retailer to purchase products from a vendor on a consumer level basis where the vendor fulfills and ships from their location. This process removes the entire need for a warehouse/distribution center and can save a considerable amount of money for the retailer.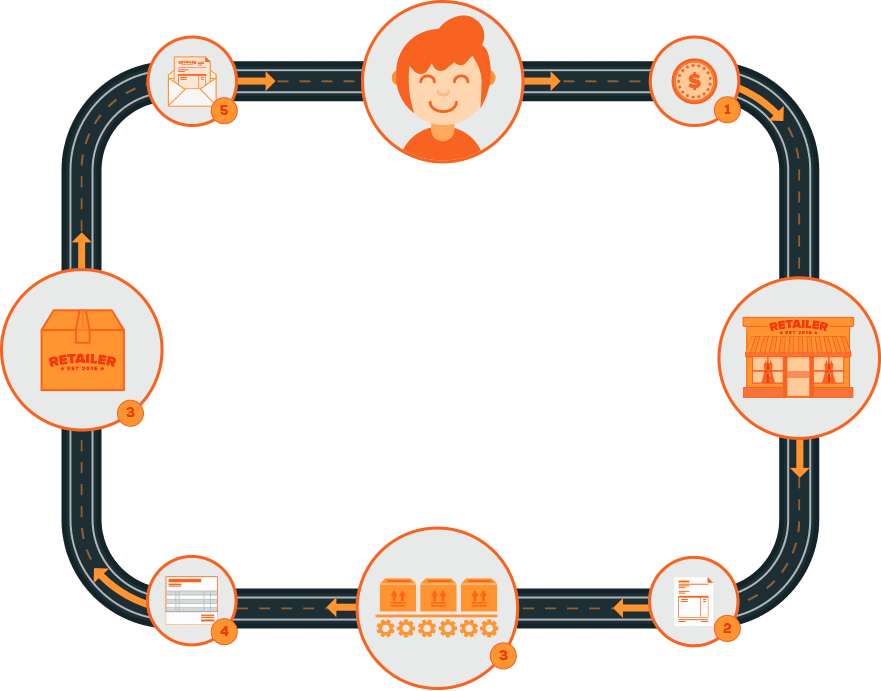 In its simplest form, drop ship works like this:
Retailers will set up items on their website with the help of the vendor
Vendor provides on-going available inventory levels
Consumer places order with retailer
Retailer places order with vendor
Vendor ships to consumer
Vendor provides retailer with ongoing order/shipment information
Retailer provides consumer with ongoing order/shipment information
What EDI documents do I need to exchange with vendors to make drop ship happen?
EDI is the fuel and foundation for a healthy drop ship operation. Listed below are the seven most common transaction documents for drop ship.
832 (Item/Catalog)
Used to obtain product information and load to the item master file for new items, item updates or discontinued product notification.
850 (Purchase Order)
Used in retail for ordering products to be shipped to a DC, store or end consumer. Can contain a single ship to or a single order with multiple ship to addresses, or can be marked for/cross dock packing details.
860 (Purchase Order Change)
Used by retailers to communicate order changes to the supplier.
Branded Packing Slip
This ensures the vendor shipments represent the retailer's brand and have continuity between vendor deliveries and those fulfilled by the retailer for customer loyalty. Included can be return policies and product returns procedures.
810 (Invoice)
Used by the supplier to invoice for consumer shipments to the retailer. This may include shipping and handling.
846 (Inventory Availability)
Most commonly used by suppliers to provide available and future inventory quantities, either globally or by ship from location.
855 (Purchase Order Acknowledgment)
Used by suppliers to acknowledge the receipt of the retailer's purchase order.
865 (Purchase Order Change Acknowledgment)
Used in retail to confirm acknowledgment of a PO change or order cancelation.
856 (ASN Shipment Confirmation)
Used as advance ship notice or shipment confirmation. This document is sent from the supplier to the retailer. Retailers will use this to get visibility into inbound shipments, receiving automation or confirmation of shipment for direct-to-consumer orders.
180 (Return Authorization Requests and Approval - RTV)
Used to communicate between buyer and seller, a request for consumer returns to the supplier when applicable based on trading partner agreement between the two parties.
The power to scale
With the hassle of manually fulfilling individual shipments out of the way, it's easy to expand your e-commerce business.
Minimal risk and cost
Since the retailer is not responsible for warehousing inventory, the risk and costs of overstocking and storing products is reduced.
More products, more profits
With the drop ship model, a retailer can easily add vendors to increase total product assortment.

Empower drop shipping with your trading partners.
Make more consumers happy and expand e-commerce order fulfillment options with drop ship.