Successfully prepare for your next buyer meeting
Meeting with your merchant partners is a rare opportunity. So it's critical to be prepared. With a proactive plan and the right data, you can have a productive conversation that boosts your business relationship and your revenue.
Have you wondered about what to expect in a buyer meeting?
The #1 goal of a buyer meeting is to gain credibility with your merchant partner so you can:
Improve your buyer relationship
Increase sales for both you and your retail customer
It doesn't matter if your buyer meetings are twice a year or every week. Your business success depends on making the most of the opportunity.
What is a typical agenda for a buyer meeting?
Buyers expect you to be an expert in your product and your category. Here are some topics you should be ready to discuss:
Wins and opportunities by product and location
Past product sales and inventory performance by product
What's next for the business, such as upcoming promotional events, new product launches, etc.
What's happening across the category (including with your retailer's competitors)
*Remember: it's critical to have data about your product performance to back up your recommendations!
How can you make your buyer meeting more productive?
Help your buyers maximize seasonal opportunities by making recommendations about timing, sell-through, sales and pricing of individual products.
Quantify the sales opportunity for improving in-stocks and provide specific recommendations.
Conduct line reviews with recommended buy quantities, new products and pricing.
Maximize your space with recommended changes to drive category growth through planogram, endcap or checklane.
Acknowledge the bad. Identifying slow moving stock and coming with recommendations for changes that build trust.
Simply recommend buying more and treat all products equally.
Provide only general in-stock data without drilling down into specifics.
Make buying recommendations based on a total forecast that is inconsistent with prior year performance.
Ignore competitive brand value or cost of inventory. Prioritize item count over holding power.
Expect samples and catalogues of new products to sell themselves. Bring market research and sales performance to help your buyer see the profit potential.
SPS provides the data and insights you need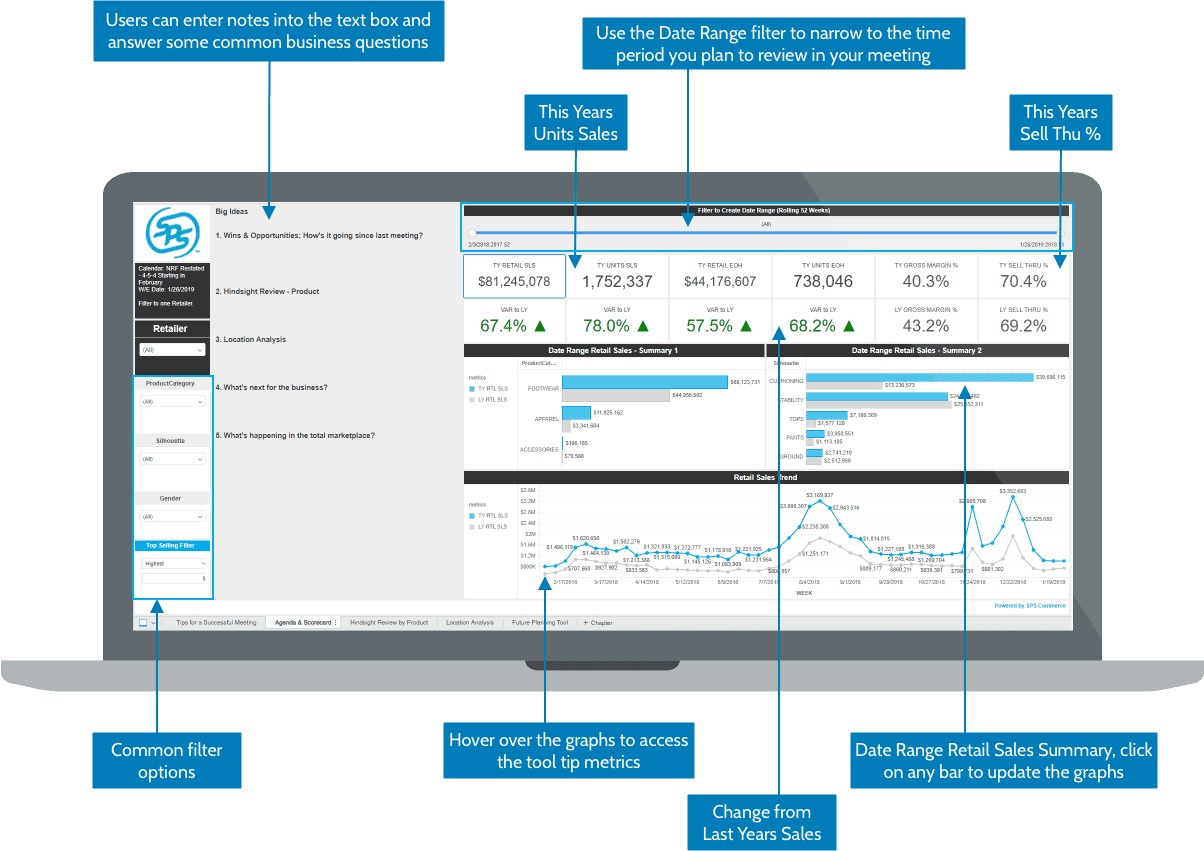 SPS Analytics turns sales and inventory data from your retail partners into actionable insights that enable you to take the lead in buyer discussions. You'll have access to at-a-glance performance indicators, including:
Sales this year vs. last year*


*multiple years available depending on retailer connection

Sell-through percentage
Weeks of supply
Product sales rank
Performance by store
Our pre-built "Win-Win Buyer Meeting" dashboard is designed with industry best practices from our team's experience planning for thousands of productive buyer meetings.
Looking for insight into how to prepare for buyer meetings? Our experts can help.
An expert will reach back out to you within 1 business day.
"We often know more than the retail buyers about the sales of our products at their stores. Our teams use insight from SPS to show them what SKUs are most successful and how to best move forward. For example, if a new color is selling well, we'll recommend expanding current assortments to bring on the full family of products featuring this color. This has been very successful for us and our retailers."
Joe Coulter, Demand Planning Analyst at Leatherman Tool Group