Trust the SAP experts
Better order management through integration
We have extensive expertise in SAP Business One & SAP ByDesign integration, and a deep understanding of iDoc segments and file formats. Our solutions enable suppliers using SAP Business One, or, SAP ByDesign, to exchange sales orders, advance ship notices, invoices, warehouse shipments and other required documents with trading partners all over the globe.


iConnect for SAP Business One & SAP ByDesign
Navigator's iConnect solution, a seamless methodology and integration between your SAP Business One or SAP ByDesign system with your current or future solutions, has become the only tool you need to run your entire business.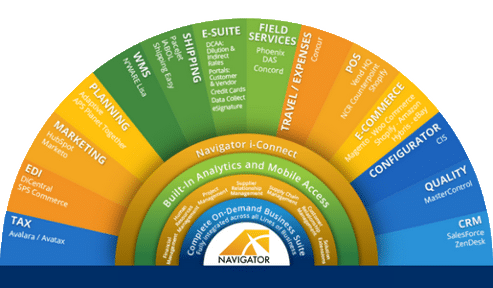 Our integration with Navigator connects your SAP system with the SPS Network and EDI platform. No hassle over EDI testing, spec changes or map updates.
Connect with us to get started
Let one of our experts walk you through the process.
Can your EDI solution deliver?
Not all EDI solutions can tackle huge order volume spikes, or support 100% compliance with partner transaction requirements. Some don't even have customer support available 24 hours a day, 365 days a year.
The EDI integration solution offered by SPS Commerce can fulfill all of those needs, while also empowering your business to:
Reduce Errors
Reduce errors, late orders and costs while increasing agility to take advantage of discounts and opportunities
Streamlined Data Entry
Eliminate manual data entry for a streamlined, automated document processing system
We're Specialists
Tap into a team of specialists with a proven vendor onboarding methodology
Library Access
Access a library of thousands of actively maintained EDI maps
Largest Network Available
Connect to the largest network in the retail industry

Dedicated to your success
Our team of SAP Business One and SAP ByDesign experts are on hand to support the implementation and maintenance of your system. Discover how one connection to the SPS Network can help you do more business with more trading partners.