SPS Commerce partners with VersaPay SPS Commerce is excited to announce our partnership with VersaPay, an online invoice presentment and payment solution. VersaPay is a leading provider of invoice-to-cash tools that help B2B companies automate accounts receivable, cash application, credits and collections.
Traditional invoicing and accounts receivable processes are incredibly inefficient with time-consuming manual tasks, potential for errors, delays in payment processes and more.
VersaPay can speed payments, save time and money, while enabling insights into accounts to make customers happy. To accomplish this, it integrates with ERPs, EDI solutions and other systems to orchestrate electronic invoicing, collaboration, payment and cash application.
Using VersaPay, SPS Commerce clients can now manage their accounts 24/7 in a safe and secure environment, that also happens to be easy to use!
With VersaPay:
View, download and reprint invoices at any time
View balance and payment history
Pay invoices online
Current SPS customers will soon be receiving invitations to VersaPay. For more information, contact an SPS Commerce representative.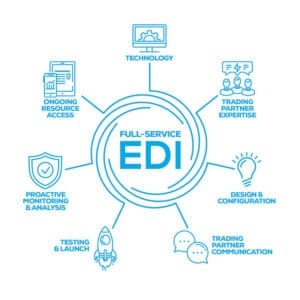 Find the correct EDI solution for your business.
Get more insights on full-service EDI by downloading our white paper.
READ OUR WHITE PAPER

Sara Duane is a content expert for the SPS Commerce marketing team. She provides valuable articles and important information about e-commerce, merchandising strategies, order fulfillment and other topics related to retail supply chain optimization.

Latest posts by Sara Duane (see all)
GET WEEKLY UPDATES DELIVERED TO YOUR INBOX.
Subscribe to our blog to receive retail and supply chain news, valuable resources, expert tips and more.
Evaluating Your EDI options: 7 Building Blocks of Full-Service EDI
Get insights on choosing the right EDI solution for your business and the seven components vital for truly full-service EDI.