EDI 214: How to Improve Shipping Using the Transportation Carrier Shipment Status Message
In today's retail environment, shippers have no choice but to keep up with rising standards for fast delivery. As a result, visibility into shipment status is more important than ever. 
The EDI 214 (Transportation Carrier Shipment Status Message) is a key piece of the shipment visibility puzzle. Carriers use this EDI document to provide retailers and suppliers information about the status of an LTL (less than truckload) or TL (truckload) shipment.

Note: Carriers of smaller shipments provide status updates using the 240 Motor Carrier Package Status EDI document.
Want more detailed specs on the EDI 214? Check out our handy EDI guide.
How does EDI 214 benefit retailers and suppliers?
The EDI 214 is important for checking on the status of a shipment, confirming the expected delivery time, and tracking down a lost or late shipment. Here are some of its benefits.
Improve receiving efficiency
With a more accurate ETA of inbound shipments, retailers can reduce staffing needs for warehouse or store receiving personnel. The EDI 214 lets the retailer know when there are delays in the shipment so they can make adjustments to their loading dock schedule, staffing assignments and more. It prevents scenarios like having people scheduled and waiting for a load when it won't arrive until the next day. 
Manage trading partner performance
Large buyers often have specific delivery times and windows for each of their suppliers. The EDI 214 helps them keep track of the on-time rating of their suppliers and carriers, allowing them to scorecard performance against service level agreements. This information helps retailers determine if any changes need to be made to the supply chain and the delivery providers. 
Enhance customer service
The EDI 214 improves visibility for customer service staff on in-transit shipments so they can better respond to customer inquiries. When used in conjunction with a Purchase Order Acknowledgement and Shipment Confirmation, this EDI document can reduce customer service requests for order status by 40 to 50 percent.

Enhance trading partner relationshipsHow does EDI 214 benefit carriers?

The EDI 214 enables carriers to provide accurate and complete status updates to their trading partners. It offers many advantages over manual methods, such as calls and emails.
The EDI 214 can improve trading partner relationships by providing ongoing status of shipments. This type of electronic communication helps carriers meet trading partner requests for greater shipment visibility.
Streamline customer service inquiries
The Transportation Carrier Status document reduces the number of contacts and the amount of time spent on shipment inquiries. Using this EDI document, carriers can manage by exception, focusing their efforts on shipments with potential issues rather than every shipment.
How can you avoid common EDI 214 issues?
The most common issue with the EDI 214 document is EDI mapping. EDI maps provide the detailed EDI specifications required by a specific trading partner. You will need a unique EDI map to connect your business with each of your trading partners. 
When a trading partner requirement changes, your team will need to update the EDI maps. Mapping problems with the EDI 214 can cause an EDI transaction to fail.
The best way to eliminate the worry of EDI 214 issues is to rely on a full-service EDI provider like SPS Commerce. Full-service providers take ownership of understanding your trading partner requirements and making map changes. For example, the SPS team actively manages 9,000 map changes each year.
Want more details about EDI 214?
To learn more about streamlining the shipping process using EDI 214 or any other EDI documents, please contact an EDI expert at SPS Commerce today. 
For more insight into common EDI documents and transactions, check out our posts about EDI 850 purchase orders and EDI 856 advance shipping notices.

Latest posts by Scott Bolduc
(see all)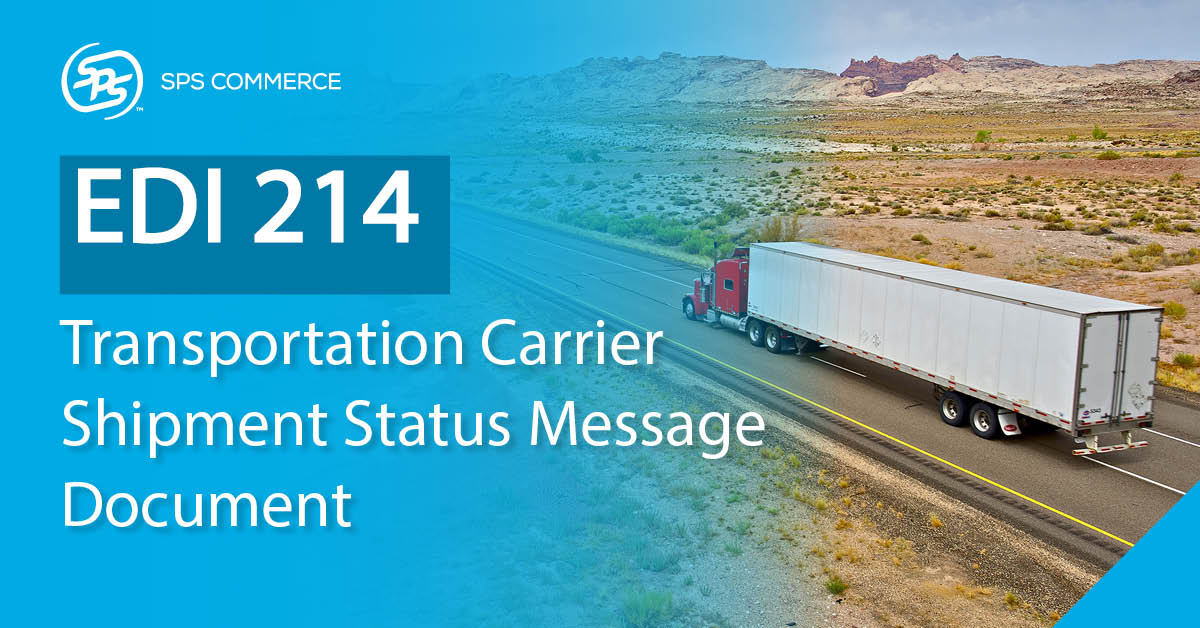 GET MONTHLY UPDATES DELIVERED TO YOUR INBOX.
Never miss an update from the SPS blog! Receive retail and supply chain news, valuable resources, expert tips and more.