4 Unexpected Benefits of the EDI 850 for Buyers and Sellers
The most crucial step in the retail supply chain is sending and receiving purchase orders. However, our retail experts discovered this document tends to be the most inefficient and difficult to maintain within supply chains. Why? Too many businesses are using email, fax or phone to exchange this vital information.
The perception is that multiple methods of sending and receiving orders makes your business seem accommodating, but you're opening your business up to inefficiencies and tracking difficulties.
Leveraging EDI purchase order to connect to your supply chain is more than just a compliance request. Did you know the EDI 850 has many benefits beyond compliance? Here are four advantages for both buyers (retailers, grocers or distributors) and sellers (vendors or suppliers).
Looking for detailed specifications of the EDI 850? Check out our handy EDI guide.
Why should buyers care about the EDI purchase order?
The EDI 850 allows buyers to request a specific product, delivery date, location and packaging configuration from a seller. It is a foundational part of an automated EDI system.
Here are 4 key benefits of the EDI 850 for buyers:
1.Speed up order fulfillment
Electronic purchase orders help you get products to store shelves or to consumers faster. Instead of taking hours or days to process an order, you can process orders in minutes. You can also automate the vendor's response to ensure your order will be delivered on-time in full.
2. Improve order accuracy
Sending orders manually to suppliers can lead to errors, both in receiving the order and entering it into their system. Using the EDI 850 can improve order accuracy by 10 percent. That's because EDI purchase orders include automated content validation and more timely attribute updates.
3. Streamline invoice reconciliation
The EDI 850 is a vital component of the invoice reconciliation. With EDI automation, you can reduce time spent reconciling invoices by 40 to 70 percent, which allows you to increase earned cash discounts by 5 to 10 percent. EDI automates the documents throughout the process to validate and pay invoices without looking for documents.
4. Reduce safety stock and inventory
Most importantly, you can reduce the amount of on-hand inventory by leveraging EDI purchase orders. You will no longer need to buy extra to make sure you have inventory on-hand. You will know that your vendor can fill the order and when. Allowing you to reduce safety stock by approximately 5 percent.
Supplier benefits of receiving EDI 850 Purchase Orders
Suppliers also benefit from automating the order cycle with EDI. Here are 4 ways suppliers can use the EDI 850 to their advantage.
1.Minimize paperwork and manual processes
Receiving phone, fax or email orders is inefficient for suppliers, as there may be a unique process for each customer. Once you receive an order, you dedicate resources to enter it into your system or spreadsheet. The EDI 850 provides an automated process to receive and confirm orders.
2. Reduce order errors
Mistakes in the EDI 850 can lead to delayed orders, late shipments and damaged customer relationships. EDI purchase orders dramatically reduce the potential for order entry errors and give you the ability to confirm or adjust the order to the customer upon receipt.
3. Fulfill orders faster
By processing orders electronically, suppliers can fulfill orders more quickly to a DC, store or directly to a consumer. Faster fulfillment translates into happy customers and better cash flow!
4. Enhance buyer relationships
Ultimately, accepting electronic orders helps improve buyer relationships. With faster and more accurate order fulfillment, you'll meet your customers' delivery expectations. As a reliable trading partner, you'll be well-positioned to meet your customers' needs today and in the future.
Considering mapping the EDI 850 yourself?
The most common challenge with the EDI 850 is EDI mapping. EDI maps provide the detailed EDI specifications required by a specific trading partner matched to your system. You will need a unique EDI map to connect your business with each of your trading partners. When a trading partner requirement changes, your team will need to update the EDI maps. Mapping problems can cause an EDI transaction to fail.
The best way to eliminate the worry of EDI issues is to rely on a full-service EDI provider like SPS Commerce. Full-service providers take ownership of understanding your trading partner requirements and making map changes on your behalf. For example, the SPS team proactively manages 9,000 map changes each year. This ensures your orders transmit without errors.
To learn more about implementing the EDI 850, speak to one of our EDI experts.
For more deep-dives into common EDI documents and transactions, take a look at our posts about EDI 860 purchase order changes and EDI 856 advance shipping notices.

Latest posts by Scott Bolduc
(see all)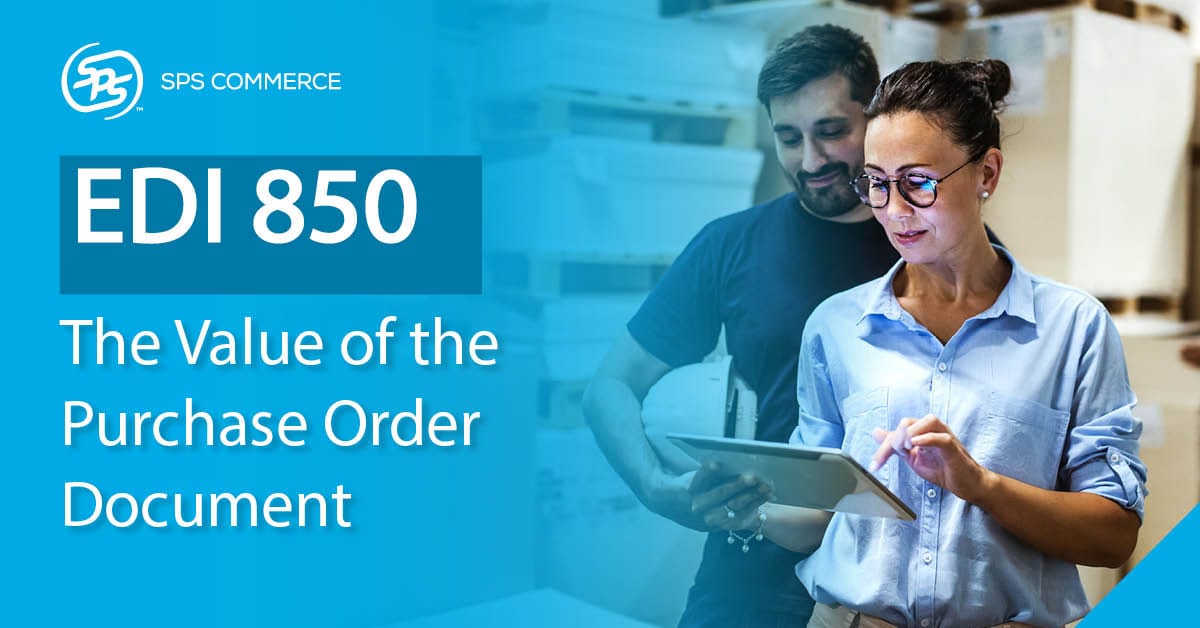 GET MONTHLY UPDATES DELIVERED TO YOUR INBOX.
Never miss an update from the SPS blog! Receive retail and supply chain news, valuable resources, expert tips and more.