EDI 846: 5 Reasons to Adopt the Inventory Inquiry/Advice
The EDI 846 Inventory Inquiry/Advice has become an essential EDI document due to growth in drop-shipping and e-commerce. This EDI document is foundational for organizations that want to expand into omnichannel retailing, which requires up-to-date inventory information. The EDI 846 allows organizations to streamline inventory communications, which benefits both buyers (retailers or distributors) and sellers (vendors or suppliers).
What is the EDI 846 (Inventory Inquiry/Advice)?
The Inventory Inquiry/Advice is an EDI document used to communicate inventory levels. This document provides information on whether there is sufficient inventory on hand to be shipped, sold electronically or reordered.
Rather than calling or emailing, buyers use an electronic Inventory Inquiry to ask sellers how much inventory they have on hand. In turn, sellers provide the Inventory Advice document to advise buyers about their available inventory.
The EDI 846 helps organizations achieve true inventory visibility. E-commerce retailers can show the quantity of products they "have" in inventory, even if not all of it is on hand in their distribution center. In that situation, we're actually seeing the suppliers' inventory counts, thanks to the EDI document. 
The EDI 846 can be transmitted a few times a week, or even several times per day. Retailers primarily use the it to manage their e-commerce websites. But the Inventory Inquiry/Advice can also be used for brick-and-mortar locations.
Looking for detailed specs on the EDI 846? Check out our handy EDI guide.
Why should buyers care about EDI 846 compliance?
Getting up-to-date inventory details from suppliers offers significant benefits for buying organizations.
Increase sales
Retailers can sell items with greater confidence by knowing their supplier has the item in inventory. Typically, they can increase e-commerce sales by 3 to 5 percent by keeping items on the website longer based on suppliers' inventory availability.
Prevent out-of-stocks
In addition to telling the inquirer how much inventory is currently on hand, the EDI document also communicates what will be available in the near future. This inventory visibility is essential to meeting consumer expectations. Offering an item online that is out of stock can negatively affect the customer experience. With the EDI 846, buying organizations can reduce out-of-stocks by up to 1 to 2 percent through knowledge of primary and secondary product sourcing.
Reduce inventory carrying costs
By improving visibility into suppliers' current and future inventory, buying organizations can improve inventory turns. Typically, they can reduce store and warehouse safety stock by up to 5 percent.
How sellers can benefit
Has your retail customer asked you to comply with an EDI 846 requirement? Here are some benefits for your organization (in addition to EDI compliance). 
Boost sales
When retailers know you have inventory available, you can increase sales. Providing the inventory information in the EDI 846 gives your retail customers confidence in your ability to fulfill an order.  Also, your buyers will have the insight to prevent potential out-of-stocks and take advantage of overstock opportunities. At the same time, you'll build brand loyalty with your retailer.
Reduce manual orders
The EDI 846 can help you reduce the number of manual non-stock/special orders. By providing up-to-date inventory information, you can complete the order cycle electronically with your retail trading partners. This helps save time and reduces the potential for errors.
How to avoid EDI 846 issues
The most common issue with the EDI document is EDI mapping. EDI maps provide the detailed EDI specifications required by a specific trading partner. You will need a unique EDI map to connect your business with each of your trading partners. 
When a trading partner requirement changes, your team will need to update the EDI maps. Mapping problems with the EDI 846 can cause an EDI transaction to fail.
The best way to eliminate the worry of EDI 846 issues is to rely on a full-service EDI provider like SPS Commerce. Full-service providers take ownership of understanding your trading partner requirements and making map changes. For example, the SPS team actively manages 9,000 map changes each year.
Want to learn more?
If you're a supplier or retailer looking to automate inventory communications, the EDI 846 can help. To learn more about the EDI 846 or other EDI documents, contact one of our EDI specialists. (link)
For more insight into common EDI documents and transactions, check out our posts about EDI 850 purchase orders and EDI 856 advance shipping notices.

Latest posts by Scott Bolduc
(see all)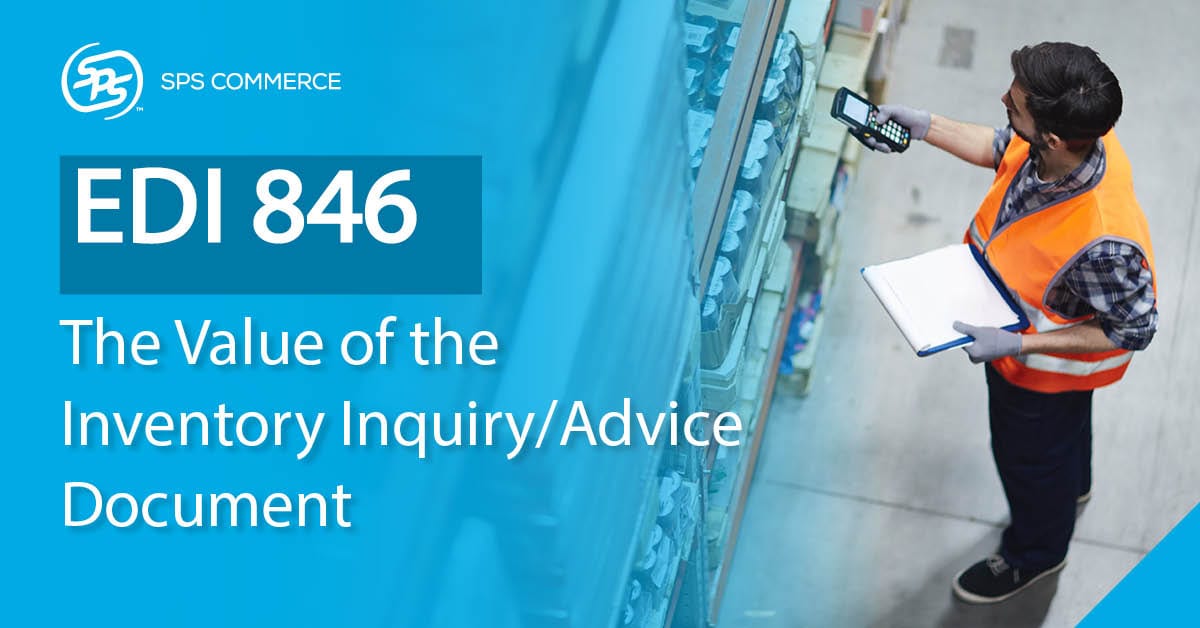 GET MONTHLY UPDATES DELIVERED TO YOUR INBOX.
Never miss an update from the SPS blog! Receive retail and supply chain news, valuable resources, expert tips and more.