Logistics providers: Retailers, suppliers have a need for your speed Over the last few months, we've been taking deeper dives into the Retail Insight: Moving Beyond Omnichannel report published earlier this year in partnership with Retail Systems Research (RSR). This survey of more than 500 retailers, distributors and manufacturers has revealed the viewpoints and attitudes of the retail industry regarding technology investments, omnichannel efforts, consumers' expectations and more.
Consumers want more, better, faster omnichannel shopping experiences. To make them happy, retailers are looking for faster deliveries, more reliable deliveries, and the ability to track the shipments.
The Amazon effect
In large part due to the Amazon effect on consumers expectations, organizations throughout the retail supply chain have started feeling the squeeze. Manufacturers and suppliers are beginning to sell directly to consumers, competing with retailers. Retailers are consolidating and looking for more ways to get products to consumers faster, whether its by improving inventory visibility, seeking out relationships with drop ship vendors, or ship-from-store fulfillment. Distributors are feeling pressured to embark on a drop shipping distribution model that could challenge their existing systems, processes and bottom lines.
This is a ripe opportunity for third-party logistics providers to fill in the some of the gaps, while maximizing potential for profitable collaborative trading partner relationships. 3PLs are in a position to help get products from point A to point B, from the supplier to the retailer or directly to the consumer. In some cases, the 3PL may even be asked to do the fulfillment directly, especially if they manage their own drop ship warehouses.
But that means they must up their game as far as service options, efficiency, timeliness and other qualities that satisfy the demands consumers are making of the entire retail industry. They want what they want, when and where they want it, for the price their willing to pay – and the supply chains that deliver on those expectations win. 3PLs can be a key cog in the machinery.
Consumer happiness rules
Retailers were pretty consistent in our Retail Insight report: Consumer expectations will drive a lot of the behavior in the retail ecosystem. They want the supply chain to get faster, especially in that last leg or "last mile" where the products reach the end consumers.
For third-party logistics providers, the mandate is very clear: Make that happen.
While the push for speed is important, 3PLs must also let their partners know that speed for the sake of speed can be dangerous. Not every product is ideally suited for same-day delivery, especially when the consumer is the one who has to take on that cost of delivery. Those shipping prices are not only a factor for the consumer's decision, but also the profitability of the sales when the costs are included in the profit margin equation (as they must be). Available delivery options, shipping costs, delivery expectations and other details can all have an impact on how margins should be calculated. If not carefully calibrated, there is a possibility to be making sales hand over fist but still barely scraping by due to some unforeseen detail in the margin calculation that eats too much of your profits.
Two-day shipping has become the standard. On the other hand, though, being able to offer same-day or one-day delivery could offer a competitive edge when negotiating with trading partners.
Make retailers look good
One thing for third-party logistics providers to keep in mind is that part of their job is to fulfill a retailer's promises to consumers in order protect the trading partner relationship. If the 3PL can't make the deliveries as expected, it's not them that will have to deal with the customer complaints. It's the retailer that will be blamed for the lost or delayed package, and the retailer who will potentially lose customers. It's important that 3PLs know what's expected of them so they can follow through on it.
Retailers are in the business of selling things. They aren't necessarily prepared to get products from point A to point B in the way consumers have come to expect. As a result, retailers are asking for more from their supplier and 3PL partners to compete in the market, especially with the specter of Amazon and Amazon Prime looming over the retail landscape. Retailers are making promises to customers, such as two-day shipping, the 3PLs that can help them execute on that promise may just end up with their pick of partnerships.
Want to learn how EDI services through SPS commerce has helped other third-party logistics providers thrive? Take a look at the integrated EDI-WMS case study from Logistic Edge and the EDI fulfillment services story from Christopher Morgan,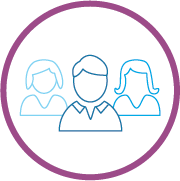 Connect to your partners and streamline your supply chain.
Automate your process through the retail industry's largest network with EDI.
Contact SPS

Working alongside our customers, development teams and customer success operations, Lisa is driven to advancing SPS Fulfillment to address the order fulfillment challenges of the digital retail era. Her articles offers insight into the future of order fulfillment and how members of the SPS Retail Network can better service their retail customers and the consumer using SPS Fulfillment.

Latest posts by Lisa Sacquitne (see all)
GET WEEKLY UPDATES DELIVERED TO YOUR INBOX.
Subscribe to our blog to receive retail and supply chain news, valuable resources, expert tips and more.
Evaluating Your EDI options: 7 Building Blocks of Full-Service EDI
Get insights on choosing the right EDI solution for your business and the seven components vital for truly full-service EDI.
Did you like what you read? Get updates like this delivered directly to your inbox.
Subscribe to our blog to receive weekly retail and supply chain news, valuable resources, expert tips and more.