Top tips for implementing Advanced Ship Notice
A large segment of the Australian retail sector requires Advanced Ship Notices, usually known as ASNs or 'DESADV' despatch advice, if you wish to trade.  Simply put, ASNs provide extremely robust and fulsome detail on the content, product detail, packaging style and configuration, transportation, and order detail for each delivery.  Apparel and FMCG have been especially strong proponents of the ASN, and other parts of the retail sector have taken notice – the Australian grocery sector, for example, has introduced ASNs.  It may well be that all parts of Australian retail (and beyond) will adopt ASNs before the end of the decade.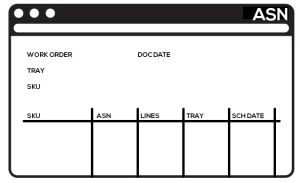 Australian companies seeking advice on ASN implementation should consider SPS Commerce's best practices.  We have put this list together, based on experiences in the local market.  The first (unofficial) step is to make sure that the people working on your ASN programme are meticulous and process oriented – ASNs are highly detailed documents, with a large number of data points.  Whether or not you use expert consultants (like SPS), the inhouse team must be scrupulous.  The right team, following our best practices, will deliver a successful ASN programme.  The end benefit of powering through ASN implementation is that retailers can prepare to receive, process, and minimise transition time to the selling floor – which benefits the retailer and the supplier.
TOP TIPS FOR ASN IMPLEMENTATION SUCCESS
APPROACH THE ASN IMPLEMENTATION ORGANISATIONALLY
Introduction of the ASN document has ramifications organisation-wide, and with each supplier and retailer.  It is important that technology and business processes be considered at a high-level to confirm they will support the possibilities opened by the ASN – and subsequently to ensure that these possibilities are maximised on.  A cohesive view of the supply chain should be taken.
FAIL TO PLAN, PLAN TO FAIL
Experts with many ASN projects under their belts advised that this is the main area in which inhouse projects fail – so if you are going it alone, make sure you go through a strong planning process.  Gain top-management sponsorship and consider your communication channels and spokespersons.  Itemise what detail is required, with a priority ranking and noting which department will be the 'source of truth.'  Plan the technology and process training documentation and rollouts, data review and updating, testing, and certification phases.  Use milestones, cross-functional teams, and conduct regular project team meetings.
While the ASN is possibly the most challenging fulfilment EDI document to deploy, the rewards are commensurately high – order-to-cash cycle can be shortened by 60% through introduction of an ASN.  It is worth spending time to get it right.
PLAN TO BUILD A COMMUNITY
A typical modern trading community incorporates retailers, suppliers, and logistics partners.  It is likely that the current circumstance is retail buyers speak with supplier sales consultants, and operations colleagues from all three parties are in contact.  It is important that a forum be created for real partnership – so that robust processes can be proactively designed, and exceptions can be handled expeditiously (SPS has a community development system that onboards networks in record time, for companies interested in outsourcing).
EVERY MAP IS DIFFERENT
Every trading partner has its own standard for fulfilment EDI.  They will publish a 'message implementation guide' (MIGs) that developers must adhere to absolutely when creating a connection.  It should also be noted that regular updates – adding documents, fields, or simply rearranging elements – occur.  After initial mapping has been tested and certified, suppliers must maintain proactive contact with trading partners to discover when those changes are being made, or the first they know of it may be a document error.
Note that SPS Commerce proactively handles mapping for all retailers, and customer suppliers and 3PLs, so customers don't need to worry about it.
DATA ACCURACY IS NOT OPTIONAL
Recent reports on the Target Canada disaster state that item data accuracy was found to be ~30% (as in, 70% inaccurate!), causing their distribution network, replenishment, inventory, etc to be an absolute mess.  Data inaccuracy and the resulting supply chain failure was the primary operational contributor to the USD$7 billion loss Target Canada (now defunct) made.
Trading partners must synchronise their item data in preparation for going live with ASNs – and this process is best started early and fully resourced.  This is a crucial step that requires positive relationships across the supply chain network (see Step 3 – plan to build a community!).  Solutions for automated item data update are available, such as Assortment which pushes product info updates to all connected trading partners as required. Workflows need to be implemented for data fields stemming from the order, shipping, or customs etc, so that goods aren't delayed pending data points.  Even with those solutions in place, however, item data accuracy is a time-consuming and critical step.
RESPECT THE CHAIN OF COMMAND
More accurately the 'order of command;' this means getting information, documents, and merchandise to arrive are warehouses and DCs in the correct order.  Although it seems like this should go without saying, we've seen too many systems that have this flaw.
Some older fulfilment EDI solutions use batch processes for ASNs – this delays ASN delivery, and can result in merchandise delivery occurring before the ASN arrives.  Conversely, some ERPs lack the flexibility to delay document push to the fulfilment EDI solution – this can cause havoc with invoices arriving simultaneously prior to data-intensive ASNs.  Many suppliers generate invoices at the same time as the ASN (ie, on despatch) – but the retailer must process the ASN first, so that the invoice can be processed and matched to it.  If this sequence isn't kept, the retailer's ERP will read it as being invoiced for unreceived goods and create an exception case.  It is generally considered advantageous for invoices to be delayed – many supplier companies run invoice processing after the end of the working day.
THE FULFILMENT EDI ACID TEST
The ASN deployment plan must incorporate a strong testing regimen, that covers common and unusual conditions.  Suppliers and retailers should offer trading partners the ability to test documents for the spectrum of logistical and process circumstances.  Appropriately comprehensive testing should reveal problems with data and processes, so that they can be rectified before becoming a problem – such as chargebacks, delay getting to the selling floor, and returns.
If trading partners adhere to these best practices, ASN go-live should go smoothly.  There are many benefits to using ASNs, including 60% faster receiving, lower incidence of chargebacks, faster order-to-payment cycle … in SPS' experience it is well worth the effort.

Latest posts by SPS Commerce Blog Team
(see all)
GET WEEKLY UPDATES DELIVERED TO YOUR INBOX.
Subscribe to our blog to receive retail and supply chain news, valuable resources, expert tips and more.
Want to learn what your peers are doing?
Almost 500 Australian retailers, suppliers, and distributors shared their winning strategies in our annual benchmark survey. Learn why some companies are pulling ahead while others are falling behind with our 2018 retail report.
Get Your Free Copy