The accelerating push for integrated healthcare supply chain automation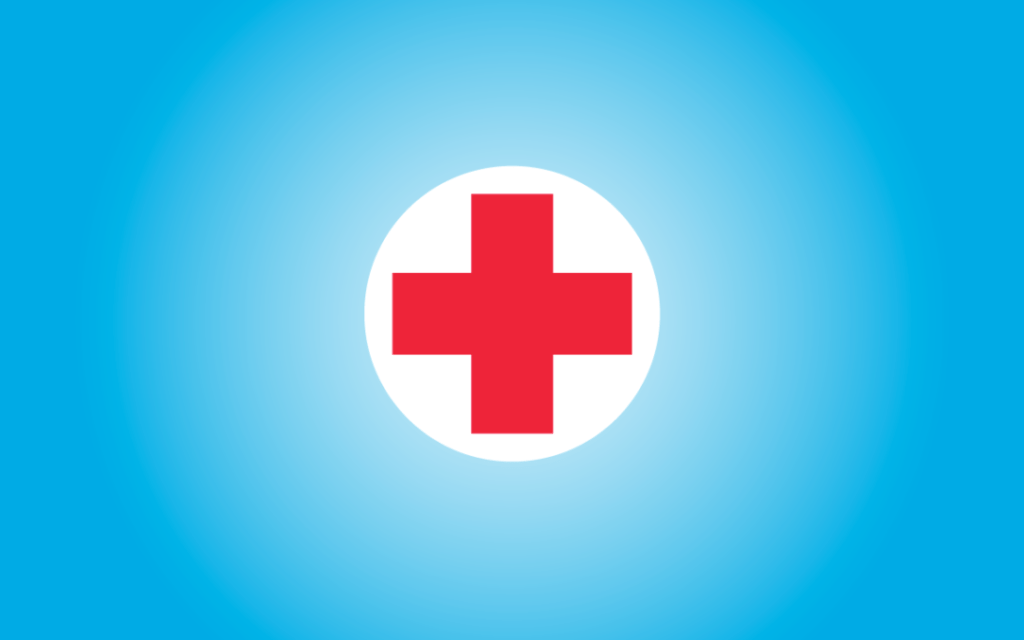 I don't believe that any Australian would suggest that the demand for healthcare is in any danger of decreasing.  A demographically aging population, and rapidly growing population, and massive advances in healthcare technology all support this.  However, in a counterintuitive result, an article in Business Wire has reported a falling level of confidence in IT solutions in the healthcare sector.  It appears that the overall continued increased spend in expensive advanced medical technologies has significantly outstripped scalability benefits and efficiencies from the introduction of information systems.  However there remains a widespread acknowledgement that modern ERP systems are crucial to the efficient delivery of healthcare solutions.
ERP systems for healthcare
Healthcare has highly specialised needs and regulatory compliance issues, so it makes sense that numerous specialist solutions have been developed.  Those systems easily adapt to serve the needs of multiple service delivery sites, specific governmental compliance requirements, storing large volumes of confidential information, and the large volume of specialist consumables and pharmaceuticals required to operate healthcare facilities.  Major ERP companies have configured versions or products for the sector – for example, Epicor, Microsoft Dynamics GP, and NetSuite have been widely utilised by Australian healthcare providers.  These systems can be geared to serve aged care facilities, emergency care facilities, hospitals, and day surgeries.
How ERP is used in the healthcare sector
Multifaceted demands and compliance requirements mean that healthcare ERPs must be comprehensive and adaptive, and allow trouble-free integration of new patients.  A single new patient potentially requires information inputs such as contact and demographics, insurance, payment details, appointment schedules, and emergency contacts.  Employees of the healthcare agencies also carry wide recording and reporting needs – contact details, payment details, taxation, shifts and work hours, and development information.
Therefore comprehensive healthcare ERPs integrate modules to support:
financial management, including budgeting, planning, and purchasing
HR management, for employee information and payroll
integrated compliance logic for ongoing adherence to regulatory requirements
adaptive management reporting to deliver actionable insights in real-time
Inside Vs Outside: the scope of ERP
Using a healthcare optimised ERP system, healthcare companies are able to automate internal processes and minimise manual processing.  However the ERP delivers those optimisations inside the company.  After realising more efficient use of information systems inside the organisation, forward thinking healthcare companies have looked outwards to discover further streamlining and efficiencies.  Given the huge burden of supply chain costs on healthcare companies, connecting the ERP for addition external functions in supply chain automation has been a strong avenue of investigation.
Expanding automation to the supply chain
SPS Commerce has worked with numerous Australian healthcare organisations that wish to move beyond internal automation to integrate external supply chain automation with their ERP.  The SPS Commerce Fulfilment EDI solution uses a cloud-based architecture to connect healthcare providers with all their suppliers (regardless of what ERP they may use), and facilitate automatic orders, invoices, shipping notifications, and so on.  SPS Commerce offers this as 'software as a service,' or SaaS, which means a low monthly subscription replaces the massive cost of traditional enterprise information system integrations.
Healthcare companies that have experimented with Fulfilment EDI traditionally operate an in-house EDI department that is – generally – chronically working on a backlog of supplier connection.  This is a common experience, due to the sheer volume of work taken to make each 1-to-1 connection, with experience EDI managers accepting it as the 'nature of the beast.'  New technology has opened an alternative option as created by SPS Commerce.  No other network like that operated by SPS Commerce exists.
A single healthcare provider community on the SPS Commerce network may look like this –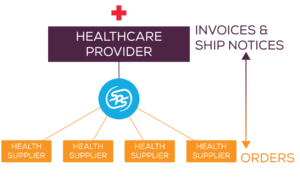 Moving away from 1-to-1 EDI connections, SPS allows connection to our network – one connection only – and from there we manage the connection to other trading partners.  In basic terms, we translate all network partners' trading documents (orders, invoices, shipping documents, etc) into our own standard, RSX.  RSX is able to handle all possible variations and is written to be 100% scalable and future proof.
Therefore:
A healthcare provider can arrange a single connection to SPS, and SPS will proactively liaise with all suppliers to get them connected and trading to that healthcare provider's community.
A supplier that is connected and trading with one healthcare provider can easily and quickly request connection to another healthcare provider, without having to build out a new map connection for that customer.
SPS Commerce has strong experience in the Australian healthcare sector, and many supplier and healthcare provider connections already built out.
With multiple healthcare providers and suppliers, a mesh network running across the SPS network enables multiple healthcare providers to connect with multiple suppliers, which in turn may easily connect with multiple healthcare providers.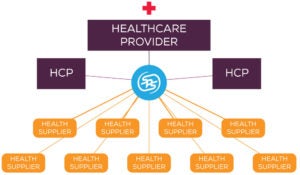 Example of Healthcare providers on our network:
Check out our ANZ network page for more.

The Australian SPS blog team combines the experience and insights from dozens of colleagues to deliver news, how-to guides, reports, and more.

Latest posts by SPS Australia Blog Team (see all)
GET WEEKLY UPDATES DELIVERED TO YOUR INBOX.
Subscribe to our blog to receive retail and supply chain news, valuable resources, expert tips and more.
Want to learn what your peers are doing?
Almost 500 Australian retailers, suppliers, and distributors shared their winning strategies in our annual benchmark survey. Learn why some companies are pulling ahead while others are falling behind with our 2018 retail report.
Get Your Free Copy
Did you like what you read? Get updates like this delivered directly to your inbox.
Subscribe to our blog to receive weekly retail and supply chain news, valuable resources, expert tips and more.