Weather impacts sales: Use data to forecast inventory needs
Sales seasonality
Changing weather patterns can have an effect on retail sales beyond storms and cyclones. Retailers usually know to the day when they should have autumn, winter and spring merchandise out, but what if the weather doesn't cooperate? Australia experienced it's fourth warmest year on record in 2016 resulting in a poor return for many fashion and clothing stores, as it was too warm for people to think about buying sweaters, jackets and coats. When the colder weather and winter apparel finally arrived there was still a huge inventory of autumn clothing on the racks that had to be marked down, which had a domino effect of delaying sales of winter inventory. Additionally, it's commonly accepted that March is a wishy-washy month for the re-introduction of winter clothing, and this year may not be any different.
Fast-acting weather
Most retailers plan on this kind of seasonality driving sales, and so they try to plan accordingly. But even so, an unexpected change in the weather can catch them unawares, either with too much product or not enough. With analytical analysis, U.S. retail giant Walmart has discovered that they sell seven times as many strawberry Pop-Tarts just before a hurricane, and their top selling item just before a storm is beer.
If retailers have enough warning of the weather, they could possibly place a double order for inventory they know they'll need, and even come up with a contingency plan for all the items left over on their shelves. However, that really depends on how long it takes for the orders to be delivered once the purchase order is sent.
How data can help
Having an idea of how weather can impact or delay sales is important for retailers. Using data can be helpful for predicting the inventory that is needed, depending on the time of year. SPS Commerce offers Analytics solutions  that can be instrumental for showing you how to plan for weather, and understand how it can affect your sales, as well as help to indicate where and when you'll need to source new vendors quickly, and indicate unwanted and unsold seasonal inventory. If you notice a year-over-year decline in sales on certain seasonal items, or you consistently have items that need to be marked down at the end of the season, it can help you reduce how much inventory you order to reduce the chances of that happening in the future.
Weather has a seasonal pattern, but it isn't always predictably the same. Sometimes digging through the data can be helpful as a way of identifying weather patterns that may be unique to the locations of your stores and distribution centers. Additionally, knowing what types of issues can arise and how they can impact your supply chain, as well as sales, can help you recover quickly from fast-acting weather patterns and prepare appropriately for more atypical climate issues, such as a warmer than usual autumn and an earlier than usual spring.
If you would like to learn about how SPS Commerce solutions can help with inventory management, or learn about any of our other cloud-based solutions. You can find the answers to your questions, or receive a free demonstration of our analytics products.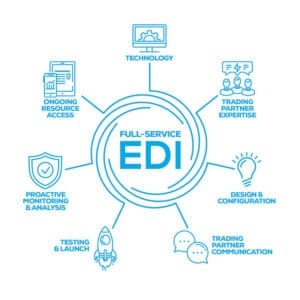 Find the correct EDI solution for your business.
Get more insights on full-service EDI by downloading our white paper.
READ OUR WHITE PAPER

Latest posts by Rob Wilson
(see all)