Is legacy technology getting in the way of sales and profits?
Don't you miss the good old days? When purchase orders were faxed from retail buyers to vendors, and those purchase orders were hand entered into an ERP system, and the orders were faxed down to the warehouse? And then the orders were filled, and the invoices were sent, and then an entire department of people spent hours and hours pulling the original orders and comparing them with the packing lists and the invoices to make sure everything matched?
Neither do we.
Legacy technology, like older ERP systems, weren't necessarily made for today's modern retail landscape. They weren't built for e-commerce, two-day shipping and omnichannel retail. They weren't designed with automation and artificial intelligence in mind. Outdated ERPs and other tech can be a major part of the problem when looking for ways to cut costs and increase profits.
Legacy technology pitfalls
It starts with the manual data entry. When you have a department with several employees responsible for entering orders into a system, inefficiencies abound. When you use multiple vendor portals, it can take a long time to process invoices and purchase orders, which can result in late deliveries, and experience delays that interfere with taking advantage of "timely" discounts.
Then you run into issues where purchase order acknowledgements (POA) and advanced shipping notifications (ASN) are never sent, which means retailers don't know what's actually coming and don't know when. (And since most large retailers demand this documentation now, not sending them can result in fines to a vendor.)
Finally, when the invoices are sent out, they have to be compared to the PO and packing list for a three-way match before an invoice can be paid, which can result in a delay in payment if this all has to be done by hand.
The existing legacy technology and computer systems just aren't built for today's modern omnichannel unified retail environment where everything is connected and automated. If the retail omnichannel is connected, from stores to websites to warehouses, the retail supply chain should be connected as well.
Updating and streamlining
This is where SPS Commerce excels, and has helped thousands of retail partners connect and streamline their operations, increasing their profits while also decreasing their costs.
For starters, we offer cloud-based EDI (electronic document interchange), which is the transmission and sharing of all paperwork dealing with orders between retailers and suppliers. We have two versions: 1) a web-based EDI solution that requires some manual data entry, and 2) an EDI solution that integrates with your ERP and other systems, so everything can be done quickly, easily, and automatically.
EDI also helps facilitate e-commerce and omnichannel strategies, with solutions like inventory transparency and visibility — an online retailer showing how much inventory they have, even if that inventory is actually at a suppliers' warehouse. For example, I just bought an item online sooner than I expected, because the inventory count said "Only 1 left!" That happened because the retailer was able to share that information from their own inventory or that of their suppliers. Just don't lie about this to consumers; they will eventually catch on if you do.
SPS' analytics helps with inventory planning, showing you the historical patterns of past sales. Grocers who need to know the number of seasonal items they should buy can benefit from this data. For example, knowing how many turkeys they've sold over the last five Thanksgivings can help them to know how many they need to order this year. Same goes for Easter and eggs or Mother's Day and flower arrangements.
SPS offers technology solutions that can help companies in the retail space get up to speed, in many cases even if you have legacy technology, and find ways to continue to streamline operations. We can help you with returns, three-way matching of POs, POAs, and invoices, and especially in finding retail partners and getting them connected to your system in a matter of a couple days, not weeks and months.
If you would like to learn how SPS solutions can help, please request a free demonstration or ask to speak with one of our representatives.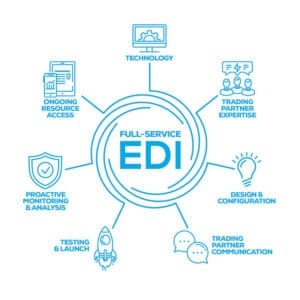 Find the correct EDI solution for your business.
Get more insights on full-service EDI by downloading our white paper.
READ OUR WHITE PAPER

Latest posts by Tony Thrasher
(see all)