Amazon Australia's fulfilment and logistics machine opens & status update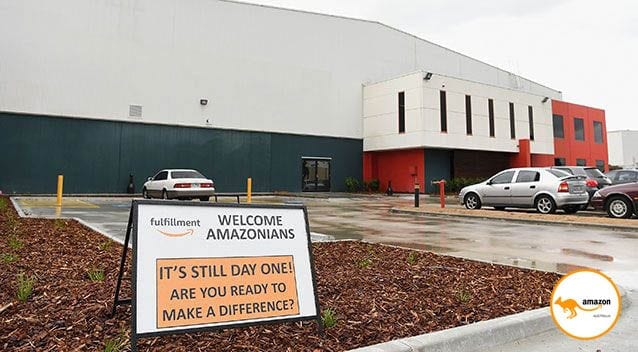 Amazon Australia's first operational fulfilment centre opened for business yesterday, on 1 November.  We believe Amazon's been placing orders, with select gift and fashion vendors, for a few weeks now, so the Dandenong (on Melbourne's outskirt) team will be receiving those goods, and training for when consumer trade goes live.
It is our belief that Amazon will start selling Christmas-oriented products to consumers within weeks.  Australia's Christmas season has a soft start from the beginning of November, and jumping in at this moment has some advantages.  Adding to our recent blog differentiating fact from rumour, we have some ideas on how this much-hyped landing will play out.
We estimate that:
Amazon to start trading within weeks, mid-November or so
They will sell a limited assortment catalogue of fashion, accessories, and giftables
There will be some excellent bargains, and likely the entire (limited) catalogue will be noticeably cheaper than competitors
Delivery will be the same as most retailers have, overnight to metro
A fast delivery service is likely to launch in Melbourne metro (this is our most marginal guess)
Market impact of Amazon:
They will make a material dent in fashion retailers' anticipated Christmas profit, which will add to retailer stress
Increase price sensitivity and profit pressures (eg Harvey Norman will price match)
Elevate the level of order status notifications in competitors (which, as a consumer, I heartily endorse!)
Encourage retailers to bring same-day delivery online, in Sydney and/or Melbourne
Notice a common thread?
If you look at the above, most of the items are about fulfilment and logistics – which makes sense, since Amazon isn't so much a retailer as it is a fulfilment and logistics expert.  Where they might not make all the right calls in retail, they have an excellent supply chain – probably the best in the world.  The good news is that you don't need to beat Amazon's fulfilment – matching it is enough.  This means fast delivery, free/cheap delivery, and consumer-biased returns policy – most Australian retailers have good delivery and pricing policies (we see some area for improvement in returns policies).
Next steps
If you have the best prices, delivery, growth, and profitability – you should keep doing you!  Everyone else should realise that we're coming to the pointy end of the Amazon drama – if you haven't set a plan, you need to get moving.
Retailers: download our Amazon eBook for recommendations, or cut to the chase and request an obligation-free whiteboarding session with us.  With a few key pieces of information, we can sketch out how an SPS solution might look for your company – food for thought over this Christmas sales season.
Suppliers: get the basics about Amazon and their status in Australia for the various selling platforms, or let us know that you're keen on connecting with Amazon now (suppliers must negotiate the business relationship with Amazon directly, after that we connect you for automated trade).
Image source via Yahoo News from Getty Images. 

Latest posts by SPS Australia Blog Team
(see all)
GET WEEKLY UPDATES DELIVERED TO YOUR INBOX.
Subscribe to our blog to receive retail and supply chain news, valuable resources, expert tips and more.
Want to learn what your peers are doing?
Almost 500 Australian retailers, suppliers, and distributors shared their winning strategies in our annual benchmark survey. Learn why some companies are pulling ahead while others are falling behind with our 2018 retail report.
Get Your Free Copy