Options, costs, resources and what you need to know before you invest in an EDI solution.
Leading retailers rely on our proven Community Development capabilities to optimise the performance of their supplier community using our Sourcing, Assortment, Fulfilment (EDI) and Analytics services. Learn more about our onboarding process.
Our pre-built solutions make it easy to quickly integrate with more than 100 accounting, ERP, WMS, TMS, PIM and MDM systems. View Integrated Fulfilment options.
Stock the endless aisle with sourcing solutions that match the speed of digital commerce. Learn more about how you can connect to new trading partners today with our sourcing community.
Tap into our comprehensive product content management service for detailed product attributes, descriptions and marketing content that boosts sales. Learn more about our Assortment solutions for retailers and suppliers, or learn why product content matters.
To thrive in an omnichannel world, grocers and food vendors will need to rely on technical efficiencies that create more options for consumers, such as home delivery or store pick-up for pre-placed orders. Learn more about how grocers can succeed with EDI.
Outsourcing your EDI allows you to focus on staying ahead of orders and perfecting product performance to grow your business. Our outsourced solutions for retailers and suppliers takes the EDI burden off of your shoulders so you can dedicate your energy to building your business — not an EDI department.
Third-party logistics providers, freight forwarders, logistics service providers and carriers rely on SPS Commerce to help them solve their customers' most pressing supply chain problems. Differentiate and grow your business by offering our world-class fulfilment services to your clients. We have solutions to collaborate with trading partners and optimise your operations—without draining your resources on in-house EDI management.
Optimize sell-through with tools that deliver updates on inventory conditions in real-time. Our Analytics products make it easy to stay on top of inventory conditions in real-time. Get a better view of what is selling and what is sitting on the shelf so you can minimise lost sales from stock-outs and never get caught short. Learn how our Analytics solutions improve sell-through or how we help companies like yours turn data into opportunity.
We have earned our reputation as the industry's supply chain expert by helping businesses easily achieve compliance with widely diverse trading partner requirements. Our cloud-based solutions eliminate the need for specialised hardware, software and staffing. See how our Fulfillment solutions can help you integrate with your trading partners without complexity.
Roadmap to digital retail success.
Here's your roadmap to digital retail success, powered by industry-leading vendor onboarding.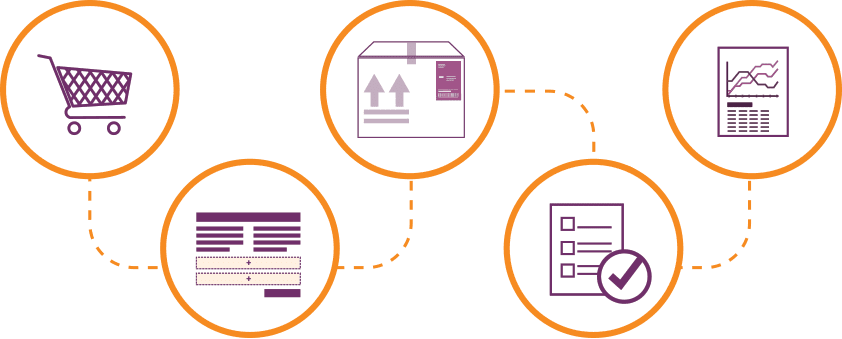 Not sure? We can help.
Our omnichannel retail experts will help you find the best supply chain solutions for your business.