EDI 810: Electronic Invoices Help Automate the Payment Cycle for Buyers & Sellers
The EDI 810 is one of the most fundamental business documents in the retail supply chain. It's the electronic invoice a seller (supplier or vendor) sends to a buyer (retailer or distributor) to request payment for the products delivered. An automated invoicing process frees up staff from manual work and improves cash flow.
It's worth noting that there are multiple EDI documents related to the electronic invoice.
EDI 810 is more broadly used in general merchandise/services.
EDI 894 is utilized for vendor managed inventory (VMI) models.
EDI 880 is used specifically with invoices for food and grocery products.
Looking for detailed specs on the EDI 810? Check out our handy EDI guide.
Why should buyers care about EDI 810 compliance?
The EDI 810 is an important part of the payment management process. The EDI 810 is a vital document for automated invoice reconciliation (or three-way matching between orders, goods received and invoices).
Here are some benefits for buying organizations:
Capture payment discounts
Because of time-consuming invoice reconciliation processes, many organizations have difficulty capturing payment discounts in a timely manner. When used in conjunction with electronic orders and acknowledgments, the EDI 810 can help organizations capture all discounts available for meeting payment terms. Typically, buying organizations can improve cash discounts earned by 5 to 10 percent.
Prevent invoice overpayments
The amount on an invoice doesn't always match what a supplier shipped. Consequently, many organizations simply pay the invoice amount because it is too time-consuming to confirm all of the necessary details. Electronic invoicing along (with other EDI documents) can help reduce the risk of overpaying.
Cut excessive staffing costs
Many buying organizations have staff dedicated to tracking down and correcting issues when order, invoice or shipment data doesn't match up. This typically involves contacting trading partners to correct the exception before the invoice can be processed. Automated reconciliation between orders, Inventory receipts and invoices reduces the time to process an invoice by between 20 and 50 percent.
How does the EDI 810 benefit suppliers?
Your retail customer may require the EDI 810. But there are some potential benefits for your organization in addition to EDI compliance:
Reduce time-consuming paperwork
An EDI 810 reduces the volume of paper flow in and out of your back office. No longer do you have to generate and print invoices to be faxed over, or email PDFs of invoices to your retailers. With an EDI 810, you can electronically transmit your invoice in seconds and know it arrived safely, rather than getting lost in the shuffle.
Improve cash flow
EDI 810s also greatly reduce the chance for data entry errors. How many delays in payment have you experienced because there was a human error or other mistakes? Conversely, a quicker reconciliation may eliminate those delays in payment, and get you paid on time.
Avoid fines and chargebacks
More often than not, in the case of a discrepancy, large retailers will levy fines against the suppliers for failing to comply with the retailer's rules. But you can avoid these if you have an automated EDI system that's accepted by nearly all large retailers in the market. And that starts with implementing the EDI 810 invoice and EDI 850 purchase order.
How to troubleshoot EDI 810 issues
The most common issue with the EDI 810 is EDI mapping. EDI maps provide the detailed EDI specifications required by a specific trading partner. You will need a unique EDI map to connect your business with each of your trading partners.
When a trading partner requirement changes, your team will need to update the EDI maps. Mapping problems with the EDI 810 can cause an EDI transaction to fail.
The best way to eliminate the worry of EDI 810 issues is to rely on a full-service EDI provider like SPS Commerce. Full-service providers take ownership of understanding your trading partner requirements and making map changes. For example, the SPS team actively manages 9,000 map changes each year.
 To learn more about EDI systems to automate transactions, request to speak to one of our representatives.
For more deep-dives into common EDI documents and transactions, take a look at our previous posts about purchase order acknowledgements, purchase order changes and advance shipping notices.

Latest posts by Scott Bolduc
(see all)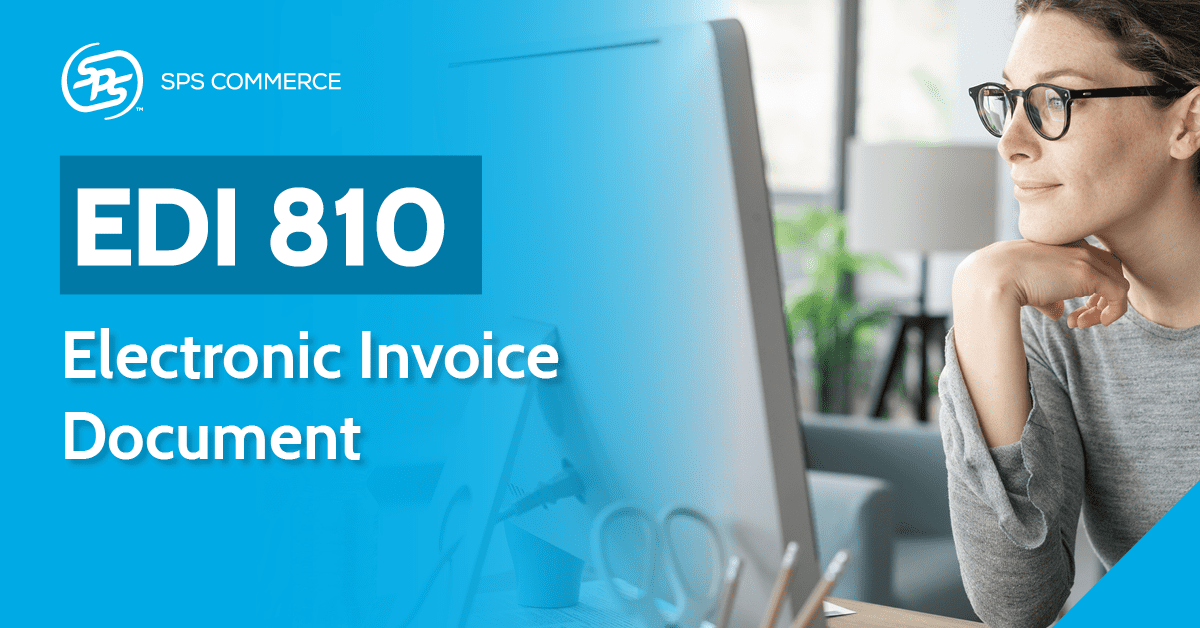 GET MONTHLY UPDATES DELIVERED TO YOUR INBOX.
Never miss an update from the SPS blog! Receive retail and supply chain news, valuable resources, expert tips and more.