EDI 820: What are the Benefits of EDI Payment Order/Remittance Advice?
Surprisingly, many buying organizations (retailers and distributors) still send physical checks to their suppliers. Likewise, many organizations also print and mail the remittance detail that corresponds with these payments. Fortunately, there's a much more efficient way to communicate remittance information: the EDI 820. Read on to learn how this EDI document benefits retailers and suppliers.
Looking for detailed specs on the EDI 820? Check out our handy EDI guide.
What is the EDI 820?
The EDI 820, or EDI Payment Order/Remittance Advice, is an important part of an automated payment process. Retailers send the EDI 820 document to suppliers. Essentially, it confirms payment details and/or advises the supplier of any adjustments to the payment amount. 
This process can include both the request to the financial institution to transfer funds to the recipient and the payment details. But more commonly, the two processes are done separately and only the payment details are provided in an EDI 820 exchange.
The information included in the Remittance Advice generally contains the net payment amount, payment date and number, Invoice, credit or deduction numbers, notes about the payment detail, and any early payment discounts associated with the details. 
The payer will execute a "payment generation" process, which launches a file of the payment information that is run through their EDI software and transmitted to the payee. The payee does the reverse and processes the EDI 820 data through their EDI software. This creates a file that is matched against the customer's accounts receivable account and reconciles to open invoices.
Why should buyers care about the EDI 820?
It saves time, reduces costs and frees up budget dollars for buying organizations. Here are some of its benefits.
Reduce staffing expenses
By sending remittance information electronically, retailers can reduce (if not eliminate) the resources required for stuffing and mailing payment details to suppliers. AP resources no longer need to match up a printed check to the remittance voucher and any payment correspondence.
Cut postage expenses
With EDI, there's no need for mailing physical documents like remittance information. Everything is handled electronically, which means no need for postage.
Free up open-to-buy budget
Using the EDI document, suppliers can apply payments more quickly against invoices. This increases retailers' available credit, freeing up open-to-buy dollars for future purchases.
Why should suppliers care about the EDI 820?
Many suppliers, especially in retail, need to manage exponentially more invoices because retailers are requesting products shipped directly to the consumer. For the receiver of the remittance information, the EDI 820 streamlines the reconciliation and posting of the payment details. The time savings allows them to focus on more strategic tasks.
Reduce staffing expenses
It reduces the number of accounts receivable resources required to manually reconcile customer payments. Suppliers can upload/import payment details into their accounting system without the need for manual data entry. 
Streamline invoice reconciliation
The EDI 820 allows suppliers to automate reconciliation between their invoices and payments through a two-way match process.  Suppliers can manage invoices by exception, devoting resources only to payment discrepancies. The benefits of the EDI 820 increase with the number of invoices. If a supplier is issuing many invoices, such as in the case of drop-shipping, they can experience considerable efficiency gains. 
How can you avoid common EDI 820 issues?
The most common issue with the EDI 820 document is EDI mapping. EDI maps manage the detailed EDI specifications required by a specific trading partner. You may need a unique EDI map to connect your business with each of your trading partners. 
When a trading partner requirement changes, your team will need to update the EDI maps. Mapping problems with the EDI 820 can cause an EDI transaction to fail.
The best way to eliminate the worry of EDI 820 issues is to rely on a full-service EDI provider like SPS Commerce. Full-service providers take ownership of understanding your trading partner requirements and making map changes. For example, the SPS team actively manages 9,000 map changes each year.
Want to learn more about the EDI 820?
Exchanging paperless payment information improves efficiency for both buyers and sellers. If you would like more details about the EDI 820 Payment Order/Remittance Advice,  contact an EDI expert at SPS Commerce today. 
For more insight into common EDI documents and transactions, check out our posts about EDI 850 purchase orders and EDI 810 invoices.

Latest posts by Scott Bolduc
(see all)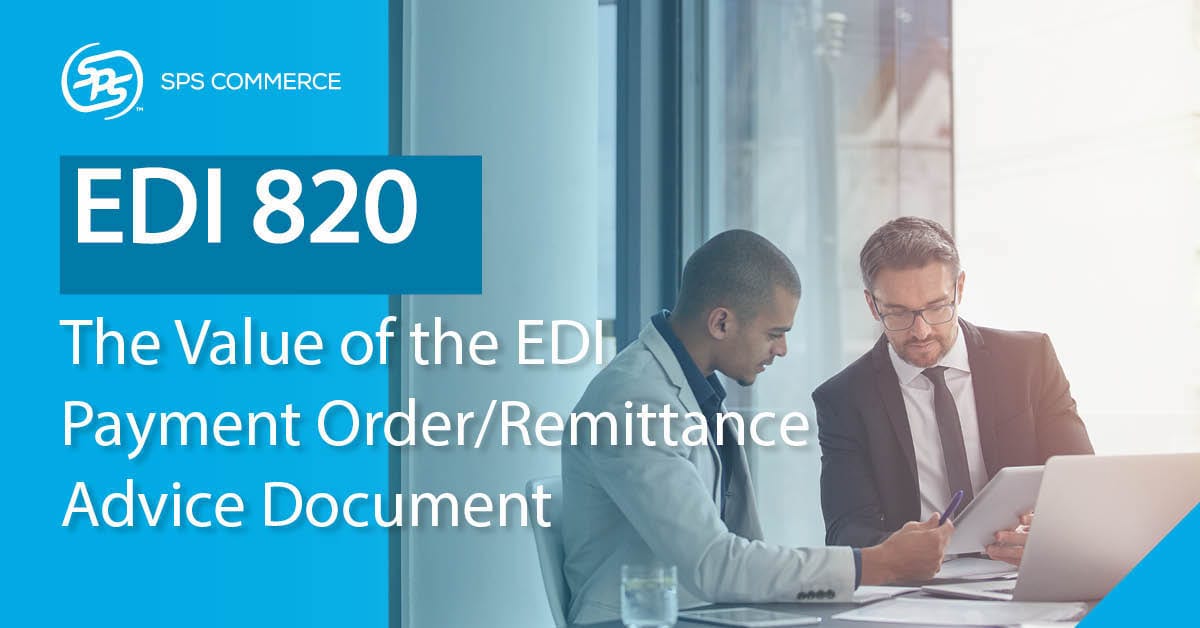 GET MONTHLY UPDATES DELIVERED TO YOUR INBOX.
Never miss an update from the SPS blog! Receive retail and supply chain news, valuable resources, expert tips and more.