Product Activity Report
EDI Document 852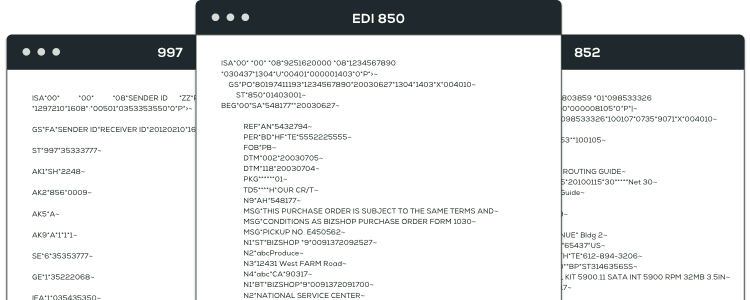 What is Product Activity Data SLSRPT?
'Product Activity Data' is often referred to as 'PAD data,' and its primary purpose is providing point-of-sale feedback to the supplier of a product. The SLSRPT facilitates communication of product SKU activity figures such as sales rates, complementary product sales, inventory on-hand and on-order, price, item description, and more. This allows distributors and manufacturers to better understand potential restock needs, and the overall success of their product SKUs in various stores, geographies, and more.
There are two broad types of EDI documents, split between the EDIFACT and ANSI X12 standards. EDIFACT is the standard advocated by the UN, and is used in Australia, New Zealand, Europe, and parts of Asia, and uses a product activity data document called 'SLSRPT.' The ANSI X12 standard is used in North America, and uses the 852 document.
The key data elements included in the product activity data SLSRPT document:
Product identifies; SKU, manufacturer's ID, etc
Sale location, retailer
Sale product, category, brand, and other categorisations
Complementary product sales
On-hand inventory by SKU
Retailer warehouse or DC locations, with on hand and available amounts by item
Sales value, profit margin
Benefits
There are benefits to both the purchaser and the supplier of implementing electronic trade of this kind of point of sale data through the SLSRPT PAD data document – at best, it provides a platform and common basis for retailer-brand collaboration. Benefits grow based on the degree of closeness and collaboration between the trading partners.
Supply chain transparency
Facilitates significantly more accurate forecasting and planning, by supplier and retailer
Allows retailers to avoid stock-outs
Supports better SKU/product management and redistribution based on sell-through
Note that SLSRPT PAD data must be 'translated' into a human readable form, for easily ascertained actionable insights. Find out more about Product Activity Data SLSRPT 852.
Eliminate the expense of manual processes.
Remove the time and effort of taking it on yourself. Start here.