Transportation Carrier Shipment Status Message
EDI Document 214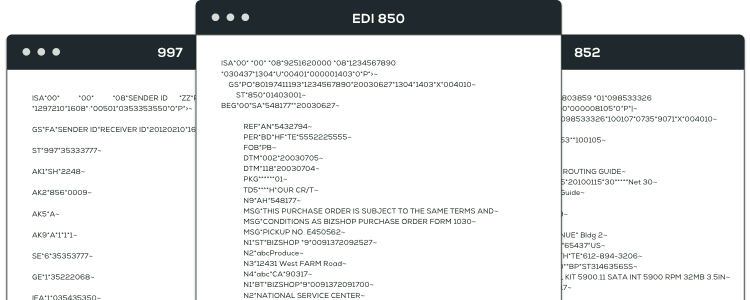 What is a motor carrier shipment status message?
The EDI 214 transaction is used by freight carriers to inform shippers of the detailed status of their shipments. A shipper will typically require 214 Status messages based on specific events like when the carrier has arrived at the pickup location, when the carrier has departed from the pickup location, when the load arrives at the destination and when the carrier has left the loading dock at the destination.
The data elements included in an EDI 214:
Shipping origination
Shipment destination
PO information
Expected delivery
Proof of delivery
Shipment description/bill of lading
Shipment status details
Document flow when using EDI 214:
The 214 is acknowledged by a 997 Functional Acknowledgement document which proves that the 214 Status was received by the shipper.
Benefits
Many shippers require the 214 Status document in order to match the Bill of Lading, PO number, SCAC code and delivery information on the 210 Invoice that is sent later by the carrier. This allows the shipper to verify the information before paying the carrier.
Eliminate the expense of manual processes.
Remove the time and effort of taking it on yourself. Start here.