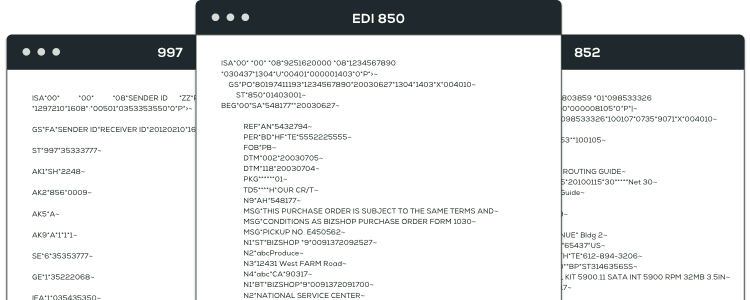 What is an EDIFACT document 'INVOIC' Invoice, and how is it used?
An EDIFACT EDI document 'INVOIC' is the electronic version of a regular paper invoice. In the retail and wholesale/distribution industry, a vendor or supplier will send an INVOIC document (adapted from the word 'invoice' but limited to 6 letters, as required by the EDIFACT EDI standard) to a retail partner or distributor to request payment for products.
Types of EDI invoices
There are two broad types of EDI invoice documents, split between the EDIFACT and ANSI X12 standards. EDIFACT is the standard advocated by the UN, and is used in Australia, New Zealand, Europe, and parts of Asia. The ANSI X12 standard is used in North America, and has multiple EDI documents that support the invoice.
Under EDIFACT, as used in Australia
– The INVOIC document is used in all instances. This is analogous to the ANSI X12 '810' invoice, but it accommodates all instances.
Under ANSI X12, as used in North America
– The EDI 810 is more widely used in general merchandise/services.
– The EDI 880 is used for invoices specific to grocery products.
– The EDI 894 is utilised for vendor managed inventory (VMI) models.
The key data elements included in an 'INVOIC' invoice document:
Invoice number
Purchase order number
Invoice date
Product/service identifiers such as UPC/EAN/GTIN with their respective quantities
Item price
Tax invoice information
Additional data that may also be included in the invoice:
Carrier and service levels
Invoice terms
Ship to and remit to locations
Vendor number
Charges and/or allowances
Additional item identifiers such as buyer item number and vendor part number
Shipping information
Benefits of using an electronic invoice:
There are benefits to both the purchaser and the supplier for implementing electronic trading of the invoice. Many of these are dependent on how automated and integrated the transaction is for both parties.
Key benefits for retailers:
Elimination of data entry errors from manual entry
Automated three-way match with order and shipping documents, for correct payments
Key benefits for suppliers or vendors:
Elimination of data entry errors from manual entry
Considerable reduction (typically ~30%) in order-to-cash cycle
Eliminate the expense of manual processes.
Remove the time and effort of taking it on yourself. Start here.