Purchase Order Change Acknowledgment & Request
EDI Document 865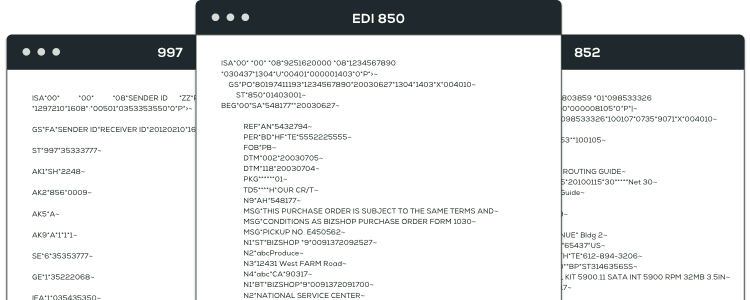 What is an PO change acknowledgment/request?
An ANSI X12 EDI 865 is only used in systems configured to the North American standard, ANSI X12. No directly analogous document exists within the EDIFACT standard as used in Australia and Europe; the Purchase Order Acknowledgement ORDRSP EDIFACT document would typically be used by vendors, and the Purchase Order Change ORDCHG EDIFACT document by the retailers.
For companies that do use the ANSI X12 North American standard, the 865 PO Change Acknowledgement is used by a vendor to confirm receipt of a retailer's purchase order change document (860), to communicate to tyhe retailer whether the change has been accepted or rejected. Due to many similarities between the 855 Acknowledgment and 865 Acknowledgement, buyers will typically indicate their document preferences during the initial EDI transaction discussion.
The data elements included in the line item change of an EDI 865.
AI – Add Additional Item(s)
CA – Changes To Line Items
PC – Price Change
QD – Quantity Decrease
QI – Quantity Increase
The code elements included in the line item acknowledgement of an EDI 865.
DR – Item Accepted – Date Rescheduled
IA – Item Accepted
IC – Item Accepted – Changes Made
ID – Item Deleted
IQ – Item Accepted – Quantity Changed
Benefits
There are benefits to both the purchaser and the supplier of implementing electronic trading of the purchase order acknowledgement. Many of these are dependent on how automated and integrated the transaction is for both parties. Some of the benefits that can be realised include:
Provide timely and automated visibility into a suppliers commitment to fulfill
Supports alignment of order information between suppliers and their trading partners
Reduces post invoice reconciliation issues
Allows retailers to confirm supplier fulfilled e-commerce orders for end consumers
Where the EDIFACT standard is used, these benefits can be realised through the design of business processes, using the ORDCHG, ORDRSP, and other EDIFACT documents.
Eliminate the expense of manual processes.
Remove the time and effort of taking it on yourself. Start here.