Four Takeaways from SuiteWorld 2022
SPS Commerce was thrilled to attend and participate in SuiteWorld 2022 in Las Vegas, Nevada in September. Jim Frome, President and Chief Operating Officer at SPS, presented an educational session with representatives of Thrive Market and Lionel, LLC. Here are four main takeaways from their discussion.
Omnichannel Commerce
Frome began the session by discussing the role SPS plays in today's omnichannel experience. Omnichannel commerce differs from multichannel in its focus on a seamless consumer experience across multiple sales channels and fulfillment models. Consumers are engaging with retailers over mobile devices, desktop computers, brick-and-mortar stores, marketplaces and more, with fulfillment options ranging from direct-to-consumer to ship-to-store to "buy online, pick up in store" (BOPIS). All of this requires a high level of coordination from retailers, their suppliers and their shipping partners. This is where SPS Commerce comes in.
We work with each aspect of the supply chain to help facilitate better processes for managing inventory and fulfillment across channels through a single solution. The needs and goals for retailers, suppliers and shipping partners can vary widely. With our full-service approach and retail network, SPS can speak to each of these different needs, enabling smoother communication between trading partners.
Retailer Value
Scott Brenner, Manager of Procurement at Thrive Market, discussed the challenges that retailers face in today's supply chain. He talked about how difficult it is now for Thrive to do business with companies not using EDI, and the noticeable amount of time and labor that has been saved.
"We have 650 vendors and we get over 200 emails a day," says Brenner. "I would say that 75 of them are from vendors that aren't using EDI, and those emails are costing us labor. These vendors are also costing themselves quite a bit in labor because now they have to answer our return emails."
He expressed the value that SPS brings to Thrive, saying, "What's great about working with SPS is that we are able to have a frank discussion about the business problems faced by retailers – to discover a common theme that we can execute on. So as the SPS team goes on and talks to other retailers, they're bringing back ideas to help us re-evaluate our current set-up."
Brenner also discussed how the COVID-19 pandemic impacted Thrive Market's business. He said, "We saw our membership explode because we became a haven as people were struggling to go to their local grocery stores and find the items they needed. But as that membership exploded, our very small supply chain management team was struggling. They were working 12-hour days – that's not sustainable. We had to look inward to determine how we could still be successful through this period of huge growth."
Brenner continued, "Now, instead of a very small 3-person team, it's a 3-department team where we are able to focus on demand planning, supply planning and procurement separately. We all work together, of course, but the increased focus on those areas helps us not only give our members a first-class experience, but also helps our internal teams because now they have time to dig into some of the actual issues."
SPS Commerce helped Thrive Market deal with unexpected changes during the pandemic, and is poised to grow alongside them and their suppliers.
Supplier Value
Representing the Supplier point of view during the session was Rick Gemereth, CIO of Lionel, LLC. He said, regarding Lionel's business capabilities, "We've been omnichannel as long as omnichannel has been a term. We've got retail stores and eCommerce sites, we supply distributors and dealers with our product, and we distribute as well. We supply big-box retailers including Amazon, Kohl's, Target and others with all the product they sell through their websites. We also drop-ship for them."
SPS Commerce helps Lionel meet the requirements of the retailers they supply. When changes are made or trading partners are added, Lionel can focus on driving business, sales, and revenue instead of worrying about meeting requirements. Gemereth said, "All of the integration points are essential in managing our inventory. For example, we send Amazon information on our inventory levels. It's vital they have up-to-date data. Amazon never wants to call a customer back because they ordered something that's out of stock. When that happens we get a sizable chargeback. If Amazon says we want you to jump through a hoop we're going to ask them what size."
SPS helps Lionel focus on their business, especially during busier seasons."Sixty percent of our revenue is generated in the 4th quarter and we get extremely busy," said Gemereth. "Receiving and shipping product in the most efficient way only happens when the data is coming in and we're supplying the required data back out. If the data isn't flowing, we're not making those sales and not generating that revenue."
Getting EDI Right
EDI brings added value to trading partners in the supply chain, allowing them to focus on other business priorities. But there's more to getting it right than just the technology component. When asked about the other aspects of EDI by an audience member, Jim Frome said, "When we're working with a supplier and helping them implement our solution at the beginning, we're trying to help them get an "A" with their customers. So this is bigger than an IT project."
He continued, "It usually involves people from across the business – the person who is responsible for taking the orders and figuring out how to respond to them, somebody from the warehouse operations or a 3PL, somebody in finance that's keeping track of how much inventory is left and tied back to the financials. It's more than just making sure you're following the retailer's data requirements. The number one thing to achieve success with EDI is to make sure that everybody knows this is more than just a technical project – it's a change to the business processes that go with it."
Learn more about how your business can benefit from NetSuite automation.

Latest posts by SPS Commerce Blog Team
(see all)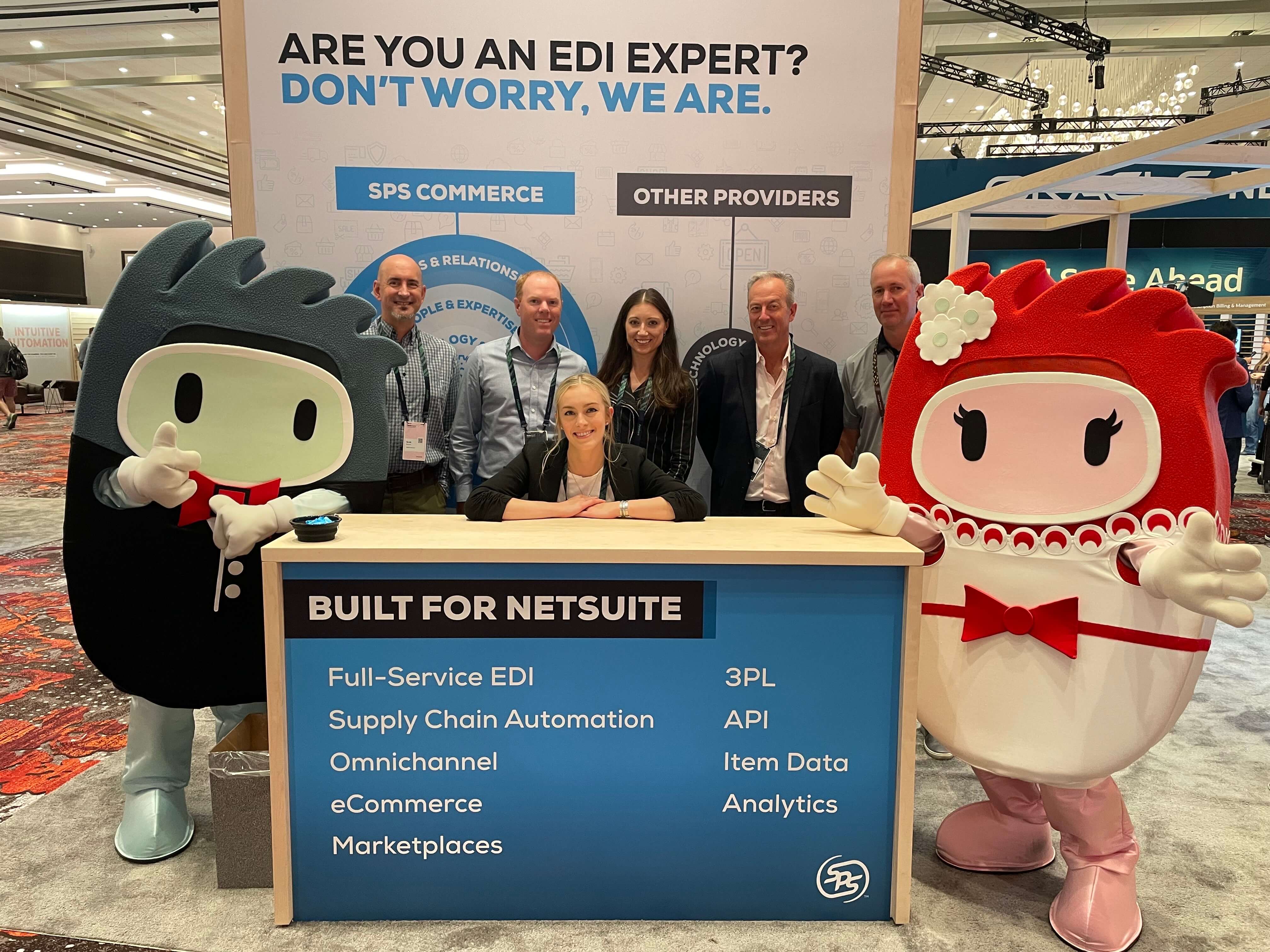 GET MONTHLY UPDATES DELIVERED TO YOUR INBOX.
Never miss an update from the SPS blog! Receive retail and supply chain news, valuable resources, expert tips and more.