True Brands' ROI from Full-Service EDI [Case Study]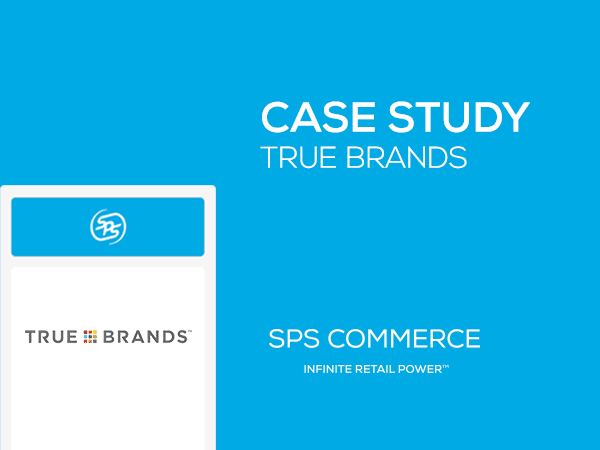 Savvy suppliers like True Brands, know doing EDI with its retail partners is not just about compliance, it's a way to gain favor and more business. With a corporate initiative to eliminate data entry and an ERP switch to Oracle NetSuite, True Brands automated many processes and now has hands-free order fulfillment for all Walmart orders and the scalability to support the company's double-digit growth.
True Brands was using another EDI provider but faced three major challenges, the first being a growing number of retailers. "Each new partner would require a new map to be built that often took four or more months to complete. With SPS Fulfillment, we are live with new retailers in four to five days," said Matt Oak, Senior IT Administrator at True Brands.
Second, was the potential cost of adding more internal resources. True Brands has a small IT team with many expectations, only one of which is EDI. "Our former EDI technology required a full-time technical resource that was going to require a six-figure salary in our market. This was not worth the investment and by switching to SPS we didn't need to hire staff," said Oak.
Lastly, the EDI company that was supporting True Brands at that time, failed the EDI testing process with several of their major retail customers. Meeting the complexities of any retailer's trading requirements is fundamental to the partnership's success. In 2015, True Brands made the switch to SPS Commerce Fulfillment to resolve these issues, cut data entry, and prepare for future growth.
True Brands' leadership issued a strong directive to cut data entry to improve accuracy and clarity. They had a staff of six FTEs in sales operations tasked with entering orders. Each order would take approximately five minutes to enter, and with their new drop ship business growing, they were receiving more than 80 orders per day per retailer. Their teams quickly become overloaded with their manual processes leaving room for mistakes.
The SPS full-service EDI solution eliminated this manual step by connecting with Oracle NetSuite, allowing orders and other documents to flow automatically to and from True Brands retail customers. With this automation, their sales operations team has been reduced, freeing up several staff members to focus on other operations such as updating customer data, confirming shipping data and more.
"We were receiving more than 600 orders per month in 2018," said Oak. "If we were manually entering these orders we'd have drowned just keeping up, especially during our busy season from August through December. One of our core values is to be customer-oriented. This means that if we agree to fulfill an order in 48 hours, we do it. Automating allows us to improve our internal operations and know that we can meet our customers' expectations."
Take a look at the case study to learn how True Brands also reduced chargebacks and created an automated process for hands-free order fulfillment of $5 million of orders for Walmart with the SPS full-service EDI solution.
Evaluating Your EDI options: 7 Building Blocks of Full-Service EDI
Get insights on choosing the right EDI solution for your business and the seven components vital for truly full-service EDI.
GET THE WHITE PAPER

Sara Duane is a content expert for the SPS Commerce marketing team. She provides valuable articles and important information about e-commerce, merchandising strategies, order fulfillment and other topics related to retail supply chain optimization.

Latest posts by Sara Duane (see all)
GET WEEKLY UPDATES DELIVERED TO YOUR INBOX.
Subscribe to our blog to receive retail and supply chain news, valuable resources, expert tips and more.
Evaluating Your EDI options: 7 Building Blocks of Full-Service EDI
Get insights on choosing the right EDI solution for your business and the seven components vital for truly full-service EDI.