Fifty percent growth looks easy at PM&J with SPS Fulfillment (Case Study)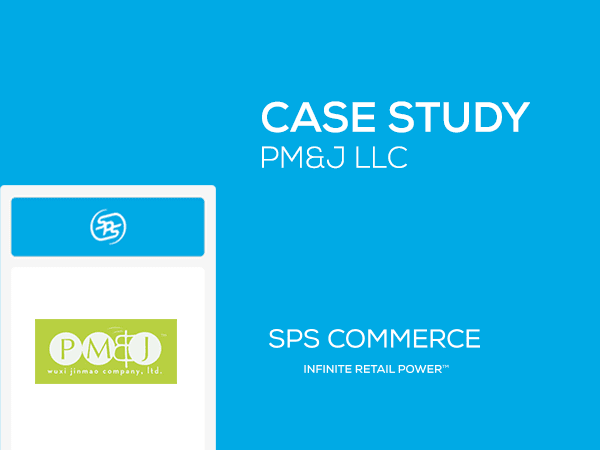 As a leading vertically integrated manufacturer of pet, apparel and home products, PM&J LLC has experienced significant growth in recent years. Prior to working with SPS Commerce, its third-party logistics provider (3PL) had been managing its EDI operations.
With SPS Fulfillment, PM&J took ownership of EDI; expanded into multiple 3PLS, including the launch of their own 3PL; and implemented NetSuite and NetSuite OneWorld.
"SPS Commerce Fulfillment and our NetSuite integration is supporting our growing business," said Diane Weinmann, Account Manager Team Lead at PM&J. "The solution helps shorten shipping times, guarantees order accuracy, and ensures compliance with retailer requirements."
Today, SPS Fulfillment and NetSuite OneWorld have automated PM&J's order cycle and its operations, including communications with its factories in China. Whether shipping to its retail customers or directly to the consumer (drop ship), PM&J offers unique products delivered with confidence.
Read more about PM&J's plans for growth with help from SPS Commerce Fulfillment for NetSuite. Free EDI 101 downloads
Discover how EDI can assist with solving some of your most pressing business problems with these free resources.
GET FREE EDI GUIDES

Sara Duane is a content expert for the SPS Commerce marketing team. She provides valuable articles and important information about e-commerce, merchandising strategies, order fulfillment and other topics related to retail supply chain optimization.

Latest posts by Sara Duane (see all)
GET WEEKLY UPDATES DELIVERED TO YOUR INBOX.
Subscribe to our blog to receive retail and supply chain news, valuable resources, expert tips and more.
Evaluating Your EDI options: 7 Building Blocks of Full-Service EDI
Get insights on choosing the right EDI solution for your business and the seven components vital for truly full-service EDI.