Cost Savings of EDI? 372 % ROI for Peter Grimm [Research Study]
Suppliers often view EDI as a necessary business function to sell one's products in retail channels. This is true. However, there are many additional benefits of EDI that companies experience, especially those using full-service EDI.
Companies reap the rewards of improved inventory management, reallocated staffing to other projects and better retailer relationships. Suppliers quickly discover that the benefits of EDI far outweigh the EDI software cost.
Quantifying the benefits of EDI can be challenging. That's why SPS commissioned a Total Economic ImpactTM (TEI) study[1] conducted by Forrester Consulting on our behalf to provide an independent perspective.
The November 2019 study quantifies the business benefits and EDI cost savings experienced by Peter Grimm, a leading supplier of hats and fashion accessories, and their use of SPS Commerce Fulfillment.
Experiencing higher EDI cost savings and automation
Peter Grimm is a 30-year-old hat company that sells more than one million hats per year. They have used SPS Fulfillment for many years, including system automation with Oracle NetSuite. Today, the supplier has EDI connections with 36 retailers using the SPS full-service EDI solution, resulting in more than 50,000 EDI documents processed annually.
Over the years, Peter Grimm has worked with other EDI providers as needed to comply with other retailers but found their service and capabilities lacking when compared to SPS Fulfillment.
"In my 10-plus years of working with SPS Commerce and other EDI vendors, they just don't do what SPS Commerce does…A couple of trading partners require that I utilize other EDI platforms, in addition to SPS Commerce. But those other platforms don't integrate with our ERP system. SPS is the only automated solution."
– Sales and operations manager, Peter Grimm
Quantifying the benefits of EDI
The TEI study found that full-service EDI from SPS provided Peter Grimm with an ROI of 372 percent and a payback period of fewer than three months.
The savings resulted from avoiding the following costs:
Hiring of EDI coordinator = $255,899/three-year benefit NPV
Labor and direct costs due to manual entry errors = $294,756/three-year benefit NPV
Temp labor costs due to retailer mapping changes = $348,886/three-year benefit NPV
Temp labor costs to manually process documents during peak demand = $111,617/three-year benefit NPV
"Our error liability is $0 with SPS and the integration function with our ERP system – you're talking $50-$500 in chargebacks just at the snap of a finger. We're getting $0."
– Sales and operations manager, Peter Grimm
Performing 1,000+ retailer mapping changes annually for Peter Grimm
In 2019, Peter Grimm is on track to experience more than 1,000 EDI mapping changes from its retailers. It's common for retailers to frequently change their EDI rules throughout the year. Each time, companies need to spend time understanding the rule's change, seeing how the change fits into the existing EDI map, applying the change, and re-testing with the retailer (typically recommended, if not required).
Luckily, Peter Grimm chose to partner with SPS Commerce as their full-service EDI provider, where service is included in the EDI software cost. Our team of EDI experts performs all of these mapping activities on behalf of Peter Grimm as part of their subscription.
Retailer EDI changes occur frequently, and often without notice. Peter Grimm estimates that they would need to hire staff or consultants to perform these changes. "Having Peter Grimm responsible for mapping increases the skill level required for the EDI coordinator and therefore increases the labor cost," said the Peter Grim sales and operations manager.
Growing sales within the SPS EDI network
Today more than 115,000 customers use the SPS Commerce EDI network, taking advantage of the long-term SPS retailer relationships. In the study, Peter Grimm shares how SPS connected the supplier with multiple retailers, which have led to new sales and business partnerships.
"SPS has put us in contact with other selling opportunities…giving us leads that have turned into profitable relationships. SPS has helped us grow sales and minimize chargebacks."
– Sales and operations manager, Peter Grimm
Want to learn more about how suppliers can reap the benefits of EDI like Peter Grimm using full-service EDI? Download the Total Economic Impact of SPS Commerce Fulfillment, a Full-Service EDI Solution today.
[1] The Total Economic Impact™ Of SPS Commerce Fulfillment, A Full-Service EDI Solution, a November 2019 commissioned study conducted by Forrester Consulting on behalf of SPS Commerce.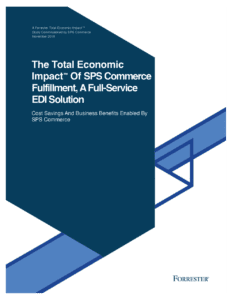 Ready to experience Full-Service EDI?
Want to learn more about the cost savings and business growth possible with full-service EDI? Read the new Forrester study commissioned by SPS Commerce.
Download the report

Latest posts by SPS Commerce Blog Team
(see all)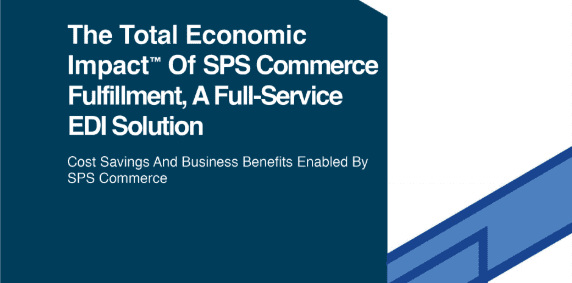 GET MONTHLY UPDATES DELIVERED TO YOUR INBOX.
Never miss an update from the SPS blog! Receive retail and supply chain news, valuable resources, expert tips and more.