How to choose the right 3PL
No matter how complex the need, there are three basic capabilities that sum up what suppliers need to get out of a 3PL: expertise, capacity and technology.
Yes, it is this trifecta that will determine whether a supplier will meet the growing – and changing – needs of its retail customers. When a vendor outsources this piece of its organization, the 3PL – or third-party logistics provider – becomes the operational face of the business to the buying organization. Not only do 3PLs offer warehousing and distribution services, but in the age of drop shipping, they have the ability to print labels and Advance Ship Notices (ASNs) on behalf of vendors.
At the same time, 3PLs themselves face tremendous pressures – both operational and financial – as they strive to keep up with changing buying habits and a far more complex supply chain. Gone are the days of just sending merchandise to distribution centers. Today's 3PLs must be able to ship to warehouses, stores and buyers' homes if they want to remain competitive in this trillion-dollar industry.
These are all reasons suppliers must do their due diligence in choosing a 3PL. How does a vendor know when a logistics provider is good for business? The aforementioned "trifecta" can allow suppliers to perform the ultimate 3PL stress test before making a decision.
EXPERTISE
Since logistics organizations can't be good at everything, many 3PLs specialize in a particular vertical – a specific region or retailer relationship – because they know the requirements inside out. Suppliers rely on and leverage this knowledge to grow their business. Growth in e-commerce means 3PLs must create branded packing slips and do reverse logistics. Simultaneously, they must be able to handle ASNs, pallet configurations, shipping requirements for each retailer – and a multitude of other complexities.
To demonstrate this ability, logistics companies can provide several proof points, including referenceable customers, scorecards and facility tours. For suppliers, these should all be part of the vetting process of choosing a logistics provider.
CAPACITY
Digital retailing has become an equalizer for price. With smart phones, consumers can shop for an item in-store and often find it somewhere cheaper online. This creates enormous pressure for buyers and sellers to maintain their margins while keeping prices low. And this is where the capacity of a 3PL becomes incredibly valuable because it can create much-needed efficiencies and savings.
Through a 3PL, suppliers can engage with a variety of retailers without significant up-front investment, increase or decrease capacity due to seasonality, and take advantage of inventory, warehouse and shipping management core competencies.
Good 3PLs help their customers cover gaps in knowledge, process or supply chain. This collaboration relieves the pressure on margins and helps them focus on what matters.
TECHNOLOGY
3PLs receive orders and share shipment information with customers every day, whether that's by fax, email, a spreadsheet or other means. Yet without the appropriate technology and systems in place to manage the processes, a lot of duplicate and manual efforts by both parties occur.
Good 3PLs have multiple, automated ways to receive and send order and shipment information electronically, including EDI or websites for the customer to enter information. This technology takes costs out of the supply chain and enables the 3PL to focus on the business of storing boxes, moving boxes and other value-added services.
The right technology eliminates the risk of the human error – and the right partner increases productivity! Asking the right questions around how these things get done will let vendors know exactly which 3PLs are good at what.
GET WELL ON YOUR WAY
If you are a supplier looking for a logistics provider that will suit your needs, SPS Commerce can help. Through our partnerships with dozens of 3PLs, we can help you find the right one to elevate your business and gain efficiencies!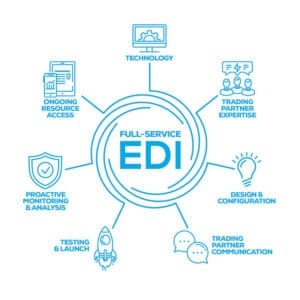 Find the correct EDI solution for your business.
Get more insights on full-service EDI by downloading our white paper.
READ OUR WHITE PAPER

Latest posts by Scott Bolduc
(see all) GET WEEKLY UPDATES DELIVERED TO YOUR INBOX.
Never miss an update from the SPS blog! Receive retail and supply chain news, valuable resources, expert tips and more.