How IMCO Carbide Tool used EDI to rise to the top [Case Study]
As a leader in the tooling industry, IMCO Carbide Tool is constantly driving towards delivering a more efficient and accurate order cycle with their distribution customers. Why? Distributors have many brands of similar tools to pick from for their customer's order. When given a choice, they'll pick the tool from suppliers known for easy ordering. IMCO aims to be this top-of-mind provider and is doing so by teaming with SPS Commerce to automate their orders and improve their compliance with shipping instructions. The result is an 87 percent reduction in time spent on each order and an increase in sales.
The manufacturer sells their 8,000 products through a network of distributors and their goal is to make IMCO the easiest company to order through. Bret Osburn, Order Fulfillment Manager at IMCO states, "we know that consumers will often not ask specifically for the IMCO brand, but instead make their request using the generic tool type. If the distributor sees IMCO among the options and knows that we make ordering fast and simple, we are very likely to secure this sale. Being the vendor with the path of least resistance, thanks to EDI, is a competitive advantage in our industry."
IMCO started their EDI journey in 2017 with two distributors who represent a quarter of their annual sales. These customers use EDI and wanted IMCO to do so as well. They introduced IMCO to their trusted EDI provider, SPS Commerce, and IMCO decided to deploy the SPS Commerce Fulfillment solution as well, integrating their orders, shipments and invoices with their ERP system, Epicor.
"When one of our larger customers makes a request, like doing EDI, we take it seriously," said Osburn. "IMCO began doing EDI to delight our customers but shortly learned that the automation was saving us significant amounts of time and improving our shipping accuracy."
This first distributor they connected to using EDI sends 70 orders every week on average, each containing 50 or more unique part numbers. These orders had previously been sent via email and were manually entered into IMCO's system, usually taking 30 minutes per order. Today their EDI orders take just a few minutes to process using SPS Fulfillment. This is real time savings that IMCO now spends on other initiatives.
Read more about how IMCO stands out from its competition.
Evaluating Your EDI options: 7 Building Blocks of Full-Service EDI
Get insights on choosing the right EDI solution for your business and the seven components vital for truly full-service EDI.
GET THE WHITE PAPER

Latest posts by SPS Commerce Blog Team
(see all)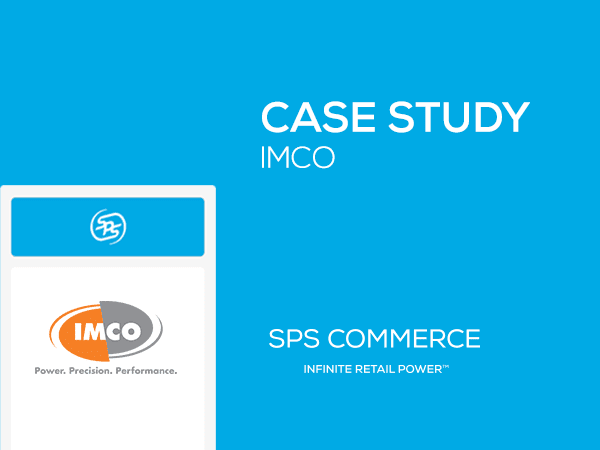 GET MONTHLY UPDATES DELIVERED TO YOUR INBOX.
Never miss an update from the SPS blog! Receive retail and supply chain news, valuable resources, expert tips and more.