Part 3: Distributed Order Management for Third-party Logistics
By Shravan Talupula, Product Management, Director at Deposco & Carina Wingel, Marketing Director at Deposco 
As demand from logistics grows, it is apparent 3PL's are serving their customers in more ways than storing and moving inventory from A to B. Today logistics providers are creating intelligent and efficient supply chains to provide their customers with the fastest and best service they can provide. 
According to a recent study, many 3PL's are still struggling to create a true omnichannel retailing experience. Just 3% rated themselves as high-performing, while the majority (31%) said they had no capability to provide this type of experience. 
DOM is able to help 3PLs by providing customers with inventory visibility across multiple warehouses, and at the same time balance the cost and service of order fulfillment across multiple sales channels. Third-party logistics need to understand the needs of both retailers and brands.
We recommend reading our past two installments: DOM for Retailers and DOM for Brands to help identify these needs. In this last installment, we will dive into two of the five key features of DOM that can improve operations as a logistics company and services you can provide to serve your customers even better. 
Intelligent order routing
One of the challenges logistics providers face is the balancing act of keeping a customer happy with their costs while not taking a financial hit to do so. One way a DOM system can help keep this balance in check is through intelligent order routing.
A DOM system can determine the best location for fulfillment based on presets and configurable rules. This keeps everyone's expectations in check. 
One customer may want to ship based on the fastest delivery time no matter what the cost, while another may prefer shipping based on geographic and lowest shipping cost parameters. 
For example, say a 3PL has two fulfillment centers, one in Los Angeles and another in Memphis. When a customer places an order to ship to Oregon, intelligent order routing checks the availability of the item in both fulfillment centers and routes the order to the fulfillment center which saves the cost in fulfillment. In this case, the order is routed to the fulfillment center in Los Angeles so $14.21 is saved in fulfillment.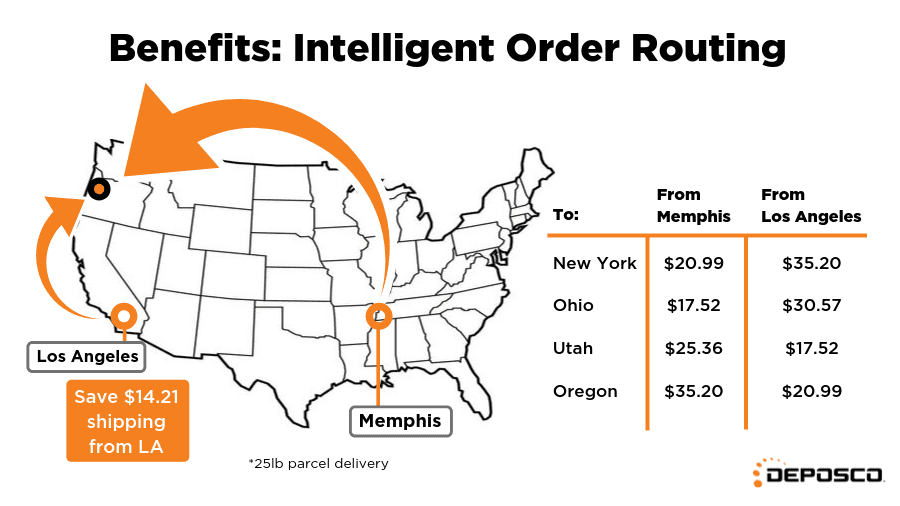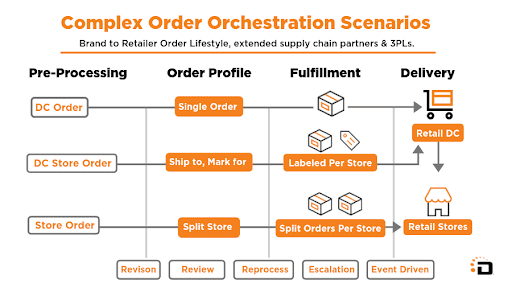 Third-party providers (3PLs) serving both the markets of retailers and brands, need to handle different types of orders, especially when working with EDI based fulfillment. For example, Walmart retail could provide an order to ship to a DC but Target retail could provide an order to ship to DC but the final delivery location could be a store. 
Event-based order orchestration manages the complexity involved in the fulfillment of these different order types to provide a seamless experience.
Summary
As we conclude this three-part blog series about DOM, here are the key takeaways.
The five key components of DOM for 3PLs:
Intelligent Order Routing

helps to optimize the cost of fulfillment when you have more than one fulfillment center by selecting the optimal one.

Order orchestration

helps to manage B2B and DTC orders in a single view so brands and retailers can speed up the fulfillment process and avoid chargebacks.

Customer Service

provides an omnichannel customer experience whether it is a consumer order or a wholesale order by handling payments, customer returns, order substitutions.
Omnichannel order fulfillment

provides options for various customer journeys like buy online, pickup in-store, ship from store.

Enterprise Inventory allows full visibility across the entire supply chain including multiple locations and fulfillment providers.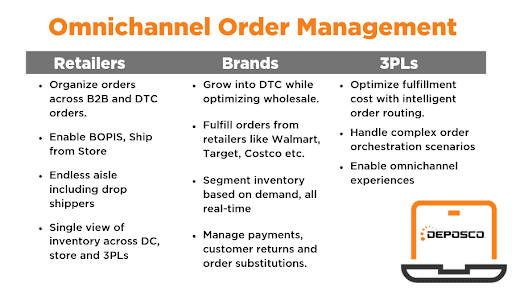 A DOM system, like Deposco's Bright Suite,  can help a logistics company tremendously, however more importantly is finding the right partner. At Deposco we strive to build strong relationships with our partners and continue education and innovation in our services.
We hope this series has been educational and provided insight into the benefits of a DOM system. For more information on Deposco see below.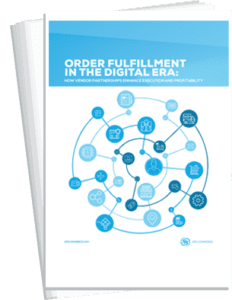 Order fulfillment is more complex in an omnichannel environment.
Enlist the help of your trading partners to profitably satisfy today's consumer. Download our white paper to help you strategize your action plan.


GET YOUR DIGITAL FULFILLMENT GUIDE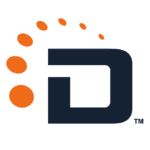 Latest posts by Deposco Guest Blog Team
(see all)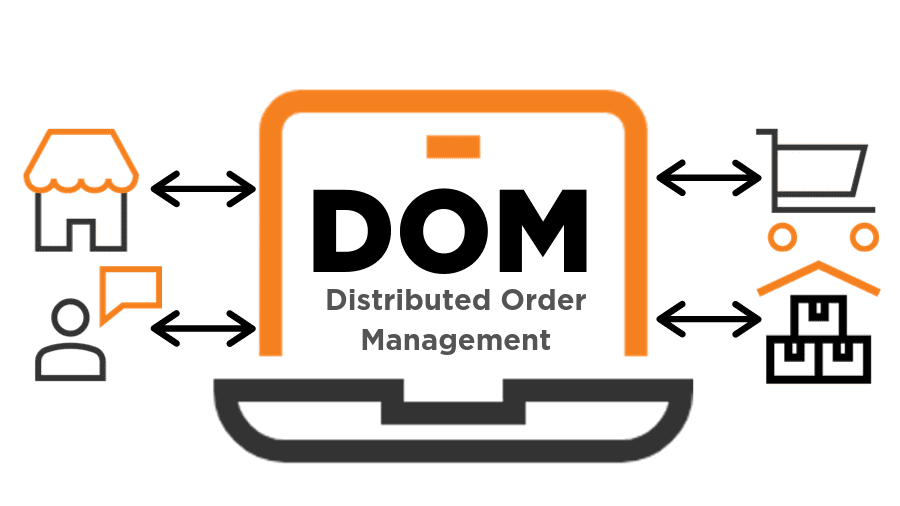 GET WEEKLY UPDATES DELIVERED TO YOUR INBOX.
Never miss an update from the SPS blog! Receive retail and supply chain news, valuable resources, expert tips and more.