Improve your grocery operations.
Here's how to do more with your EDI and supply chain.
Manual processes are the enemy of efficiency.
Are manual processes hurting your grocery business? If you've only implemented EDI (electronic data interchange) with some of your vendors or logistics partners, you are missing out on massive opportunities for automation.
Fortunately, when you partner with the industry's onboarding experts and use the leading EDI platform,  it's easier than you think to roll out a standard data format across your entire vendor community.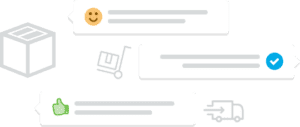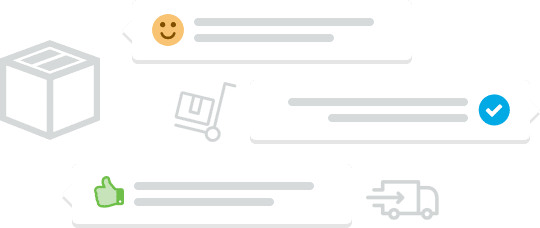 We'll help you operationalize EDI in your business, so you can take advantage of the automation opportunity.
Better onboarding.
We take vendor onboarding extremely seriously at SPS Commerce. With the largest network of grocers, food service vendors, distributers and retailers, we'll do what it takes to get you EDI capable with all your partners – all within record time. With our one-to-many network model, it's easy to add more vendors, 3PLs or carriers at any time. It's equally easy to implement more EDI transactions for your existing partners.
Benefits of using solutions from SPS:
Achieve the enlightened state of complete order visibility.
With the short shelf life of fresh produce, it's imperative to know when your products arrive and how soon they can be restocked. Yet many grocers and food distributer businesses can't tell where their shipments are because there is no standardized method around this information. SPS automates and standardizes all of the supply chain documents (EDI, ASN, etc.) between grocers and their vendor community, giving them the power to know exactly where their products are at all times.
Speed to market.
Purchase orders are the life and blood of EDI in the grocery industry. By processing orders faster, grocers can get items to their shelves faster without the fear of running out of stock. Faster purchase orders leads to better inventory management and happier customers.
Advance Ship Notice (ASN).
Supermarket chains need the ASN to better manage inventory, margins, traceability and supplier scorecarding in order to maintain a level playing field. For these reasons, successful grocers are embracing the ASN. Walmart and Target are both long time benefactors of the ASN, which has enabled them to expand grocery operations. The ASN also makes it easy to track everything back to the original source in case of a foodborne illness outbreak.
Analytics.
Imagine having the power to know how much products will sell at what time and at what store. Our analytics solution collects all of your data (POS, inventory, etc.) and turns out the insights you need to stay on top of inventory, sales and promotions. Envision selling the perfect amount of s'mores materials during the Fourth of July or nailing down the amount of turkeys needed for Thanksgiving. You'll have the proper tools (and data) to make those decisions with our analytics solutions.
Why grocers and food vendors trust SPS:
Worry-free EDI.
We've set up tens of thousands of vendors with EDI. Whether you need to set up a few vendors or an entire community of hundreds, our team of 300+ vendor consultants handles all of the mapping, testing, outreach and ongoing compliance throughout the entire lifecycle of the relationship.
We want to see you succeed.
If something goes wrong or if you need help with anything, our customer success team is available 24/7/365. We'll also proactively reach out to make sure you're successful.
Our network is your network.
We have an existing network of 105,000 trading partners that's yours to explore. If you find another trading partner, connecting with them is effortless since they're already connected to the SPS retail network. Once a match is found, SPS validates and ensures the trading partner is qualified and has the correct technology (EDI) and fulfillment capabilities. SPS then facilitates, onboards and tests the vendor within a few days – providing an environment to rapidly onboard new vendors and products.
The best part of working with SPS Commerce was their staff. They are the type of people that you trust and look forward to working with."
Winn-Dixie and SPS teamed up to build and structure a vendor enablement program. Together they onboarded Winn-Dixie's nearly 500 indirect suppliers in three months.
Not sure? Trust the experts.
Our dedicated grocery team understands your unique challenges. We'll help you make smart technology decisions, so you can cut costs and improve operations.