Having trouble creating an accurate retail forecast? POS forecasting can help.
Without accurate POS data to guide your forecasts, it's impossible to gauge product demand and manage inventory. Learn how to leverage robust point-of-sale (POS) data to forecast with precision.
Have you asked questions like:
"How can I get better data to forecast with?"
"How can I allocate inventory more effectively?"
"How can I analyze sales trends?"
How is COVID-19 impacting your 2021 forecasts?
Due to retail changes from the pandemic, there is more pressure to accurately forecast for the upcoming year. That's why many companies are relying on historical POS data from 2018 and 2019. Unfortunately, many companies lost or have disorganized historical data management. It's never been more important to have your retail data stored in a reliable and easy to access location. SPS understands the challenge and we're here to help!
How does inaccurate and incomplete POS data make forecasting difficult?
Many businesses are swimming in data with buyer's reports, portals and EDI documents all containing valuable sales and inventory information. However, this data is often scattered, inconsistent, incomplete or difficult to manage across an organization.
Common forecasting challenges for companies that don't have POS data:
Inability to make proactive merchandising recommendations
Difficulty gathering sell-through information by product and location
Lack of visibility into inventory by location
Unproductive buyer meetings
Cleaner data can help POS forecasting by allowing you to:
Quickly identify sales trends and capitalize on selling opportunities
More effectively allocate inventory
Reduce overages and markdowns
Use data insights to have more productive buyer meetings
Why does data matter in POS forecasting?
Many companies use sell-in data (or revenue from product sales to retailers) to build a forecast. But this type of forecasting falls short without sell-through data (or revenue from retail sales to consumers) to feed into the forecasting process. That's where POS data forecasting comes in. POS forecasting tools take advantage of retail point-of-sale data, such as sell-through and weeks of inventory on hand, giving you a more complete picture of how your products are selling.
POS forecasting using Analytics from SPS Commerce is:
Comprehensive
Access historical data on SKUs, styles, locations and more. You'll get all the details you need to build an informed forecast.
Cloud-based
Store multiple years of sales and inventory data in the cloud and use it in seconds. Eliminate the hassle of keeping track of post-it notes, spreadsheets and other disjointed information sources.
Easy to use
View data in multiple ways through tables, charts and graphs and intuitive visualizations. Plus, you can filter or drill down to focus on specific areas.
SPS Analytics enables accurate POS forecasting for your business
When you can understand historical product performance, you are able to better predict future demand. POS data is key to forecasting because it closely reflects consumer demand. With SPS Analytics, we enable your forecasting by collecting, cleaning and displaying your data so you can focus on using that data to predict sales. Here's how SPS Analytics leverages POS data and makes it easier to forecast: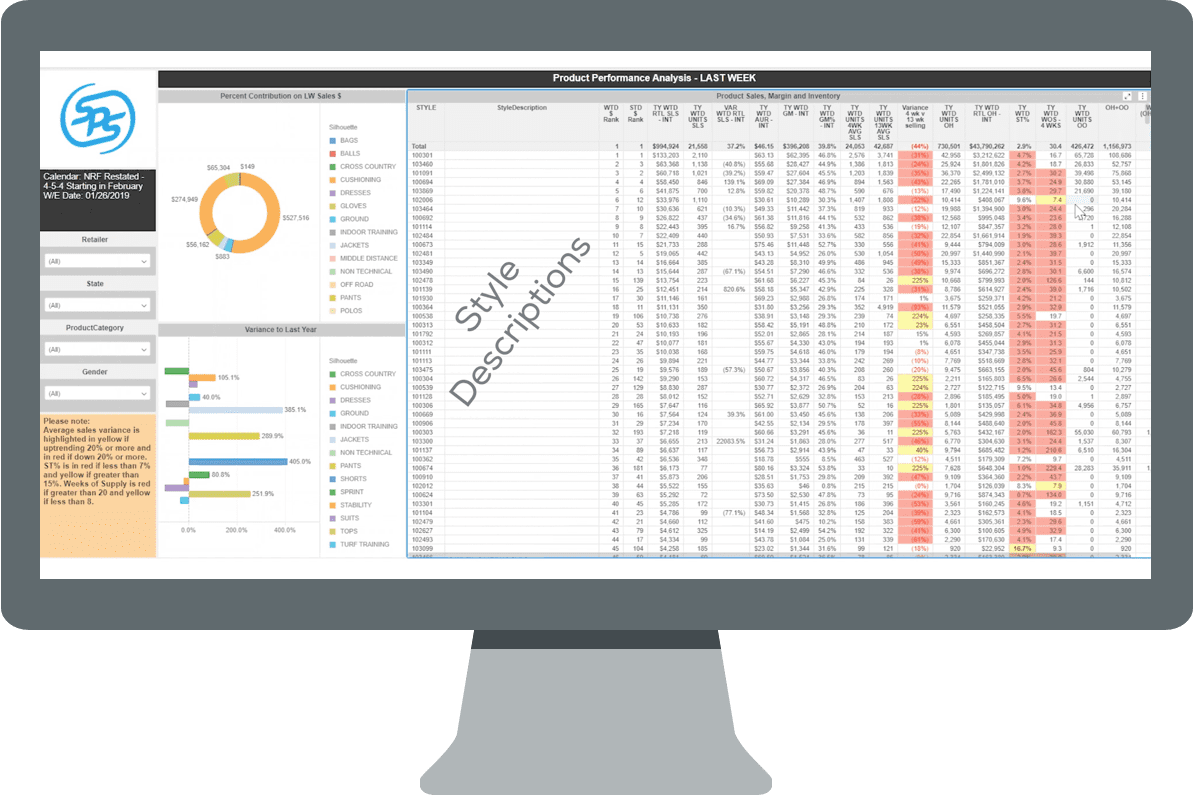 Build better forecasts with dashboards that make it easy to view product-level sales performance, profits and inventory.
1. Our team gathers the data.
SPS Commerce experts collect sell-through and inventory data from your trading partners, e-commerce sites and owned store locations. Then we load all the data into your Analytics solution.
2. Our team cleanses the data.
Our full-service team detects and corrects inaccurate records and then replaces, modifies or removes bad data.
3. Gain visibility to inform your forecasts.
Use pre-built dashboards within Analytics to identify sales and inventory trends to guide your forecasting efforts. Or, import data extracts from our Analytics solution into your existing forecasting tool.
4. Subscribe to automated alerts.
Finally, you can create and subscribe to automated alerts, including sales and inventory reports optimized for your business.
Talk with an SPS Analytics specialist to streamline your sales forecasting.
One of our specialists will reach back out to you within 1 business day.
"The SPS team is very engaged in ensuring we are getting the most value from the service and the relationship. We not only have easier access to our data; we have a group of professionals with industry experience helping us turn data into insights and actions. This will elevate the skill set of our sales organization."
★★★★


– Analytics User, 6/12/19