Are retail out-of-stocks a problem for your business? They don't have to be.
Minimizing stockouts is crucial to your business. But preventing stockouts is impossible when you don't have a clear picture of how your products are selling or how much inventory is at each of your retailer's locations.
Learn how you can stop losing sleep over stockouts and slow moving or obsolete stock (SLOB).
Have you asked questions like:
"What is causing my retail out of stocks?"
"Is my out- of-stock analysis accurate?"
"How could I solve my SLOB problems?"
What are the causes of stockouts and can you limit their impact on your business?
Having too much or too little inventory is costly for your business and your retail customers. Without the inventory and sales information you need, you can't optimize your stock levels or your assortment. This can lead to:
Out of stocks that damage your retail relationships
Decreased profits from overstocks and markdowns
Empty shelves, creating a poor consumer experience
Do any of these common retail out-of-stock issues sound familiar?
No visibility into inventory risks
Limited insight into how products are selling by location
Lost sales opportunities due to a lack of data about store-level inventory
Limited ability to influence sales once season has begun
With the right tools, you can reduce stockouts by 10% or more and:
Gain full visibility into product performance
Identify products that are at risk for out-of-stock or overstock
Optimize inventory across all retailers and locations to gain more sales
Improve forecasting and planning
Form more strategic buyer relationships
SPS has the technology, expertise and resources to help prevent retail out-of-stocks.
Our full-service Analytics solution gives you a consolidated view of sell-through and inventory data across all trading partners to prevent out-of-stocks and SLOB. Here's how it works: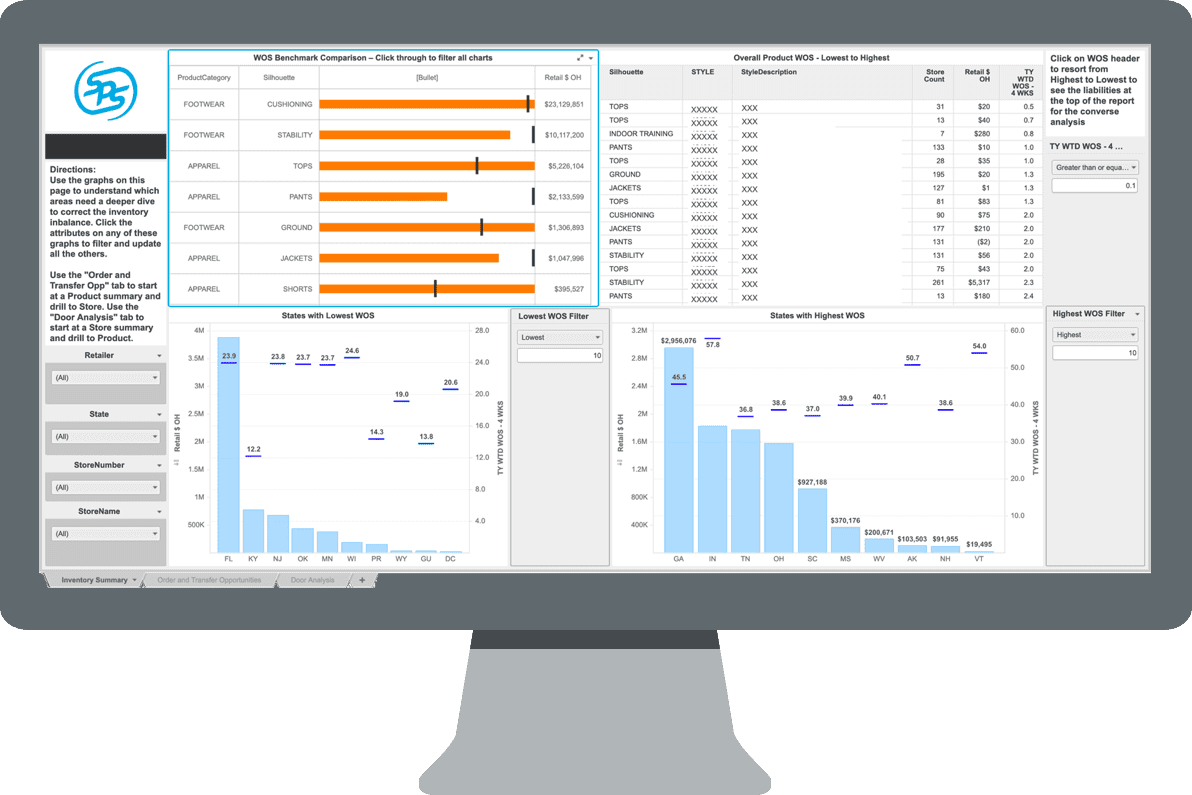 Inventory dashboards enable inventory optimization by showing where you have too much or too little inventory by product, store, region or category.
1. Our team gathers the data.
SPS Commerce experts collect sales and inventory data from your trading partners (regardless of format) and load it into your Analytics solution.
2. Our team cleanses the data.
Our full-service team detects and corrects inaccurate records and then replaces, modifies or deletes bad data.
3. You can access alerts and dashboards.
Tap into our suite of 20+ pre-built dashboards to start making better decisions right away, and use automated alerts to identify inventory risks and opportunities.
4. Our team helps you maximize your investment.
We'll train your staff and help you optimize your solution.
Talk with an SPS Analytics specialist to learn how our solution can help with retail out-of-stocks.
"My retailers are blown away with what I'm able to provide them now. We sit down and go through the analytics, from sell through to weeks of supply of stock. It's just amazing, and they're actually looking at me going, 'How do you get this information?"
– Randy Morgan, Vice President of Sales of Sperry