When You Sell Everywhere, You Need Data From Everywhere
SPS Commerce Analytics empowers you with a single source of sell-through data so you can make faster, better decisions for your business. Forecast, plan and execute with precision to increase sales, optimize inventory and develop strategic relationships with buyers.
How do I use SPS Analytics within my business?
At the core, SPS Analytics is here to remove the complexities of your data process so we can help you whether you are at the beginning of your retail supply chain journey or have been doing it for years. While our product is founded on data collecting and cleaning, we also provide industry-leading dashboard visibility that presents data in multiple ways through tables, charts, graphs and interactive visualizations.
In fact, we have customers from enterprise level companies that use SPS Commerce to clean their data, feed it into their BI tools and share reports with their teams internally, as well as their trading partners. On the other side of the spectrum, we help emerging entrepreneurs understand how retail sales forecasting can help their business and partnerships grow quickly and efficiently.
What's all included in our Analytics product?
Our Process
Data acquisition from all available trading partner resources
Transforming your data into one consolidated format
Data validation to proactively ensure up-front accuracy
Error prevention with behind-the-scenes data correction
On demand product training so you can learn on your own schedule
Our People
24/7 access to a full team of data experts
Platform personalization with your retail data trend experts
Trading partner outreach for data collection, problem solving and tool engagement
Retail partner specific trainings led by an SPS trainer
Our Technology
Pre-built data visualizations with item and location cross referencing
Ad hoc reporting on high level trends and product drill downs
Easy integration into other analytics or data visualization tools (i.e. Tableau, Power BI, or MicroStrategy)
Multi-device and exportable report capabilities
Responsive email alerts for schedule reports and potential issues
It's our 3 step data processes that puts us above the rest!
POS data can inform how to optimize product sales and inventory, but data collection and analysis can be time-consuming. The best analyses are based on data that is clean, validated, organized and up-to-date.
Step 1: SPS Gathers The Data
Our process starts by chasing down and collecting all the data from your trading partners. The data most likely comes in an array of different formats and sources like retailer portals, emails, spreadsheets (excel, csv and xml), API, raw data files, comma or pipe delimited, EDI 852, EDI 856, Buyer Reports or other BI tools. Once we've finally collected all the data and transform the files to work together, we load them into your system.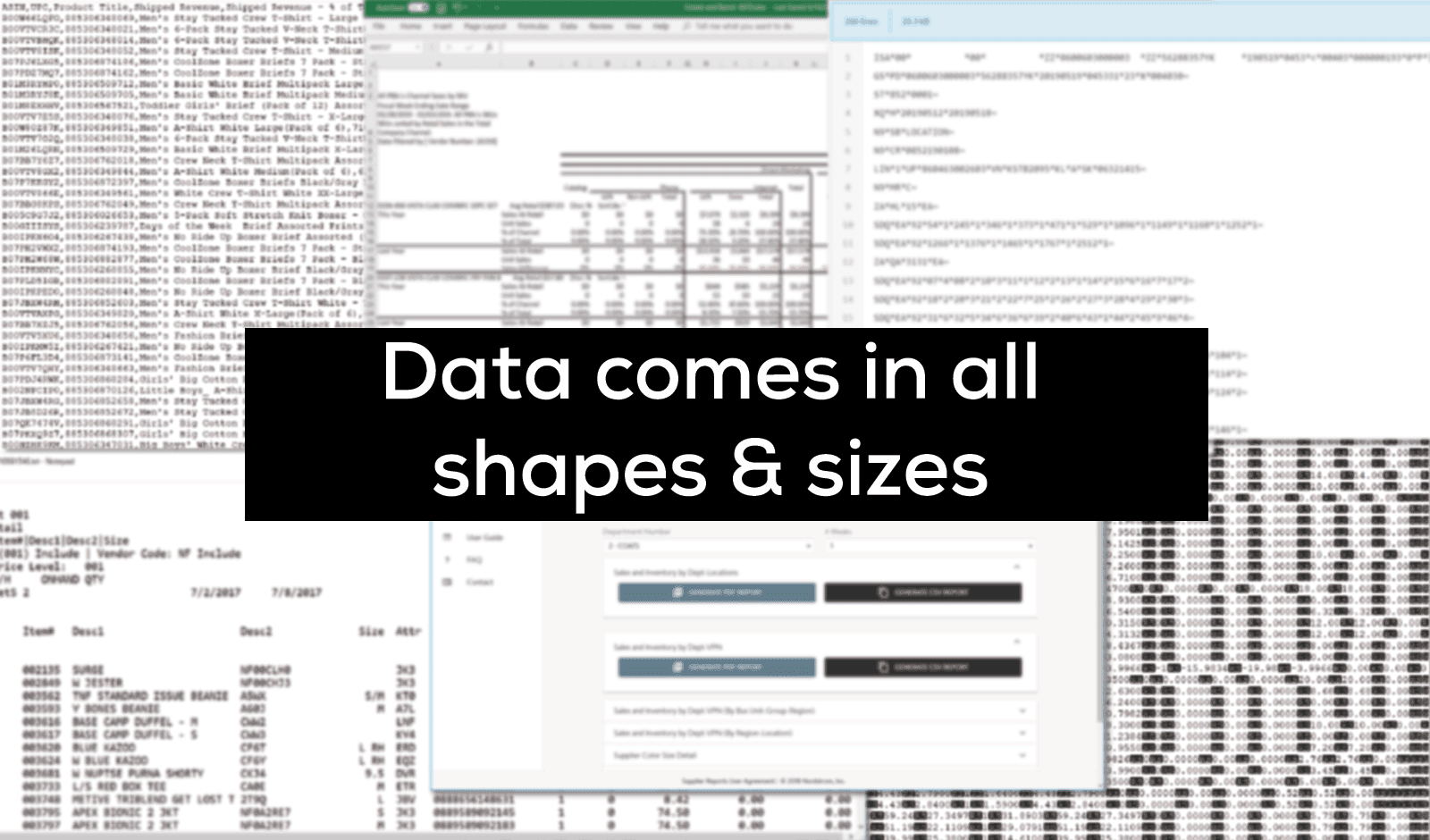 Step 2: SPS Does Data Cleansing
Our next step is data cleansing, or data cleaning. This is the process of detecting and correcting inaccurate records and identifying incomplete, incorrect, inaccurate or irrelevant parts of the data and then replacing, modifying or deleting the bad data. This step is important because if the data isn't clean, the sales forecast you create could cause out-of-stock or overstock situations for your products. We provide data that is quality assured and ready to use to start making smart decisions about your products.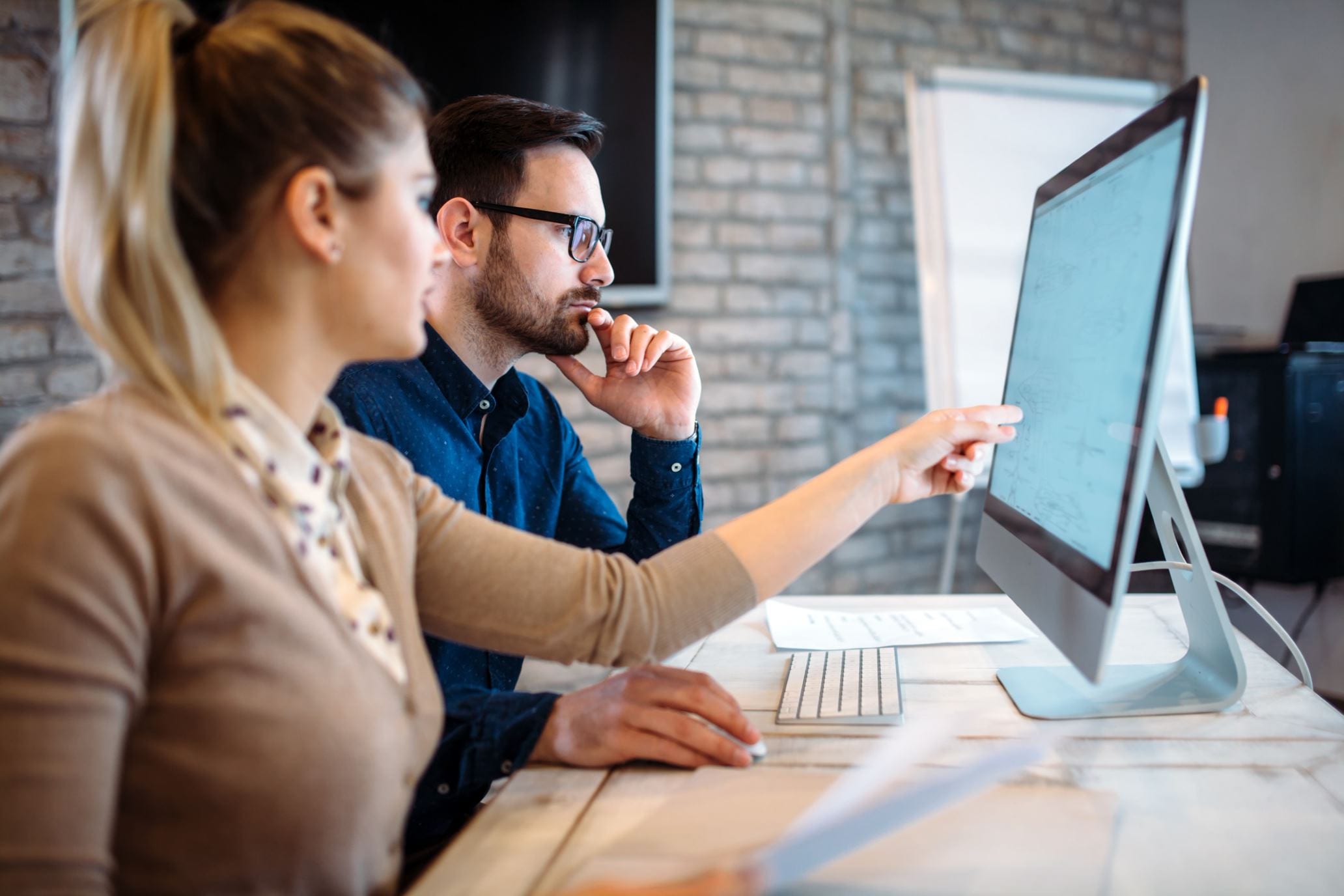 Step 3: SPS Helps You Evaluate
Use our best-in-class dashboards and reports to analyze your retail sales across partners and locations. Our reports were designed with agility in mind, allowing you to review current and historical performance simultaneously. Plus the SPS Team is available 24/7 for questions regrading report building or data interpretation. Giving you the boost you need to excel in your demand forecasting and buyer meetings!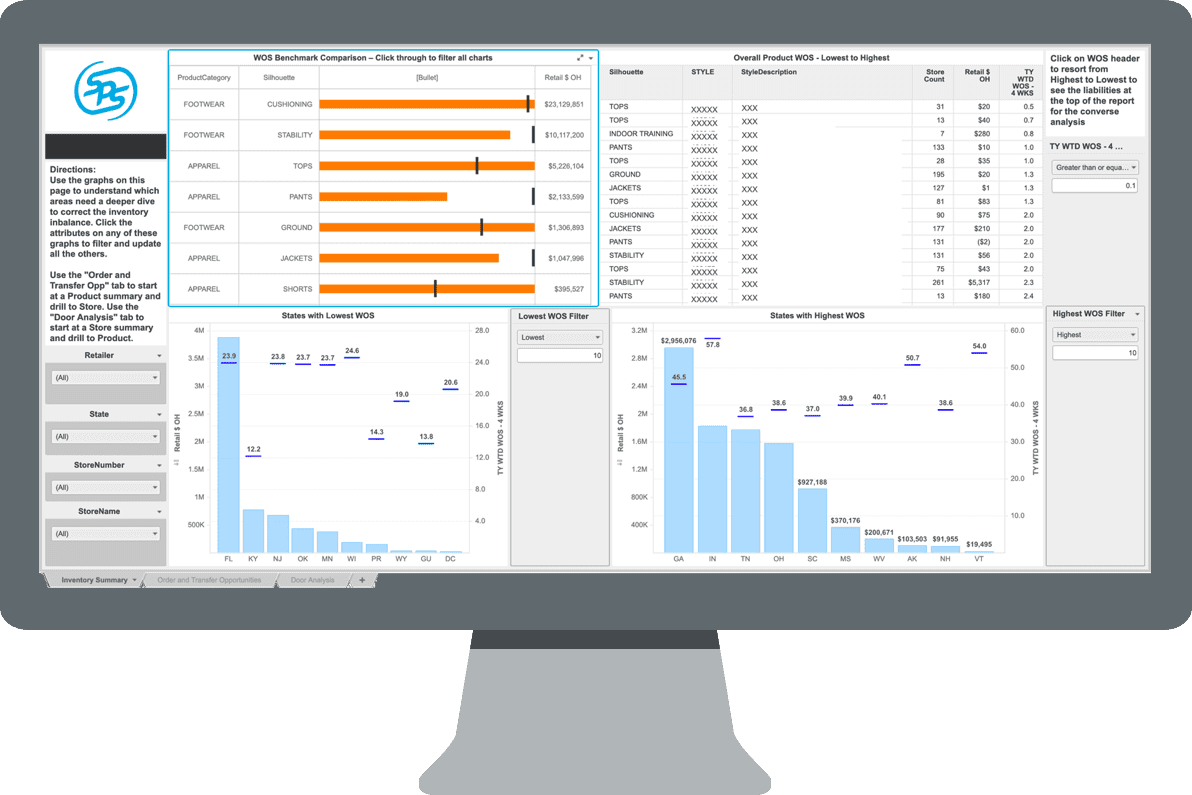 Chat with a Data Specialist about SPS Analytics.
Fill out this form if you'd like to be contacted by a specialist to learn more about what to do with your data or receive a product demo.