Partner community
View all business and referral partners in our network.
Company Name: TaraByte Solutions + Fishbowl Gurus, LLC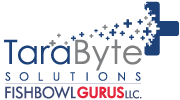 Company Description: TaraByte Solutions offers expertise in Fishbowl Inventory and QuickBooks implementation, providing the support and experience necessary to help clients optimize their businesses. The company also specializes in Fishbowl Accounting and Reporting, Fishbowl Business Intelligence, eCommerce and CRM integration.
Market Emphasis: Professional accounting, software training and other services for medium-sized and small businesses.
Company Website: www.tarabyte.com
Twitter: @JeanneTara
Facebook: Fishbowl Gurus + Tarabyte
LinkedIn: Jeanna Tarazevits, Inventory Guru & Quickbooks Expert, TaraByte Solutions
Google+: Jeanne Tarazevits