Partner community
View all business and referral partners in our network.
Company Name:  SapphireOne Pty Ltd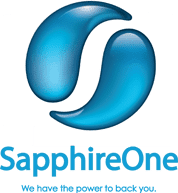 Company Description: SapphireOne is an Enterprise Resource Planning (ERP) application with rich accounting software functionality that has been available since 1986. It is a complete financial management software suite combining Accounts, Inventory, Job/Project Management, Assets, HR, Payroll, Document management, Business Activity Statement (BAS), Standard Business Reporting (SBR), VoIP SoftPhone, Customer Relationship Management (CRM) all in the one application. Features and flexibility are the main focus of SapphireOne.
Market Emphasis:  High mobility integrated ERP, Accounting, CRM, and Business Management solution.
Company Website: www.sapphireone.com
Blog: News and guides from the experts at SapphireOne
Twitter: @SapphireOneERP 
Instagram: sapphireone.erp
Facebook: SapphireOne
LinkedIn: SapphireOne
Google+: SapphireOne
YouTube: SapphireOne
Pinterest: SapphireOne
News: SapphireOne fulfilment EDI Integration with SPS Commerce