Take the complexity out of EDI compliance with Sage 300cloud.
Quickly and easily meet the EDI requirements of all of your trading partners with Sage 300cloud EDI integration from SPS Commerce. Reduce data entry and errors by automating the exchange of EDI-compliant purchase orders, invoices, credit adjustments and more.
Get clear, simple answers to all your EDI questions.
No sales pressure. No commitment.

Trusted by 2,400+ Sage EDI customers
Full-service EDI solution for Sage 300cloud
Enhance productivity with Sage 300cloud EDI automation
Complete EDI capabilities without the hassles of data entry.
Tired of manual order and invoice processing? It's time to automate. Our full-service approach to EDI enables you to work smarter and faster with fewer resources so you can focus on growing your business.
Proven Sage 300cloud EDI automation backed by full-service team
Expert staff handles all the legwork of EDI compliance
Ongoing support whenever you need it
"We have cut our data entry by more than 90 percent by using SPS Fulfillment, and they are continuing to partner with us to bring this number closer to 100 percent. Before SPS, I was doing the data entry work of 2-3 individuals due to rising order volumes. My job has changed dramatically, and for the better."
– Jenn DuRei, Director of Operations, Q Drinks
Wondering how SPS Commerce compares to other Sage 300cloud EDI automation solutions?
Managing ongoing EDI tasks can be complex and time-consuming. Full-service EDI providers like SPS Commerce deliver EDI technology and associated staffing resources responsible for customizing, optimizing and operating your Sage 300cloud EDI solution. Here are some common EDI responsibilities and how different types of providers handle them:
Full-Service EDI Providers
A full-service provider, like SPS Commerce, has an expert team that handles ongoing management of your EDI solution.
Take ownership of understanding your trading partner requirements and making map changes. The SPS team actively manages 9,000 changes from retailers each year.
Manage end-to-end EDI testing and ensures your initial data flow with trading partners is successful.
Communicate directly with your trading partners to manage connectivity, setup, requirements, updates and support efforts.
Proactively monitor and optimize your solution to prevent errors and minimize data entry.
A team of trading partner, system and EDI experts is available 24×7 in the channel of your choosing.
Managed EDI Service Providers
Your in-house team is responsible for the operational and technical details of managing your EDI solution.
When a trading partner requirement changes, your team is responsible for changing the EDI maps. Requirement changes are extremely common in retailing.
Require your team to coordinate EDI testing with your trading partners and validate data flow.
Your in-house team communicates with trading partners about EDI connectivity, setup, requirements, updates and support.
Your in-house team is responsible for monitoring and optimizing your EDI solution.
You will be responsible for contacting support regarding any issues. Real-time, expert support is often limited.
Hands-free EDI automation for Sage 300cloud.
Our full-service approach takes the headaches out of mapping, spec changes and EDI testing. We'll handle all the technical details of helping you stay EDI compliant with your trading partners, so you don't have to.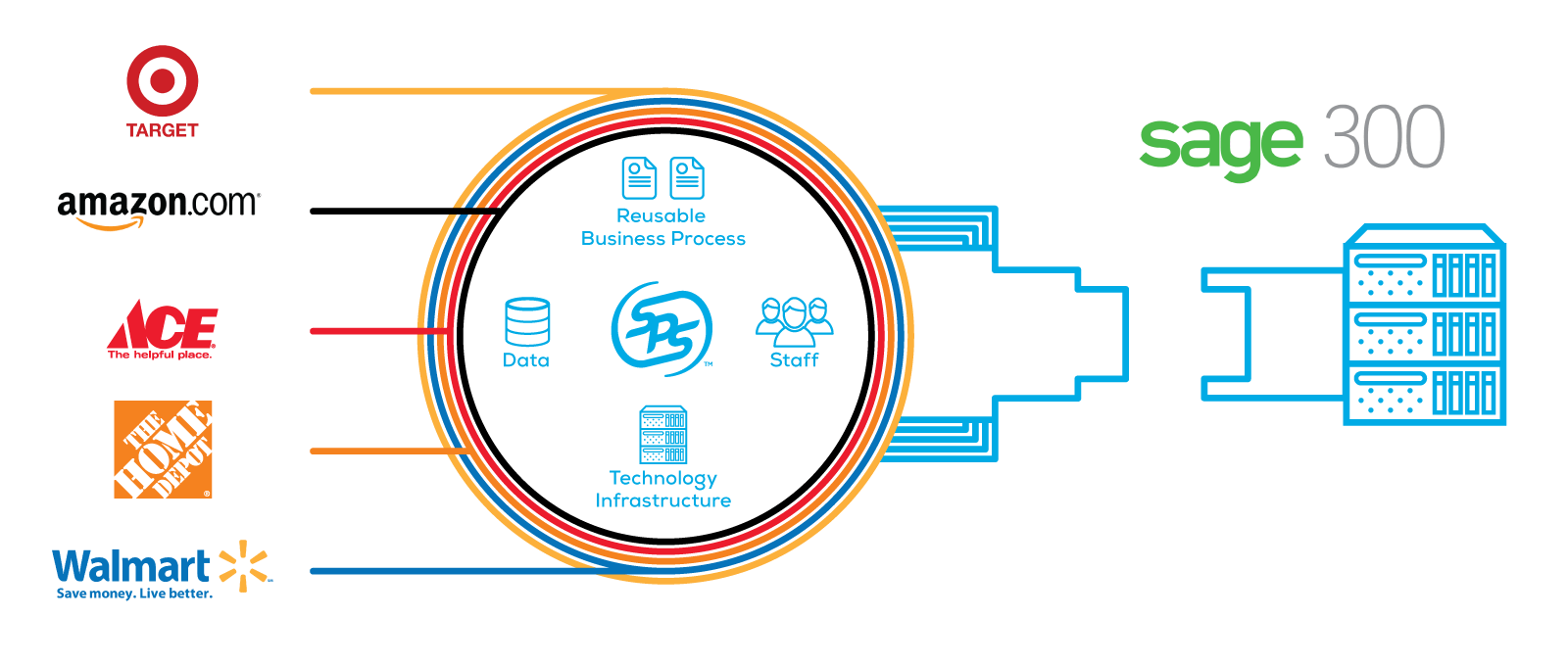 Automated EDI for any trading partner
Meet the EDI requirements of all of your trading partners by automating the exchange of compliant orders, invoices and more directly with our Sage 300cloud EDI solution.
Full-service team takes ownership of your EDI success
Our full-service approach to EDI frees your staff to focus on more strategic priorities. We'll help you get the most value out of your EDI solution—from setup and testing to optimization and support.
Always stay up-to-date
With SPS as your Sage 300cloud EDI integrator, you never have to worry about becoming non-compliant due to EDI specification or map changes. We handle all the technical details on your behalf so you'll always stay in compliance.
Reduce chargebacks & penalties
Sage 300cloud EDI integration eliminates error-prone data entry, so you can prevent chargebacks and penalties.
Complete EDI capability for Sage 300cloud
Maximize productivity by integrating common EDI tasks with Sage 300cloud using existing business processes and workflows.
Comprehensive support from EDI experts
SPS has an entire implementation and support team of EDI experts ready to help whenever you need it. Rely on SPS for the trading partner and EDI expertise you need.
EDI integration with Sage 300cloud is easier than you think:
Proven Sage 300cloud EDI connection
Full-service team dedicated to your success
Ongoing support to keep everything running smoothly
Get simple answers to all of your EDI for Sage 300cloud questions.
(You'll hear back in 1 business day)
See what customers like you are saying about SPS
Nothing makes us happier than hearing how we make our customers' lives easier. That's why we are so honored to be awarded the #1 Most Popular EDI Software on Capterra Achievement. Take a peek at what our customers are saying about us on Capterra.
"We are able to do business with major retailers, without worrying about software and technical expertise. We are able to approach retailers and tell them we are EDI compliant, knowing that we will be able to setup without problems."


Mathias H.'s review on Capterra.com
"Most of my larger customers use SPS Commerce, so when there are any updates from my customers, the changes are automatic and I don't have to worry about making any changes from here. This is a great help!"


Nancy M.'s review on Capterra.com