Purchase Order
EDI 850 or EDI 875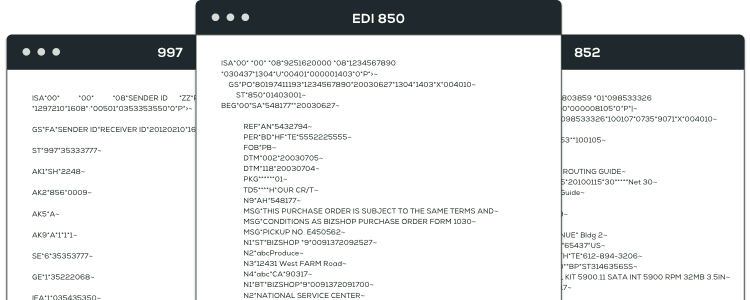 What is a purchase order 850 or 875?
A purchase order is used by the buyer to request goods and/or services from a supplier. There are two electronic documents that support the purchase order: The 850 and the 875.
The 850 is more widely used in general merchandise.
The 875 is grocery focused.
The key data elements included in a purchase order:
Purchase order number
Purchase order date
Location(s) where the product or services should
be supplied to
Requested ship and/or delivery date
Product item identifiers/services such as
UPC/EAN/GTIN needed with their respective quantities
Additional data that may also be included in the purchase order:
Carrier and service levels
Vendor number
Item price
Expected charges and/or allowances
Additional item identifiers such as buyer item number and vendor part number
Item description
Additional dates (Ex: cancel by dates)
Benefits of using an 850
There are benefits to both the purchaser and the supplier of implementing electronic trading of the purchase order. Many of these are dependent on how automated and integrated the transaction is for both parties. Some of the benefits that can be realized include:
Reduction in volume of paper flow and gain operating efficiencies through reduced time requirements to complete transactions by both parties
Reduction in administrative time spent manually submitting orders (buyer) and manually receiving and entering purchase orders (supplier) allowing for resources to focus on value added work
Elimination of data entry errors associated with manual processes
Potentially increases the speed of fulfillment and supports the ability for the retailer to lower their on hand inventory
Eliminate the expense of manual processes.
Remove the time and effort of taking it on yourself. Start here.