Quickly connect to your retail partners with QuickBooks EDI
With the Intuit QuickBooks EDI solution from SPS Commerce, you can quickly and cost-effectively connect with your retail customers. Easily extend the order fulfillment capabilities in QuickBooks using our QuickBooks EDI integration. Scale your business by leveraging QuickBooks automation and our network of 115,000 trading partners.
Get clear, simple answers to all your order fulfillment questions.
No sales pressure. No commitment.

Full-service QuickBooks EDI solution
Comply with all your trading partner requirements
Get up-and-running in minutes, not hours or days
When you're sending and receiving hundreds of documents every month, it's time to automate
At a certain point in your business's evolution, manual processes get in the way of growth. No matter whether you're using QuickBooks Online or QuickBooks Desktop (Pro, Premier or Enterprise), you can automate your order fulfillment tasks with SPS Commerce. It's time to stop spending precious time and resources on entering data and fixing errors.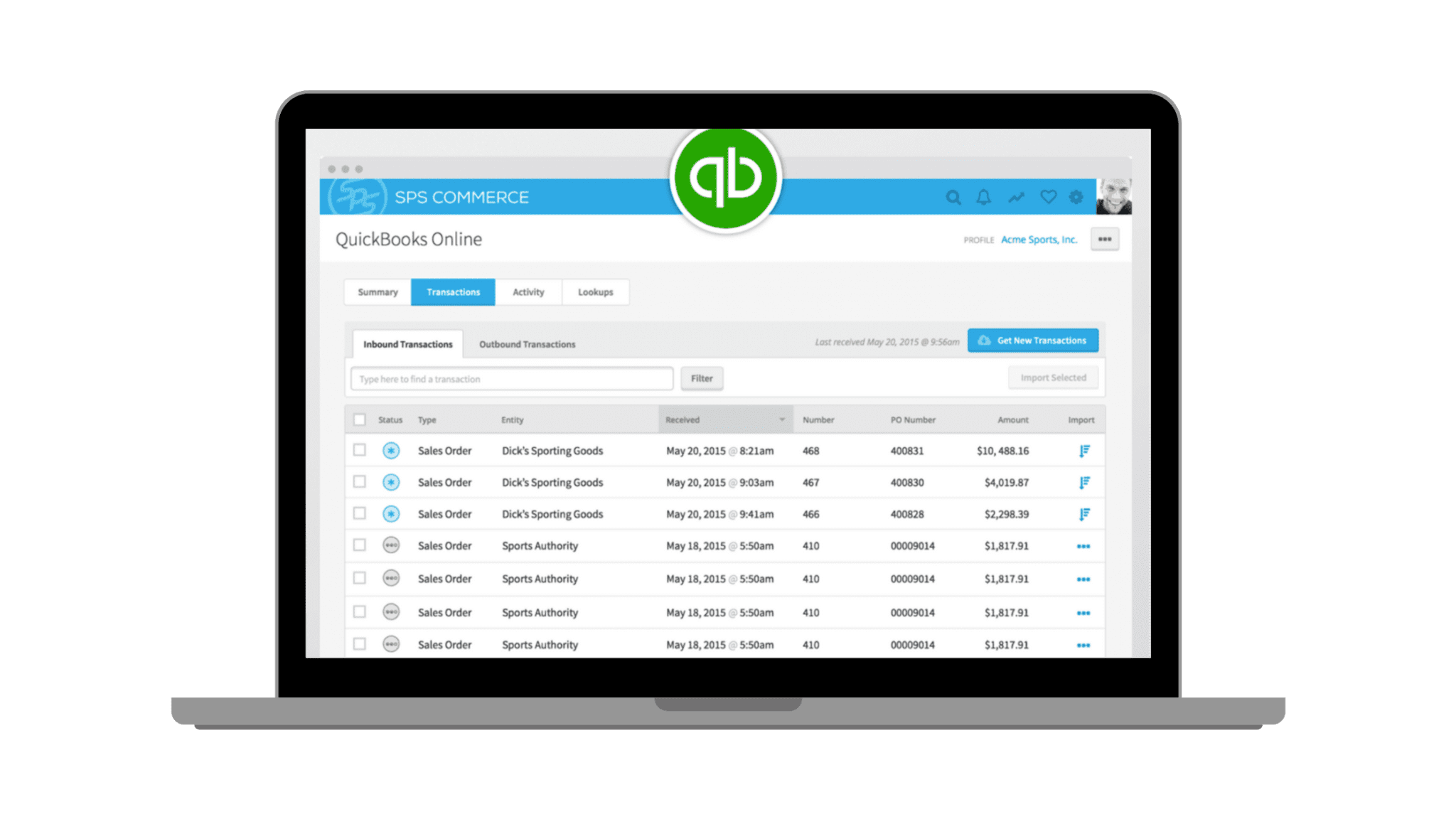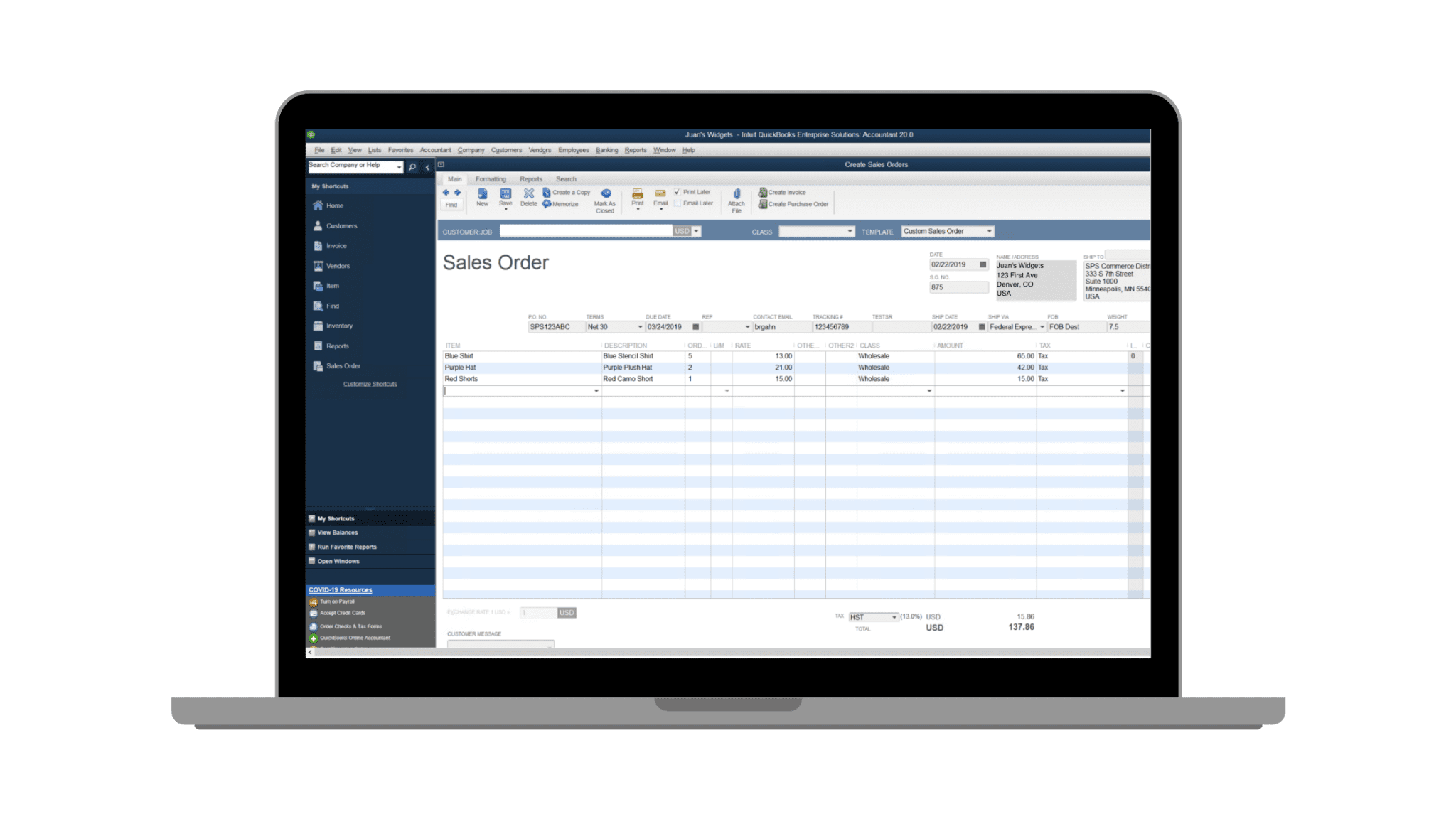 Here's how Fulfillment for QuickBooks can help you streamline order fulfillment:
Direct integration with your QuickBooks system and existing workflows
Generate labels, branded packing slips and ASNs with ease
Simplify the order management and invoicing process
Shop for the most affordable shipping rates and book shipments
"If we didn't have SPS, we would have to have 20 people on my team. SPS is a game changer. It saves our company tons of time, making tons of resources available to do bigger and better projects."
– Melissa Stringer, Senior Manager of Customer Operations, Lily's Sweets
Wondering how SPS Commerce compares to other Intuit QuickBooks EDI integration providers?
Managing ongoing EDI tasks can be complex and time-consuming. Full-service EDI providers like SPS Commerce deliver EDI technology and associated staffing resources responsible for customizing, optimizing and operating your QuickBooks EDI solution. Here are some common EDI responsibilities and how different types of providers handle them:
Full-Service EDI Providers
A full-service provider, like SPS Commerce, has an expert team that handles ongoing management of your EDI solution.
Take ownership of understanding your trading partner requirements and making map changes. The SPS team actively manages 9,000 changes from retailers each year.
Manage end-to-end EDI testing and ensures your initial data flow with trading partners is successful.
Communicate directly with your trading partners to manage connectivity, setup, requirements, updates and support efforts.
Proactively monitor and optimize your solution to prevent errors and minimize data entry.
A team of trading partner, system and EDI experts is available 24×7 in the channel of your choosing.
Managed EDI Service Providers
Your in-house team is responsible for the operational and technical details of managing your EDI solution.
When a trading partner requirement changes, your team is responsible for changing the EDI maps. Requirement changes are extremely common in retailing.
Require your team to coordinate EDI testing with your trading partners and validate data flow.
Your in-house team communicates with trading partners about EDI connectivity, setup, requirements, updates and support.
Your in-house team is responsible for monitoring and optimizing your EDI solution.
You will be responsible for contacting support regarding any issues. Real-time, expert support is often limited.
Choose the industry's most complete QuickBooks EDI integration solution
Connect with any trading partner
Connect to any trading partner using any order fulfillment model including e-commerce, drop shipping and bulk replenishment orders.
Stop worrying about EDI changes
Never worry about maps, spec changes or updates again. Once you connect to our full-service EDI system, it's always taken care of for you.
Focus on growth, not EDI
Stop wasting money on endless admin, data entry and troubleshooting. Free your staff to focus on growing your business.
Give your partners full visibility
Give retail partners full visibility into the status of their orders and eliminate the need for phone calls and email updates.
Minimize errors & chargebacks
Keep impeccably accurate orders no matter how busy things get. Build trust with all of your major trading partners.
24/7/365 expert support
Contact your SPS Commerce team any time, day or night, via phone, email or chat. Get expert, one-on-one support whenever you need it.
Automation with Quickbooks EDI integration from SPS Commerce is easier than you think. Here's how it works:
1. Connect to the SPS Commerce retail network. SPS quickly connects you to your trading partners without IT or consulting help.
2. Set up item and customer record cross referencing through real time syncing with QuickBooks.
3. Customize your sales order and invoicing templates within your QuickBooks system.
4. You're ready to do business with more than 115,000 trading partners in the SPS network!
Get simple answers to all of your QuickBooks EDI questions
(You'll hear back in 1 business day)
Enable more business with SPS Commerce QuickBooks EDI integration
"Our reputation and success depend on automation"
"We wanted to improve our efficiency, minimize paper handling, and make orders a one-step process for our staff. Our existing EDI provider wasn't the right fit; we needed the scalability and integration to QuickBooks that SPS Commerce Fulfillment could deliver."
— General Manager, Jenks Hatchery
"We process QuickBooks orders in seconds"
"Our daily order volume used to take up to three hours to download and manually enter into our internal systems. This entire process is now accomplished in seconds using SPS Commerce."
– Vice President of Sales, John Louis Inc.