Increase productivity, decrease costs and scale effortlessly with Fulfillment EDI for Intuit QuickBooks from SPS Commerce.
With the EDI for Intuit Quickbooks solution from SPS Commerce, you can automate operations and eliminate the error-prone manual processes that slow you down and cost you money. Position your business for scalability and growth with Fulfillment EDI automation.
Get clear, simple answers to all your EDI questions.
No sales pressure. No commitment.

Improve order processing time
Reduce errors by up to 99%
Invest in growth instead of data entry
When you're sending and receiving thousands of documents every month, it's time to automate
At a certain point in your business's evolution, manual processes get in the way of growth. Automate tasks with Quickbooks and EDI from SPS Commerce and stop spending precious time and resources on data entry and fixing errors.
Eliminate manual data entry processes
Seamless data interchange for Quickbooks
Achieve compliance with all your trading partners
"Our daily order volume used to take up to three hours to download and manually enter into our internal systems. This entire process is now accomplished in seconds using SPS Commerce."
– Gregg Tines, Vice President of Sales at John Louis Inc
Wondering how SPS Commerce compares to other Intuit Quickbooks EDI integration providers?
Meet your bare minimum cloud setup requirements, then leave you to fend for yourself
Don't bother to test or QA your system before handing it over
Don't help with the customer onboarding process
Still require an absurd amount of data entry to use
Have resource-limited data centers that go down during peak surges
Rely on third-party VANs they can't control or toubleshoot
Takes care of the entire implementation process, including testing, migration & production
Rigorously stress-tests everything so your solution works from day one
Proactively onboards your trading partners so you don't have to
Completely eliminates the need for dedicated data-entry staff
Boasts the most resilient, fully cloud-based data centers in the industry
Is the only EDI provider that owns its VAN, ensuring maximum reliability
Choose the industry's most complete Intuit Quickbooks EDI integration solution.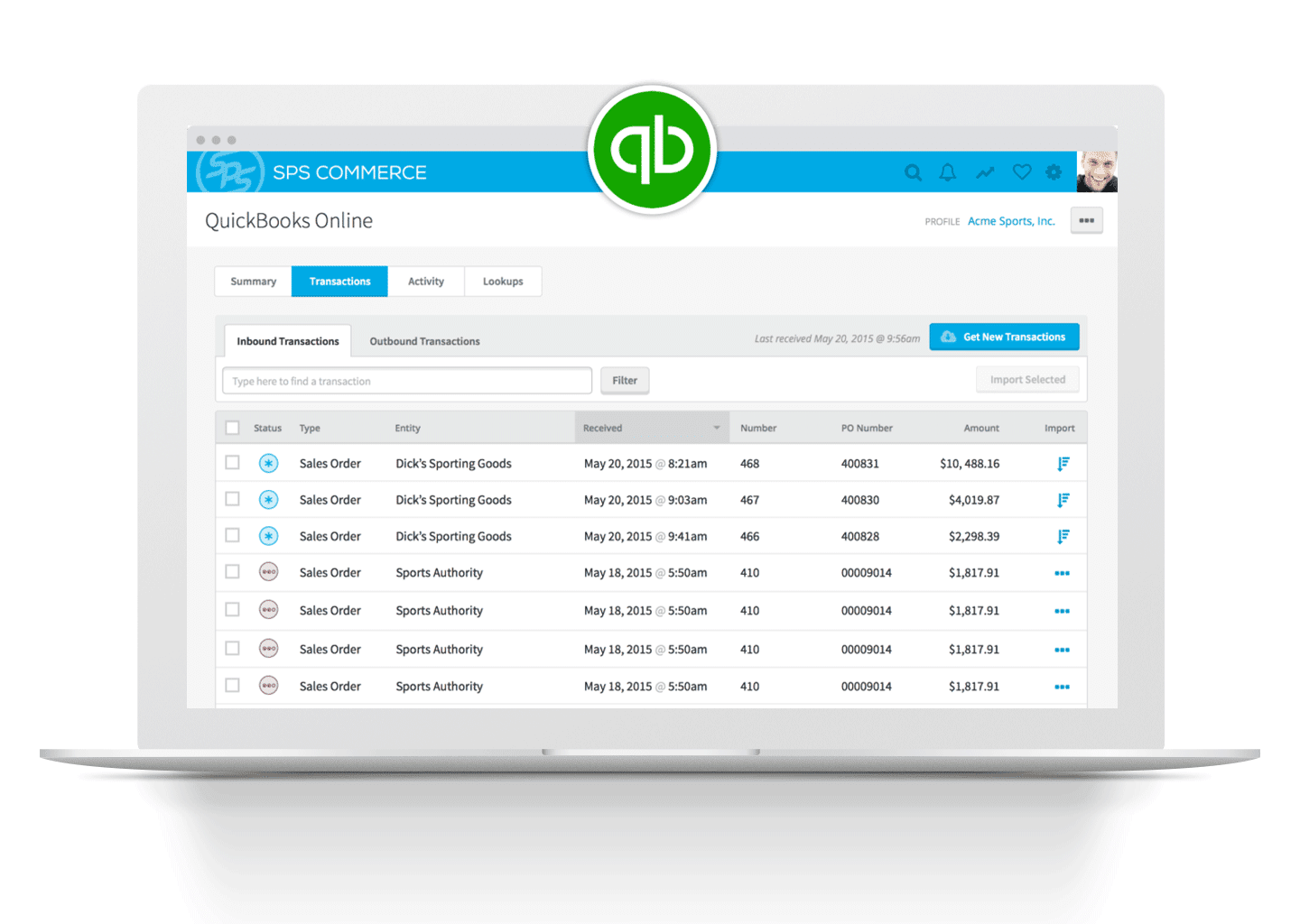 Stop stressing about EDI changes
Never worry about maps, spec changes or updates again. Once you connect to our system, it's always taken care of for you.
Cut bloated staffing costs
Stop wasting money on endless admin, data entry and troubleshooting. Free your staff to focus on growing the business.
Give your partners full visibility
Let retailers track the status of their orders directly in Quickbooks and eliminate the need for phone calls and email updates.
Positioned for scalable growth
Eliminate bottlenecks caused by manual keystrokes and take the lid off of data silos. Improve data accuracy for better business decisions and forecasts.
Minimize errors & chargebacks
Keep impeccably accurate orders no matter how busy things get. Build trust with all of your major trading partners.
24/7/365 expert support
Contact your SPS Commerce team anytime, day or night, via phone, email or chat. Get expert, one-on-one help at the time you need it.
Automation with Quickbooks EDI integration from SPS Commerce is easier than you think:
Get simple answers to all of your QuickBooks EDI questions
(You'll hear back in 1 business day)
Make superior decisions and seize opportunities with more accurate data
"We understand our customers' needs better"
"By more accurately understanding how our products are selling in stores, we can better predict when our retail customers will need to replenish their inventory."
— Vice President of Sales, Pell Industrial
"Our reputation and success hatched a need for automation"
"We wanted to improve our efficiency, minimize paper handling, and make orders a one-step process for our staff. Our existing EDI provider wasn't the right fit; we needed the scalability and integration to QuickBooks that SPS Commerce Fulfillment could deliver."
— General Manager, Jenks Hatchery
"The best part of working with SPS Commerce is the staff"
"It's always a joy to work with a company that is forward-thinking, pushes the envelope and tests people's ability to go beyond where they are. SPS Commerce helped us to see a future that we may not have seen otherwise."
— Director of Sourcing Strategy, Winn-Dixie